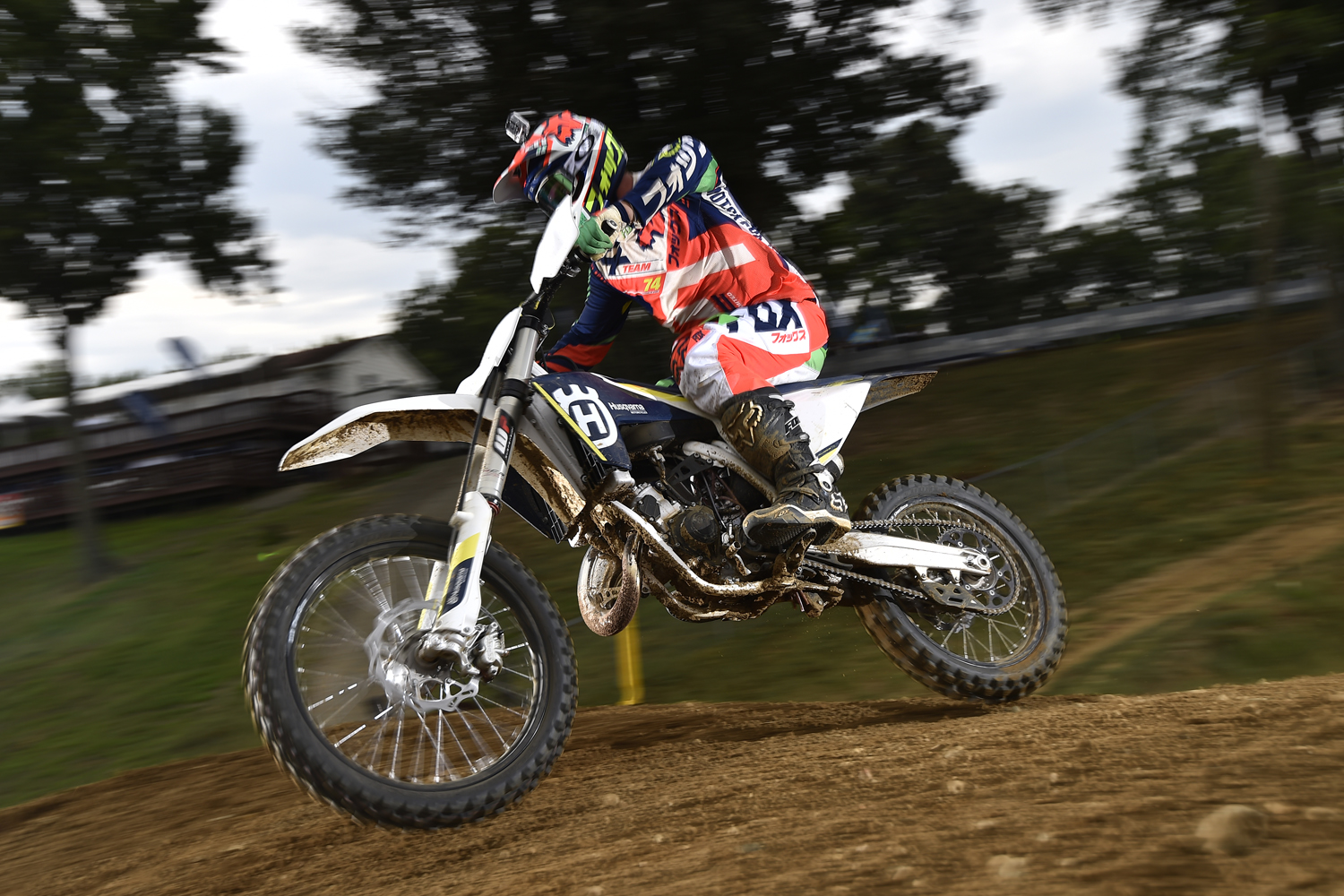 BIKE TEST: 2016 HUSQVARNA TC 125
Husky's 125 has had an overhaul and we were let loose on it at the famous Budds Creek circuit in the USA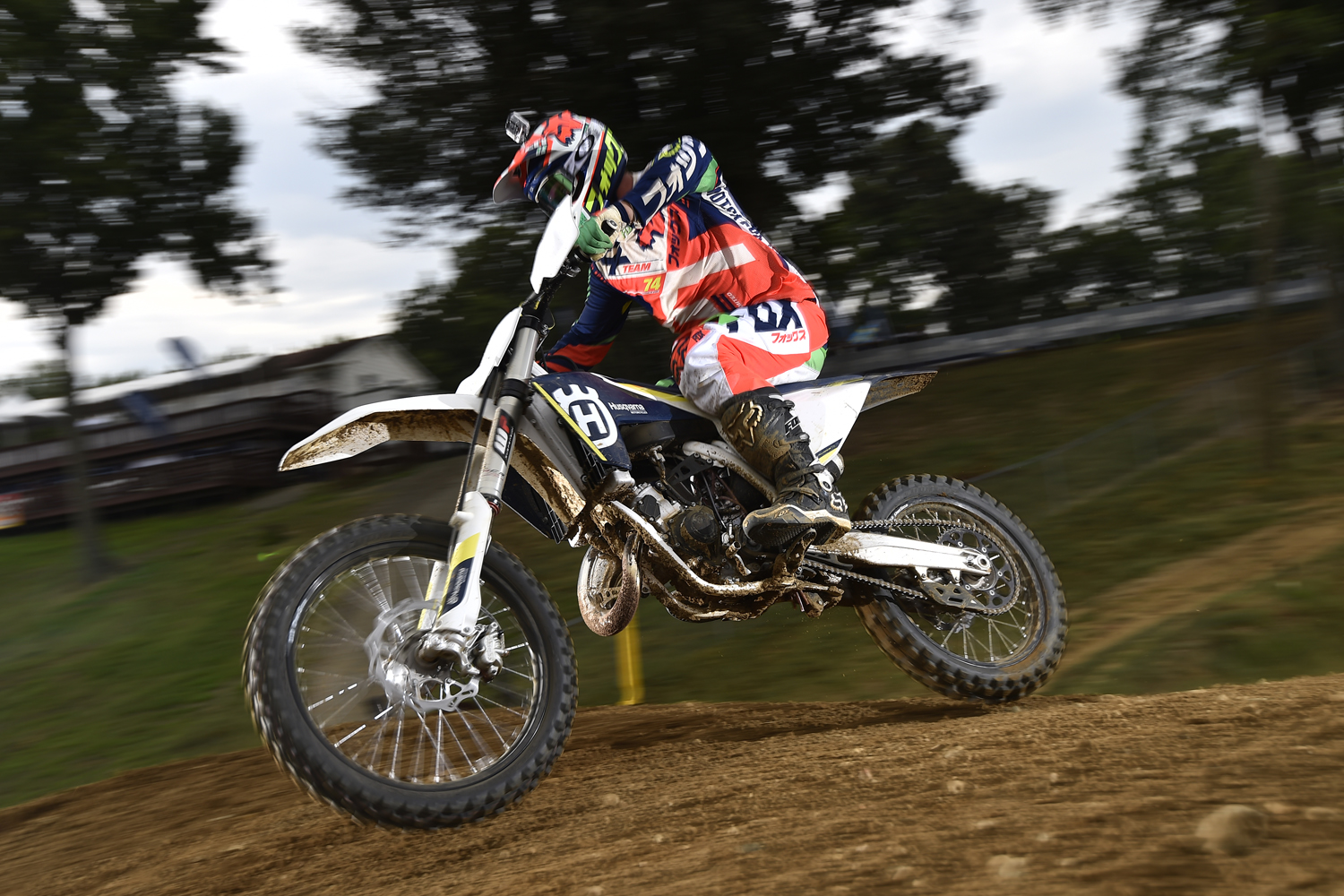 STORY SHANE BOOTH/PHOTOGRAPHY HUSQVARNA
I'm a 125cc fan, there's no hiding it, and to have the opportunity to ride one around a circuit like Budds Creek is a dream come true.
I've watched the AMA national on TV every year since I can remember so I was pinching myself all day motoing around this place for the worldwide Husqvarna launch. I saved riding the 125 until last — I wanted to be comfortable around the track and also used it as kind of a dangling carrot to work towards.
The Husqvarna range had huge updates for 2016 and the 125 didn't miss out, so here's what I thought of it after cutting some laps at Budds Creek.
The engine is all new and 2kg lighter than the previous model: that's a truckload of weight saved in one go. The frame, subframe and suspension have all been either revised or totally redesigned. This all means a very light, very nimble motocross bike that impressed me after only half a lap.
The first thing I noticed was how much torque it had in 125 terms. The engine is strong and pulled up the steep hills of Budds Creek no problem at all. I ain't no flyweight on a 125 but I still managed to jump an uphill double that only a handful of other riders managed to get over on the day. That to me was a testament to the strength of the power delivery on offer.
The other thing I was impressed by was how well it revved out. On a 125, rpms are your friend and when the engine revs freely and quickly it makes riding them a whole lot nicer. It also had great over-rev, allowing you to hold a gear for a little longer if you really needed to, which is great for some of the fast downhills and also up to and off some of the faster jumps around the track. With clutch use such a big part of riding a 125, having the Magura hydraulic unit giving you a light and progressive feel made it just that bit nicer. There's no doubting you have to work pretty hard to get the most out of a 125 but this new engine makes extracting the power just that little bit easier.
LIGHT AS A FEATHER
This is where I really noticed how much I'm used to the feel of four-strokes nowadays. When I ride four-strokes they don't feel heavy any more — until you ride a 125 like this. It's almost unbelievable what you can ride into and how you can just put the bike wherever you want it to be; it feels like you're on a downhill mountain bike.
It's actually amazing how the lighter bike doesn't react to hits anything like the way a four-stroke does. The repercussions are much less if you get something wrong or catch and edge. It's much easier to pull everything back in line if it starts to go wrong and I think a lot of riders forget that about two-strokes.
The 4CS forks do a great job for me. Budds Creek definitely tests out a front end and I had no trouble keeping it all straight under hard braking at the bottom of the hills or getting it turned on one of the many off-cambers. The rear was settled and didn't scare me coming down any of the hills and hooked up well off the turns. It really didn't do anything to knock my confidence at all; it was predictable and stable.
There's no doubt after riding this bike that your setup on a four-stroke is much more critical than on a two-stroke. The difference the actual weight makes along with the rotating mass of the four-stroke engine has to be compared back to back to be believed.
THUMBS UP FOR THE TC
What I took away from this is that if you haven't ridden a 125 for a while — or ever — then do yourself a favour and find a way to ride this thing. I bet you'll have the most fun you've had on a dirtbike in a long time.
If you can put your ego aside and not worry about having the most displacement, I think a 125 should be considered by many more riders. If you're a racer and can ride in a 125 class, you'll be in good stead on the start line if you have a 2016 TC 125 underneath you.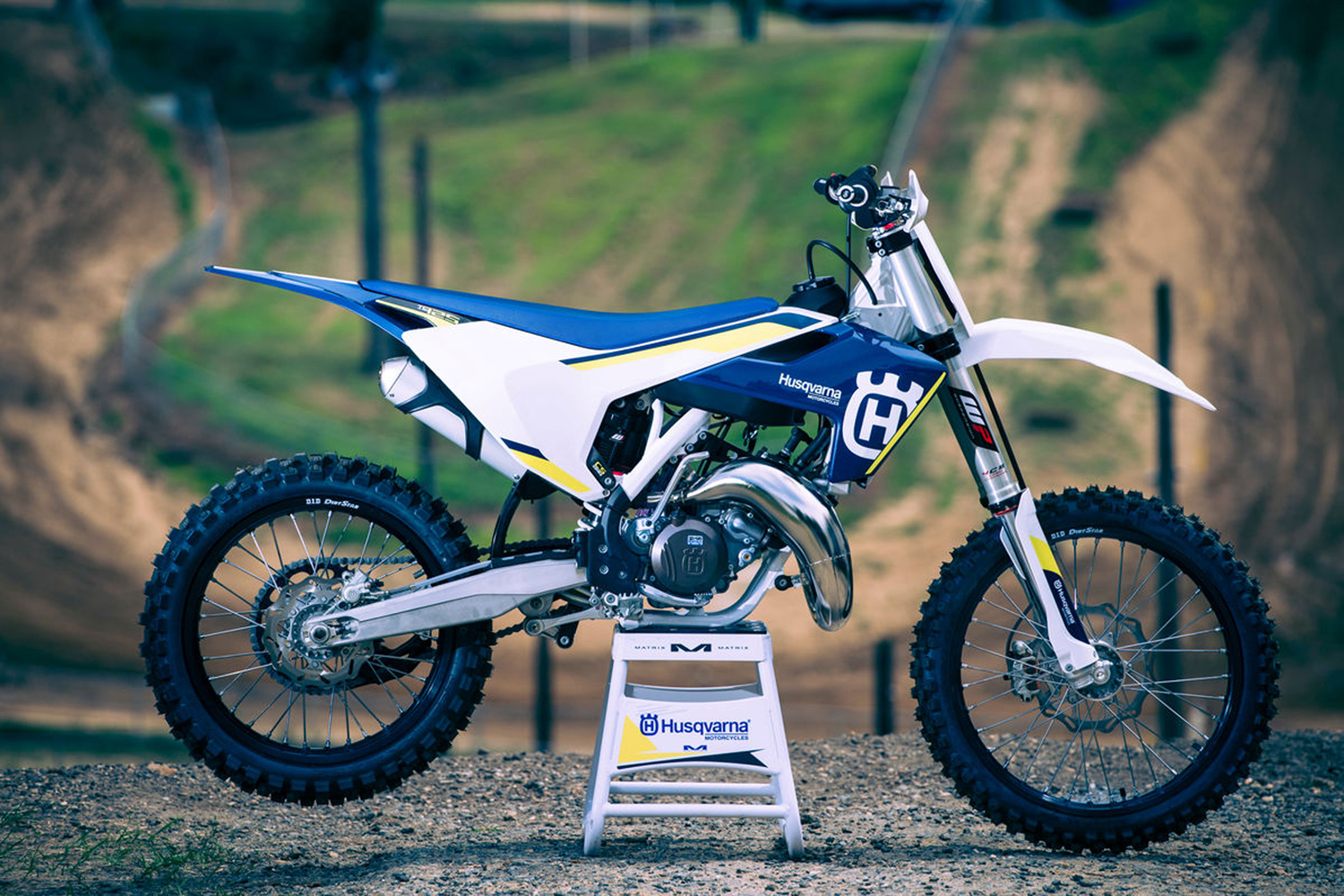 THE NEW STUFF
NEW GEARBOX
The all-new six-speed gearbox is 200g lighter and 6mm narrower and features the same gear ratios as the outgoing model. The gear lever features a new tip design that prevents dirt build-up.
MAGURA CLUTCH
The hydraulic Magura clutch guarantees excellent modulation and clutch action.
NEW FOOTPEGS
The new frame features an innovative footpeg mount that prevents mud and dirt build-up, allowing the footpeg to spring back into position even in the toughest conditions. The footpegs are larger for improved grip and stability.
PRO TAPER HANDLEBARS
The new Pro Taper handlebars are second to none for function and style. Manufactured to exacting standards, the Pro Taper handlebars feature class-leading fatigue resistance while meeting stringent weight requirements. Pro Taper logos are chemically applied and are scratch- and peel-resistant. The large Husqvarna bar pad has optimal impact resistance while the standard handguards offer maximum roost protection.
NEW FRAME
With years of experience in designing the most advanced steel frames in off-road, the engineers in R&D have designed a completely new chromium molybdenum steel frame that redefines every structural aspect in order to improve handling, ergonomics and packaging. The torsional rigidity and longitudinal stiffness have been completely rethought. The 6mm wider and 2mm lower steel tubes offer 20 per cent more torsional rigidity and 30 per cent less longitudinal stiffness compared to the previous-generation frame design. These characteristics, matched to the new engine stays, improve handling precision while at the same time increasing bump absorption and feel.
NEW CARBON-FIBRE SUBFRAME
The use of carbon fibre strips away weight, improving weight distribution and bringing weight closer to the centre of gravity for precise handling. The composition of the material is now 30 per cent carbon fibre and the overall three-piece construction is 1kg lighter than the previous subframe for an overall weight of 1.4kg. It's also more compact as well as being shorter, for greatly improved ergonomics.
 REVISED 4CS FORK
WP's 4CS fork has a revised setup to match the new chassis characteristics of the MY16 generation motocross. As with all 4CS forks by WP, the clicker settings can be easily and quickly adjusted via the dials on the top of the fork tubes. The red dial on the right alters rebound damping while the white dial on the left is for compression damping.
NEW REAR SUSPENSION
A new, shorter and lighter shock by WP features a larger gas chamber designed to maintain consistent performance during use. New internal components such as the piston and shock shaft increase setup options. A new clevis design contributes to shortening the overall length by 12mm while the stroke is reduced by 3mm. The shock is completely adjustable for high- and low-speed compression damping as well as rebound. The rear link has been completely redesigned to match the new rear shock. New 148.2mm pull rods replace the previous link's 145mm items and, combined with the redesigned bell crank, maintain a similar progressive rate as the MY15. Rear wheel travel is now 300mm and, thanks to the uprated rear suspension behaviour, softer springs can be used.
NEW ENGINE
With a claimed increase in power from 38 to 40hp and a reduction in overall weight from 19.3 to 17.2kg, the new 125cc engine is impressive.
NEW CYLINDER & PISTON
The new cylinder features a 54mm bore, revised ports and a new, innovative power valve that improves power delivery along the entire rev range. Along with increased performance, the new cylinder has a redesigned water jacket that improves cooling, ensuring greater reliability and durability. The piston has been redesigned to match the new cylinder characteristics.
NEW CRANKSHAFT
The new crankshaft is lighter and balanced differently from the previous generation in order to reduce vibrations. It's now positioned 37mm higher within the engine in an effort to improve mass centralisation.
NEW CRANKCASE
The new-generation motocross models feature completely redesigned engines with mass centralisation and weight reduction as the main goals. All the major components have been repositioned; on the TC 125, the crankshaft is now 37mm higher while the clutch shaft has been raised by 27mm. These modifications required a complete redesign of the crankcases, which are now significantly more compact and lighter.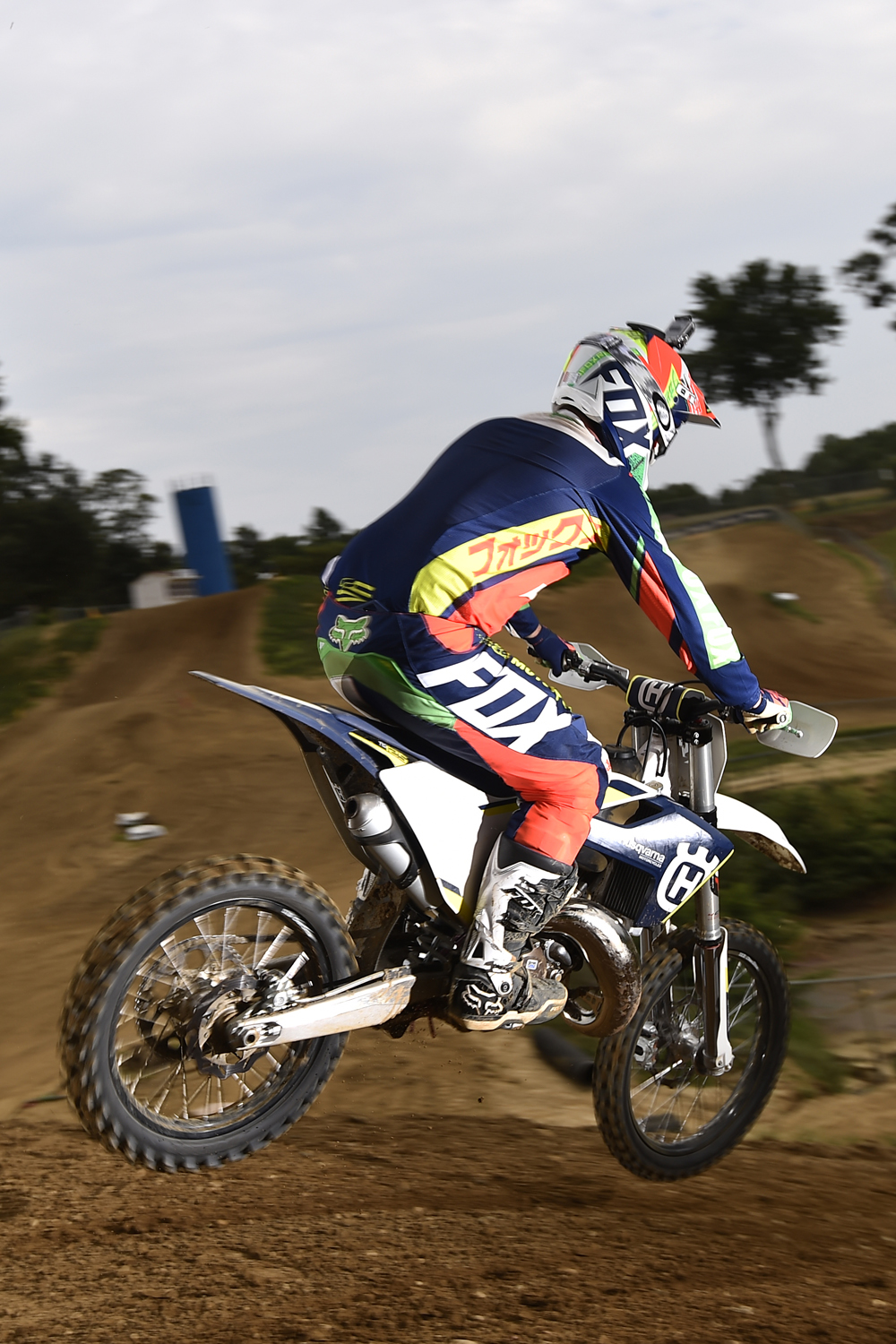 2016 HUSQVARNA TC 125 SPECIFICATIONS
Engine: Single-cylinder 2-stroke
Displacement: 124.8 cm³
Bore: 54mm
Stroke: 54.4mm
Starter: Kickstarter
Transmission: 6-speed
Primary drive: 23:73
Secondary gear ratio: 13:50
Clutch: Wet, multi-disc clutch, Magura hydraulic
Frame design: Chrome-molybdenum steel central-tube frame
Front suspension: WP USD Ø 48mm 4CS closed cartridge
Rear suspension: WP shock absorber with linkage
Suspension travel (front): 300mm
Suspension travel (rear): 300mm
Front brake: Disc brake
Rear brake: Disc brake
Front brake disc diameter: 260mm
Rear brake disc diameter: 200mm