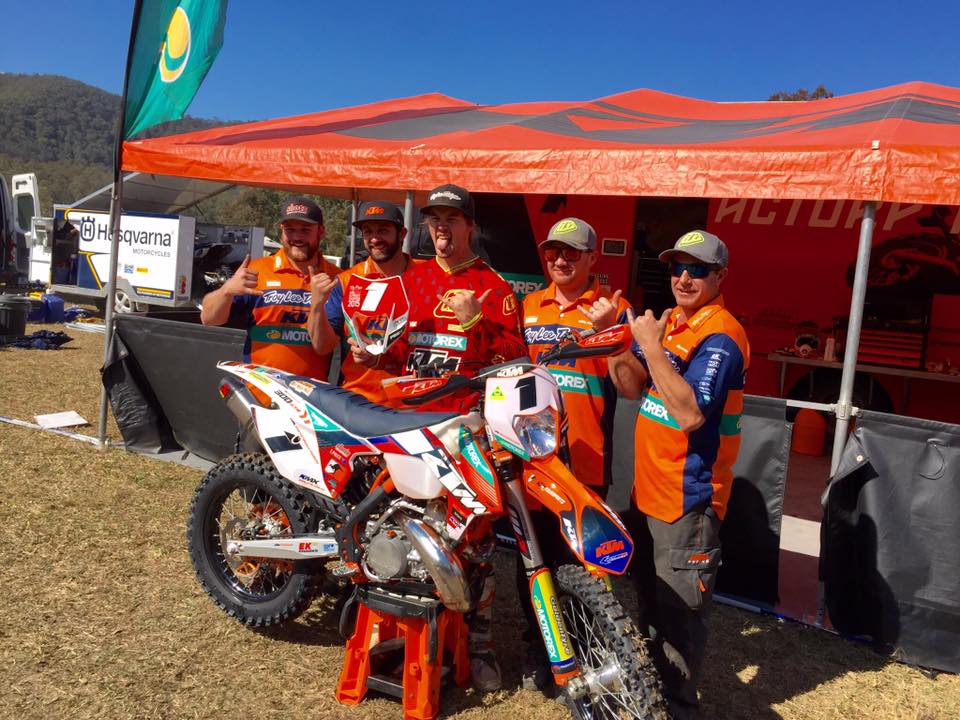 As the Australian off-Road Championship entered its final round in Monkerai on Sunday, there could only be one winner at the end of the day. Step up, Toby Price. Toby dominated the field in the twelfth and final round to celebrate victory in his final AORC race.
Story by Hayden Gregory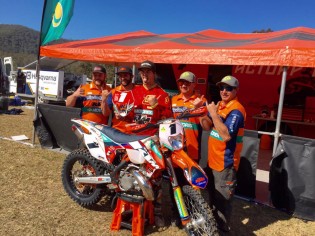 The title is a perfect send off for the Motorex KTM Off-Road Racing champ who has drawn the curtain on his immediate AORC career. Price stormed home in the E3 class with an emphatic final day winning every single sprint race on a 300 two-stroke.
After finishing second on Saturday to Chris Hollis, Price stepped up like the champion he is to  not only take out the E3 championship but the overall AORC title, finishing more than a minute ahead of runner up, Active8 Yamaha's Josh Green.
"It's a bit of a mixed emotion, I'm a bit sad that I won't be doing these any more for a while, it's like a big family every time you go away racing and riding," Price explained. "We've gone out on a good note though on the 300 two-stroke; to come away with second outright on Saturday and finish off with a big win today over the rest of the field and get an AORC win on a two-stroke – we were starting to get the big girl dialled in."
The E3 championship ended with a KTM top two as Daniel Sanders finished in second place ahead of Husqvarna's Glenn Kearney.  The result remained bittersweet for Sanders as he relinquished third place overall, finishing on equal points with Chris Hollis. Sanders held onto overall third position since round six before a count back after the final race meant that Hollis would sneak past Sanders to round out the top three overall.
In addition to finishing second in the outright standings, Yamaha's Josh Green dominated the E1 class finishing with a perfect 12 wins from 12 races. Remarkably, Green was the only rider with a 250cc machine inside the top 10.
Team mate Beau Ralston similarly capped off a brilliant season for the Active8 Yamaha Team winning the E2 championship ahead of CDR Yamaha rider Chris Hollis. Carrying a 22 point lead into the final two rounds, Ralston needed to maintain a consistent performance with 50 points still on offer. Ralston finished a strong second on Saturday which gave him some breathing space heading into the final round on Sunday.
The Yamaha rider needed only stay on his bike and finish in the top seven to secure his first national championship. Ralston completed a very mature ride to come home in fourth place and clinch the title.
"I have never won a professional national championship before so this is awesome and a really cool achievement for myself and the team," Ralston enthused. "The last thing any rider wants when in a championship chase is to have to win out have real pressure at the final round so thankfully I was able to put a good round together on Saturday and take some of the heat out of the battle and just enjoy the race on Sunday."
 AORC E1 Championship standings:
1st Josh Green – 300
2nd  Tom Kite – 242
3rd Riley Graham – 238
4th Nic Tomlinson – 206
5th Brad Hardaker – 176

AORC E2 Championship standings:
1st Beau Ralston 246
2nd Chris Hollis 239
3rd Lachlan Stanford 234
4th Tye Simmonds 233
5th Geoff Braico 186
AORC E3 Championship standings:
1st Toby Price 297
2nd Daniel Sanders 265
3rd Glenn Kearney 238
4th Stefan Granqvist 187
5th Kye Anderson 153
2015 Yamaha AORC Top 10 Season Overall Standing
1. Toby Price (Motorex KTM Off-Road Racing Team, E3) – 287 points
2. Josh Green (Active8 Yamaha, E1) – 227
3. Chris Hollis (CDR Yamaha, E2 class) – 210
4. Daniel Sanders (Motorex KTM Off-Road Racing Team, E3) – 210
5. Tye Simmonds (Motorex KTM Off-Road Racing Team, E2) – 187
6. Beau Ralston (Active8 Yamaha, E2) – 183
7. Lachlan Stanford (Husqvarna Off-Road Team, E2) – 174
8. Glenn Kearney (Husqvarna Off-Road Team, E3) – 168
9. Stefan Granquist (Yamaha Privateer, E2) – 117
10. Scott Keegan (Husqvarna Privateer, E3) – 102