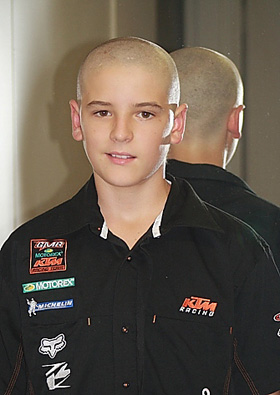 KTM's Mitch Evans exceeds fundraising target in World's Greatest Shave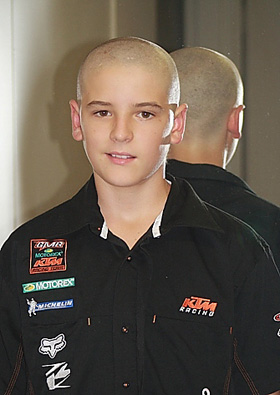 A very proud Mitch Evans has exceeded his fundraising goals in his quest to raise funds for the Leukaemia Foundation through his participation in the World's Greatest Shave.
The 13 year old motocross racer of Cairns in far north Queensland hoped to raise $2000 or more and with the generous support of the motocross and wider community raised a grand total of $2157.00.
The choice to support the Leukaemia Foundation through the World's Greatest Shave was natural for the generous teenager. Mitch personally knew motocross industry icon Paul Broomfield (who was impacted by a blood disorder) through their time together involved in the 2010 FIM World Championships.
Mitch had his tousled hair-do shaved for the cause by his older cousin and fellow motocross racer Jackson Richardson on 18 March 2012. While all intentions were to conduct the shave publically at a local Mareeba Motocross Club event, recent torrential rains caused the cancellation of the event and dashed their hopes of raising last minute funds.
"I am really stoked that I got involved in this." said Evans. "It is such a good cause and I feel like I have played a part in helping those who suffer from blood disorders. It has made me much more aware of how big an impact illness of someone close to you can have. I know the funds will make a difference."
To kick off the fundraising effort, KTM Australia supported Mitch with a very generous $500 donation and combined with the numerous donations from industry, friends and the wider community the target was exceeded.
"Now I just have to deal with everyone saying I look just like my dad! But it's a small price to pay for the great feeling it has given. Thank you to everyone for their support."
To keep up to date with race results for Mitch and his GMR Motorex KTM teammates, go to www.gmr-motorexktm.com.au and on FACEBOOK at www.facebook.com/gmrmotorexktm as well as www.ktm.com.au.