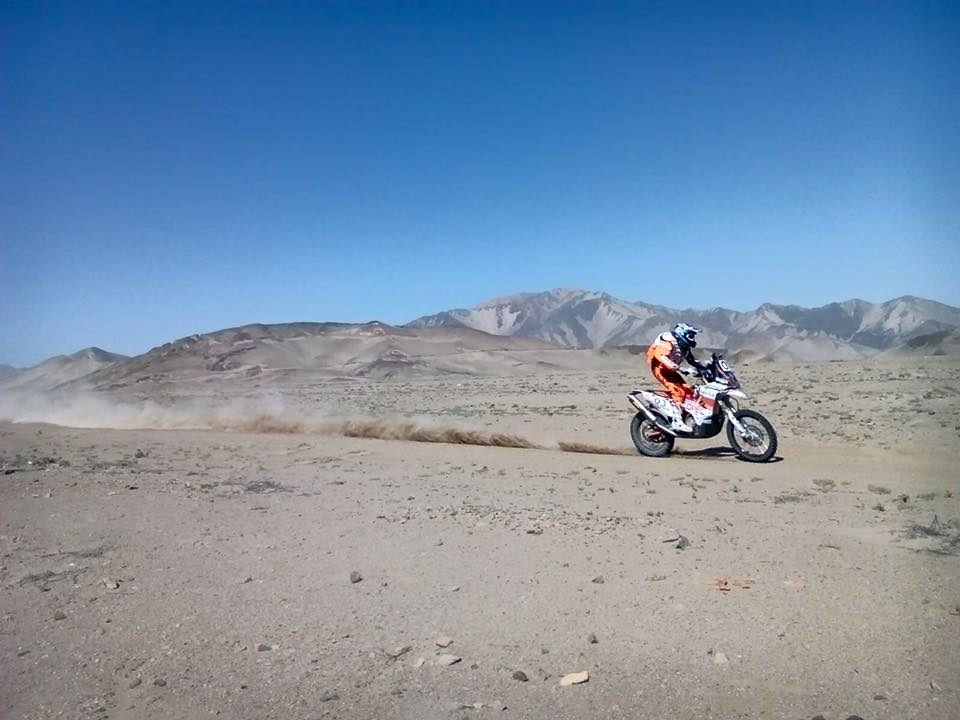 The top seven riders in the Atacama Rally belong to the KTM team following another dominant showing in stage three.      
Story by Hayden Gregory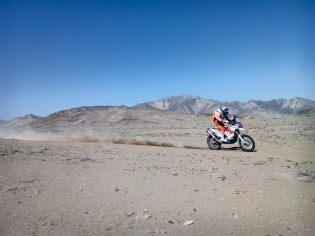 Chile's Pablo Quintanilla showed his home track knowledge by controlling the stage for a comfortable victory; putting himself back on top of overall standings. The local rider finished ahead of KTM teammates Matthias Walkner from Austria and Jordi Viladoms from Spain.
Stage two winner, Paulo Goncalves finished with another top five result however an electrical problem from stage one has affected his overall standings, currently sitting in 11th place.
"Today was a really difficult stage," Goncalves said. "I opened the track with a really complicated stage in the dunes. At kilometre 30 I got over-confident and strayed away from a waypoint and to mark it I had to climb some really complicated dunes.
"When I found it and got back on to the right path I saw that some riders had already gone past, but there were tracks everywhere and I had difficulty following them.
"It was a really hard day for navigation. I think that I did pretty well even with a waypoint that didn't seem to correspond, but I arrived having done it all. The bike worked well and we will keep pushing over the next couple of days."
Australian rider Toby Price had to start in last position for stage three following a disastrous second round, being penalised 22 times for speeding infringements.  The penalties have put a massive dampener on Price's debut which would have been promising following two third place finishes and a fourth.
"Starting last today was not so good, but it takes the pressure off and able to learn the navigation at a good pace and not flat out," Price explained.
"I think I ended up in 5th today on time (Toby was in fact fourth) and can't complain, two way-points were hard to find but all in all it was a good day no speeding, cause I now know there isn't a beeper, and hit all way-points makes it a good day… After yesterday I ended up with 1hr45min penalties I think I got a new record they were saying, so at least I won something…"
2015 Cross Countries Rally – Round Five – Atacama Rally – Stage Three
QUINTANILLA, Pablo (CHL) CHL M 1 KTM Rally Replica 3.03.13
WALKNER, Matthias (AUT) AUT M 2 KTM Rally Replica 3.05.30
VILADOMS, Jordi (ESP) ESP M 3 KTM Rally Replica 3.11.12
PRICE, Toby (AUS) AUS M 4 KTM Rally Replica 3.17.45
GONCALVES, Paulo (PRT) PRT M 5 HONDA CRF 3.20.30
PROHENS, Felipe (CHL) CHL M 6 KTM Rally Replica 3.21.30
MEO, Antoine (FRA) FRA M 7 KTM Rally Replica 3.22.00
ISRAEL, Jeremias (CHL) CHL M 8 HONDA CRF 3.22.41
SUNDERLAND, Sam (GBR) GBR M 9 KTM Rally Replica 3.24.01
GOUET, Daniel (CHL) CHL M 10 KTM Rally Replica 3.24.20
Atacama Rally – Stage Three Outright Standings
QUINTANILLA Pablo CHI KTM Warsaw Rally Team 6:13'10
WALKNER Mathias AUT KTM Red Bull Rally Factory KTM +00'45
SUNDERLAND Sam GBR KTM Red Bull Rally Factory KTM +22'29
MEO Antoine FRA KTM Red Bull Rally Factory KTM + 2'30
GOUET Daniel CHI KTM KTM +39'38
VILADOMS Jordi SPA KTM Red Bull Rally Factory KTM +32'30
PROHENS Felipe CHI Team Hermanos Prohens KTM +52'07
ISRAEL Jeremias CHI Team HRC Honda +1:02'13
CORNEJO Jose CHI XRaids Suzuki +1:30'06
ALBALOOSHI Mohammed UAE KTM UAC KTM +1:05'24
GONCALVES Paulo POR Team HRC Honda +1'11:38