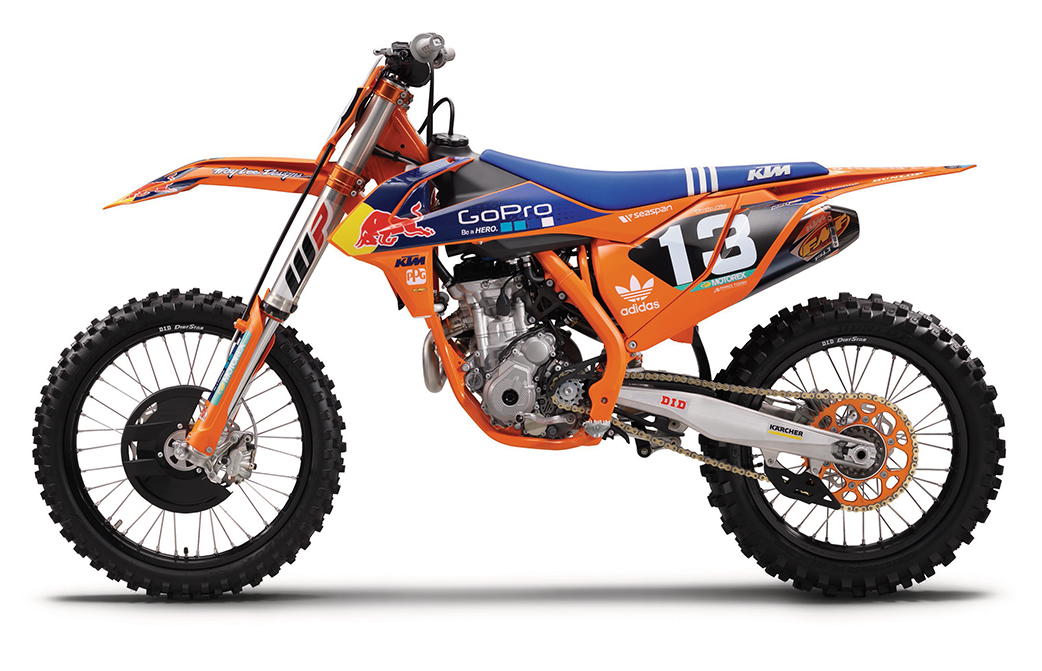 KTM's hot new Factory Edition 450SX-F and 250SX-F models have proven to be a bit like gold this time round – the kind of precious metals that you are going to have to stake a claim for if you don't want to miss out.
Press Release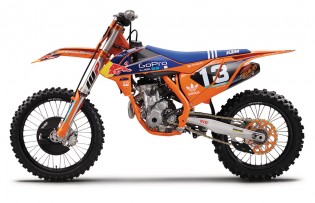 Both models drip with full-on factory trimmings, from the top-shelf WP AER 48 air fork with 2016 EU setting to the Akrapovic/FMF (450/250) slip-on, DID Dirt Star black rims and Model Year 2017 rear brake.
Then there are the high-vis KTM colour schemes that jump up and down standing still: 2016 Factory graphics and orange anodised triple clamps, orange frame and rear sprocket.
There's even more good news (full specs below) but here's the bad news – there are only about 60 units of each model to cover this wide brown land, and pre-orders have already been strong.
Strong to the point where the 450s are almost all gone, and half of the 250s are gone.
Long story short, if you want to get your hands on some precious Factory Edition metal, the time to call Dibs is right about now.
Sell your sister, mortgage the cat, buy a guitar and busk at the shopping centre on Saturday afternoon, whatever, just do what you have to do to get your new KTM Factory Edition before they are all gone.
KTM Dealers are taking pre-orders now.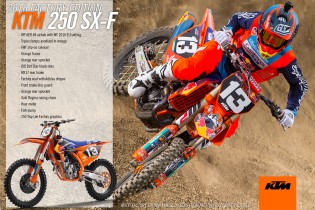 2016 450 SX-F Factory Edition $13,995 RRP incl. GST
» USA model, 5-speed transmission
» WP AER 48 airfork with MY 2016 EU setting
» Triple clamps anodized in orange
» Akrapovic slip-on silencer
» Orange frame
» Orange rear sprocket
» DID Dirt Star black rims
» MY 17 rear brake
» Factory seat with Selle della Valle logos
» Front brake disc guard
» Orange rear sprocket
» Gold Regina racing chain
» Hour meter
» Fork air pump
» Factory graphics (race season 2016)
2016 250 SX-F Factory Edition $12,995 RRP incl. GST
» WP AER 48 airfork with MY 2016 EU setting
» Triple clamps anodized in orange
» FMF slip-on silencer
» Orange frame
» Orange rear sprocket
» DID Dirt Star black rims|
» MY17 rear brake
» Factory seat with Adidas stripes
» Front brake disc guard
» Orange rear sprocket
» Gold Regina racing chain
» Hour meter
» Fork pump
» 250 Troy Lee Factory graphics