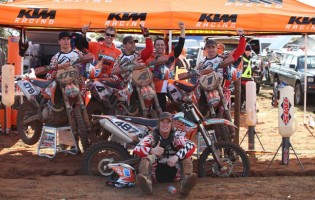 KTM Australia has been announced as the title sponsor of the 2011 KTM Hattah Desert Race, which will take place next month in Mildura, Victoria, on 1-3 July.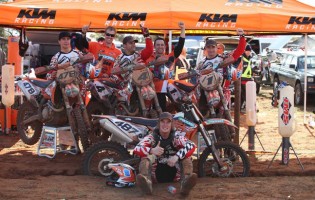 Last season saw KTM riders sweep the first four positions of the gruelling event, with Motorex KTM Off Road Racing's Toby Price victorious ahead of teammates Ben Grabham, Brad Williscroft and Jarrod Bewley. Both Grabham and Williscroft are also former winners of the event.
Hosted by the North West Victorian Motorcycle Club, the KTM Hattah Desert Race has been contested in its current format for more than 10 years and is recognised as one of the toughest events on the national off-road calendar.
Attracting over 400 competitors, the race is fought out over eight laps of a gruelling 35-kilometre loop through unique mallee scrub land, which includes everything from tight, technical sections winding through trees to wide open blasts through open paddocks and sand hills.
The Hattah Desert Race runs over two days featuring juniors on Saturday, 2 July, with the Ironman and Pony Express divisions in the senior race held on Sunday, 3 July.
Visit www.ktm.com.au on the web for further information on KTM Australia, as well as KTM's full model line-up of off-road and road motorcycles available for 2011.
For further information on the KTM Hattah Desert Race, log on to http://www.nwvmcc.com/HATTAH%20EVENT.html.