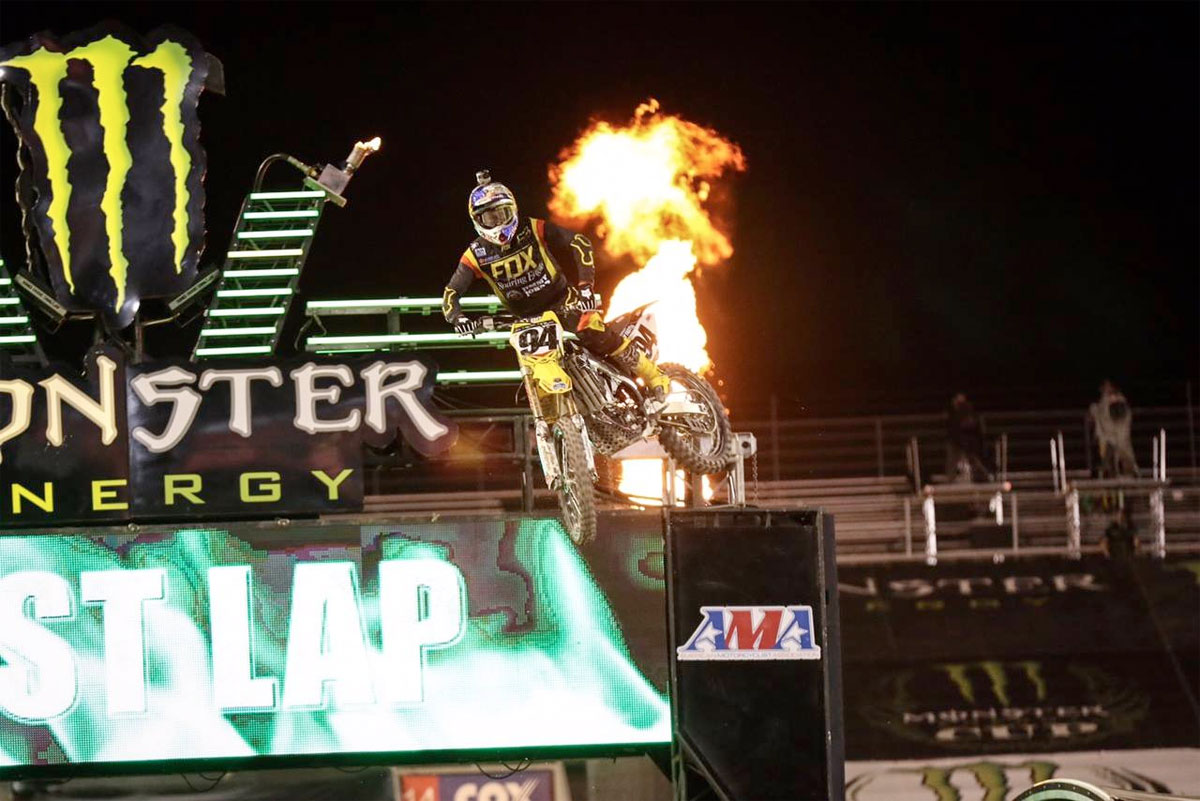 RCH/Soaring Eagle/Jimmy John's/Factory Suzuki's Ken Roczen has won two of three races to secure the 2015 Monster Energy Cup at Sam Boyd Stadium, Las Vegas.
By Hayden Gregory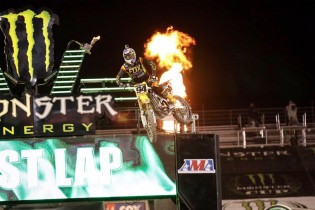 With one million dollars up for grabs the world's best riders were on show in Vegas for the annual Monster Energy Cup. As Racing got underway it was Rockstar Energy/Husqvarna Factory Racing's Jason Anderson who collected the first Toyota Holeshot.
Anderson's lead was short-lived as Trey Canard moved into the lead before a crash allowed Ken Roczen and Ryan Dungey to move into the first two positions.
On the ninth lap Roczen gave up his lead to Anderson after taking the joker lane which is a slower track section that every rider must take at some stage of the race following lap one.
Although Anderson crossed the line in first place, the holeshot winner failed to take the joker lane resulting in a penalty. Roczen was declared race one winner while Ryan Dungey and KTM's Davi Millsaps rounded out the podium.
"I knew that I wanted to take the Joker Lane on the last lap, and it worked out for me," said Roczen. "I look forward to coming out strong for the second Main Event."
With one million dollars in his sights, Roczen was determined to start race two as he left off the first.  As the gates dropped it was Jason Anderson who secured the holeshot before battling with Justin Barcia for the race lead.
Race one winner Ken Roczen was fighting his way back in third place before Trey Canard passed both him and Dungey to claim second behind Anderson. Justin Barcia finished race two in third leaving the cup wide open with one race to ride.
"I got confused in the first Main Event and didn't take the Joker Lane, but there was no way I was going to make that mistake twice," said Anderson. "It was a great race for me."
Heading into the final race Jason Anderson was in line to win a Toyota Tundra by securing all three holeshot's and that's exactly what he did. The race two winner shot to the front to claim his prize before Ken Roczen made his way into the lead showing much better early pace than in race two.
With clear air in front of him, Roczen never looked back. He held onto the lead for the whole race to secure the 2015 championship and $100,000 in prize money. The final podium reflected overall standings as Dungey placed second ahead of Jason Anderson in third.
2015 Monster Energy Cup
Las Vegas, Nevada
Overall Results
1. Ken Roczen (1-4-1)
2. Ryan Dungey (2-5-2)
3. Jason Anderson (6-1-3)
4. Justin Barcia (5-3-4)
5. Davi Millsaps (3-6-6)
6. Trey Canard (10-2-14)
7. Justin Brayton (11-7-12)
8. Blake Baggett (4-9-18)
9. Christian Craig (14-14-5)
10. Chad Reed (9-16-8)