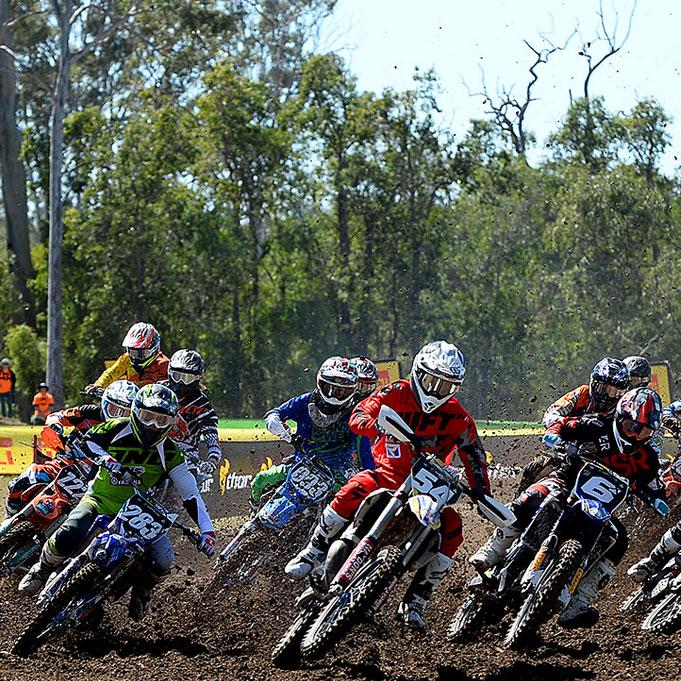 Arbon takes the spoils at Gladstone
Clout puts one hand on Championship trophy
FOR IMMEDIATE RELEASE
24 August 2014: Gladstone, QLD
SD3 Husqvarna rider Luke Arbon has claimed his third outright win for the year, taking out the Motul MX2 class at the ninth round of the 2014 Monster Energy MX Nationals at Gladstone in Queensland.
In perfect conditions in the sunny state, Arbon managed a third placing and a race win from his two motos, to finish the round five points ahead of CMR Redbull KTM's Hamish Dobbyn (second and fourth) in second.
Serco Yamaha's Jay Wilson (first and seventh) finished in third, while teammate Luke Clout and Tunetech Racing KTM Australia's Kale Makeham finished the round in fourth and fifth place respectively.
In the opening moto of the day, it was Arbon who shot to the front to claim the holeshot ahead of Penrite Honda Racing's Josh Cachia.
As they settled though the opening few laps, it was Arbon ahead of Cachia, with Wilson in third and Kawasaki rider Takeshi Katsuya in fourth.
Series leader Clout had a disappointing start, finding himself middle of the pack in 10th position while his main rival in the series Hamish Harwood (CMR Redbull KTM) fared only slightly better, settling into seventh.
Arbon soon set about extending his lead, and throughout the early stages looked like the rider that everyone would have to beat.
But 30 minutes is a long time in racing, and behind him Cachia, Katsuya and Wilson fought fiercely to in a tight, exhilarating display of racing.
Wilson passed Cachia on lap four to move into second and distance himself from the other riders as he put a fair gap between the Honda rider, Katsuya and Dobbyn.
On lap six Katsuya went down, and despite coming back into the race in 14th position, was forced to retire just one lap later.
On lap seven after a battle with a back marker, Arbon relinquished his lead to Wilson and the Yamaha rider commanded the race from that point in.
Cachia dropped back to fourth on the 10th lap, and despite a great effort to climb into fifth position, a mistake from Clout just before the finish line on lap 10 pushed him back into sixth.
Another mistake soon after pushed Clout back into seventh, but importantly he managed to keep his bike in front of Harwood.
While Wilson went on to extend his lead and take control of the race, the battle between Arbon and Dobbyn for second spot intensified.
It took a few laps for Dobbyn to seize the opportunity he was after – picking the perfect time on lap 13 to pass Arbon, moving into second spot and claiming that result when the chequered flag was raised.
Arbon finished the race in third, while Cachia went down with a couple of laps remaining leaving him in ninth for the moto, with Makeham and Clout finishing in fourth and fifth respectively.
Arbon claimed his second holeshot for the day when he raced off the start and into a comfortable lead in the second race.
As the dust settled, Clout moved from sixth at the first corner into second position, and the two front-runners pulled away from Harwood, Dobbyn, Makeham and Cachia.
The question being asked was whether or not Arbon could overcome the arm-pump that saw him lose postion in the opening race, and throughout the first half of the race he showed no signs of letting up.
Clout didn't push too hard knowing how important a good race would be in the overall championship scheme of things, and while the gap increased between the first two riders, the gap was even bigger to Harwood in third.
Harwood was locked in a big battle with Makeham for third spot and after five laps there was only a second between the two while Dobbyn and Cachia were battling behind them.
On lap seven, Makeham moved his way into third, and as Harwood dropped back to sixth, he was also passed by Dobbyn and Cachia.
At the front, Clout was slowly chipping away at Arbon's lead, and while the championship leader did make some ground in the second half of the race, it was Arbon who finished out on top.
Clout claimed second, Makeham streaked clear to take third, while Dobbyn and Cachia finished in fourth and fifth respectively.
Race one winner Wilson finished the race in seventh, while Harwood finished back in eighth.
For a full list of results, visit www.mxnationals.com.au.
The final round of the 2014 Monster Energy MX Nationals takes place in Coolum on 30 -31 August.
MX2 CLASS:
Round Results:
1) Luke Arbon 65 (30,35)
2) Hamish Dobbyn 60 (32, 28)

3) Jay Wilson 59 (35, 24)
4) Luke Clout 58 (26, 32)

5) Kale Makeham 58 (28, 30)

6) Caleb Ward 51 (25, 26)
7) Josh Cachia 47 (22, 25)

8) Hamish Harwood 47 (24, 23)

9) Dylan Long 42 (20, 22)
10) Joel Evans 41 (21, 20)
Championship Standings:
1) Luke Clout 606
2) Luke Arbon 574
3) Hamish Harwood 567
4) Kale Makeham 543
5) Jay Wilson 537
6) Caleb Ward 492
7) Brenden Harrison 464
8) Kayne Lamont 395
9) Errol Willis 395
10) Josh Cachia 310
– ends –
Image: Jeff Crow / Explorer Media
Media Enquiries:

Andrew Weiss

0402 447 783

andrew@eskimomediagroup.com.au

www.eskimomediagroup.com.au