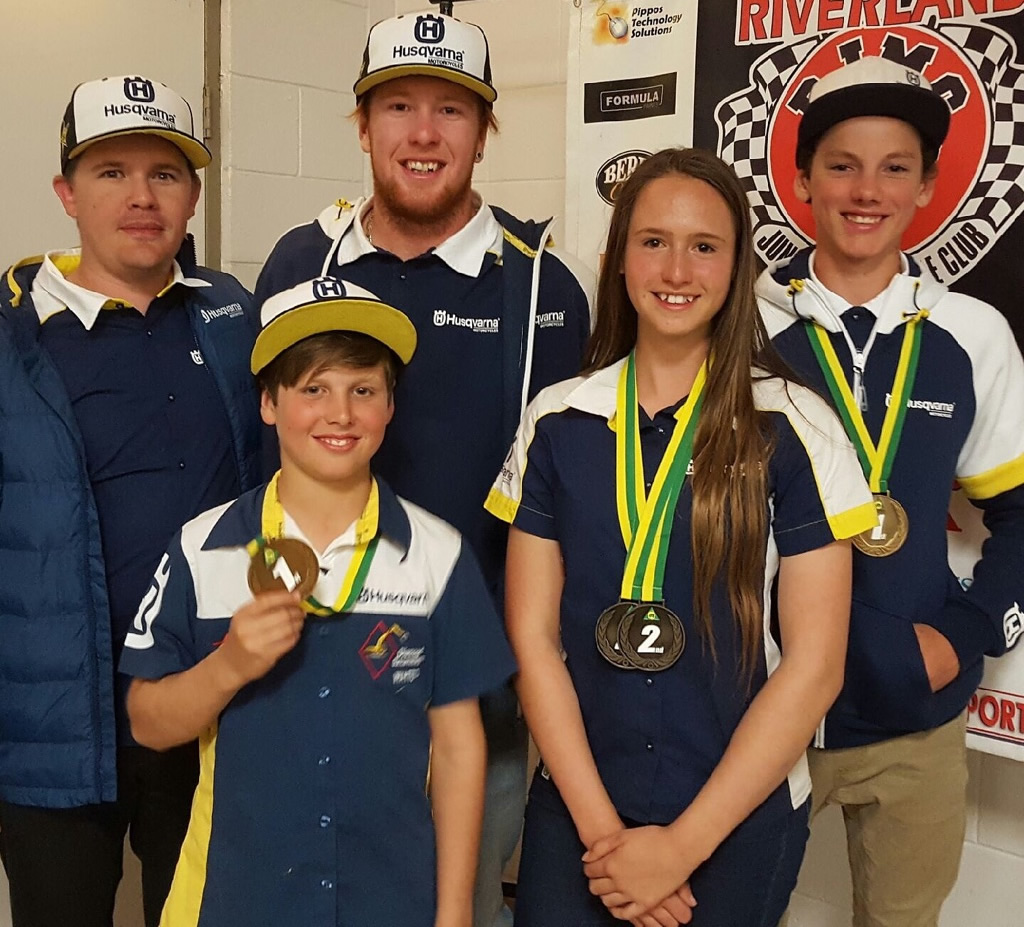 Husqvarna Australia is still celebrating a most exciting breakthrough by its junior racing team in the wake of the Australian Junior Motocross Championships which concluded last weekend at Renmark.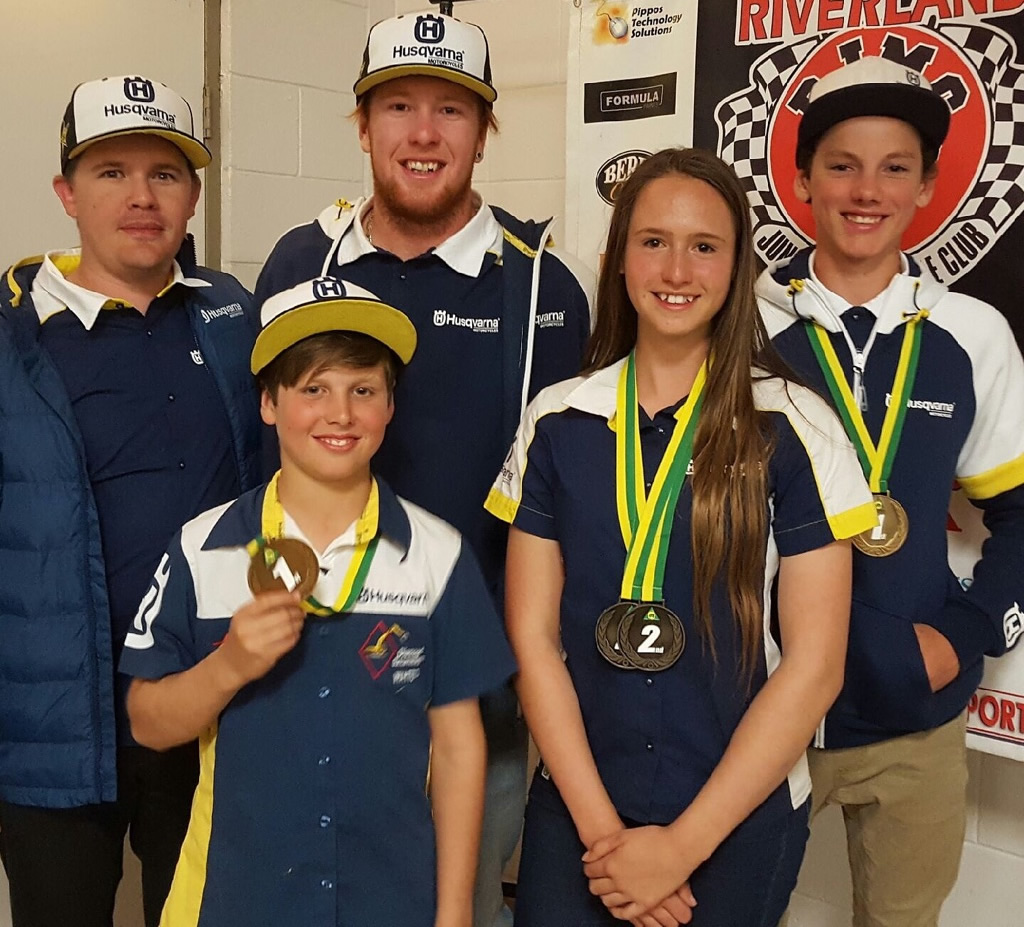 Press Release
The famous off-road pioneer which prides itself on giving young riders the chance to compete at the highest levels, was provided its first Australian junior motocross championship by MotoGC-backed Bailey Malkiewicz, and then three other podium finishes to boot!
Malkiewicz – who fittingly was the first rider signed to the new-look of the Husqvarna Junior Motocross Team – powered his Husqvarna TC85 to victory in the 150cc 14-U16 class ahead of John Bova and Tyler Darby.
The team looked well on the way to another championship when Callum Norton bursting out of the blocks to win the first 150 2T/2504T moto, and blasted his Husqvarna FC250 away to a convincing lead on the third lap of the second moto.
However, the Road & River Motorcycles crashed heavily, suffering a concussion and was forced to make a heart-breaking withdrawal from his last ever Australian junior championships.
Tanesha Harnett took her career-first Austrian junior motocross championship podium, then quickly backed it up with another one.
The R&D Husqvarna rider took her Husqvarna TC85 to a runner-up finish in the 85-150cc 12-U16 Female category, picking up another silver medal when she powered her TC125 to second in the Female Lites.
Riley Dukes provided some more success for the R&D Husqvarna dealership with his runner-up finish in the 200-250cc 15 years division. He also finished sixth in the 125cc 15 years.
Dominic Walker used the occasion to have his first outing on the Alessi Motorcycles Husqvarna TC 125 in top-level company, and as well as the experience, he gained qualification to the championship rounds.
Jon Hafey, Husqvarna Australia Brand Manager- "This win is the first Australian Junior Title ever for Husqvarna, so it's a very significant milestone for the brand.
With the advent of the new 50cc and 65cc models, we can only see Husqvarna's presence increasing at this level in the future, as we continue to increase our stake in the development of Australian motocross."
Roland Ward – HQVA Junior Race Team Coordinator: "I'm thrilled, there were lots of highlights for us, and they all went out there and gave it 100%, so you can't ask for more than that.
Callum Norton was leading the 250 championship but unfortunately he had a pretty big fall and gave himself a decent head knock and was forced to withdraw, which he was pretty devastated about. I definitely think he would have won it. Riley's win in the last race to get a second in the 15 years class was just sensational. He needed a start, got the start and just checked out and did what he needed to do to get second in the championship.
When we took on Husqvarna, Bailey Malkiewicz was the first rider that we signed, so it's great that he becomes the first kid to get us a junior national championship, and Tanesha's two runner-up finishes were fantastic. Dominic Walker had a blast in his first outing on the 125. Qualified for the finals and gained some valuable experience.
Reid Taylor was practising Supercross and unfortunately got injured and missed out on the junior titles, but he will definitely be a title contender next year at Horsham. So there's lots more to come from us."
Bailey Malkiewicz: TC85 & TC125 – "It could have been a little bit better but I came out on a high. I won the first two quite easily, then got eighth in the third one after some problems, and finished off strong with the last two wins. I had some fast people I had to contend with, but I got the holeshot in the last one which helped a lot. I led from start to finish, but in the other four I didn't get good starts, I had to pass them all in the first couple of laps. They did a really good job fixing the track, for a while there it was only fit for jet ski racing. We're getting a 250 soon, so next year I'll be targeting the championship on both the 125 and the 250. I'm getting a bit too tall for the 85s!"
Tanesha Harnett: TC85 & TC125 – "For me it was better than last year's when I got third and fourth, so that was a win, but it was also a loss because I had two race wins on both bikes, so I think winning a championship was a possibility, but there were crashes and a few other problems. I reckon I had the speed if I'd have had a clean run. It was a really good event and the track formed up really good. I like the loamy stuff because you can just hold the power on a bit harder. There were a couple of races where it got really rough and it became difficult to keep the bike straight. I really enjoyed the way my TC85 handled the track here."
Riley Dukes: TC125 & FC250 – "I had a good week, but I brain-faded once or twice and didn't really qualify the way I should have. I pulled out a holeshot and a win in the last one on the 250. I finished second on the 250 and then sixth on the 125. All in all it wasn't too bad a week.
Coming first in both would have topped off my junior career well, but you can't be unhappy with second – it's still a feat. I'm happy with how Husqvarna performed all week really. It was pretty cool to see Bailey win. He's a nice kid and he deserves it, is always worked hard."
Callum Norton: TC125 & FC250 – "The week started great and I thought was going to finish the same, but just a little mistake ended it pretty quick. A'm pretty sure I qualified fastest on both the 250 and the 125. I won a few heats and topped the points on the 250 and had third on 125, then in the finals I won the first one on the 250, then add a little fall in the first 125 moto. I got the holeshot and was leading the second 250 race, but I had a big crash about three laps in and concussed myself and ended up pulling out of the event. I was spewing two and my last Aussie junior titles that way, but it happens. I'll keep that for motivation for next year."