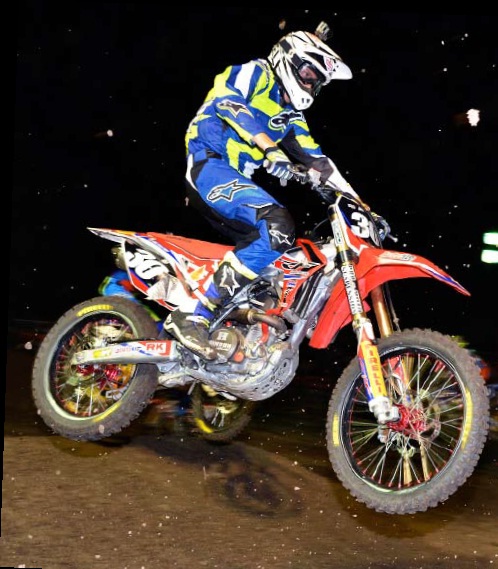 Honda Press Release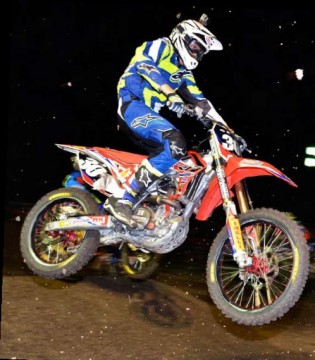 At the halfway point of the Penrite Oils 2015 Australian Supercross Championship, CRF Honda Racing riders Joel Wightman and brothers Joel and Drew Cigliano have been in the thick of the action and are eagerly awaiting the remaining rounds of the national championship chase.
Competing in the SX2 class, CRF Honda Racing team leader Joel Wightman currently holds down tenth place in the Australian championship standings, his series thus far highlighted by a strong sixth place finish in round three staged at Adelaide Showground.
Wightman's improvement in the Supercross championship has been evident with every round, his solid sixth place at Adelaide putting him amongst the front-running SX2 contenders as he fights back from a broken collarbone suffered at the final round of the MX Nationals at Coolum, Queensland.
"Each round of the Supercross championship has seen a step-by-step improvement in my fitness and my results, to the point now where the collarbone injury is behind me," says Wightman, who is based in the NSW Hunter Valley.
"The Adelaide Supercross was a really good one for me, and a strong start made all the difference in being able to run up the front of the pack.
"I've been training hard and putting in plenty of practice motos since then, so I can't wait for the remaining three rounds of the Championship, kicking off with the J2 Jimboomba Supercross in Queensland in a week's time," Wightman enthused.
In the Junior Lites category of the Australian Supercross Championship, CRF Honda Racing's Joel and Drew Cigliano hold down third and fifth respectively in the overall standings after three action-packed rounds.
The Cigliano brothers, who are based near Orange, NSW, have been using consistent performances on their CRF250R race bikes all series long to keep their names near the top of the standings, the highlight being Joel's fourth overall result at the Adelaide round, which saw him climb up on the podium alongside Championship front runners Cooper Pozniak and Jake McGlashan.
With continued development of their CRF Honda Racing CRF250R races bikes thanks to the team at McWatters Competition Developments and Pro Moto Suspension, Wightman and the Cigliano brothers can't wait for the next instalment of the 2015 Australian Supercross Championship, which fires into life at Jimboomba X Stadium in south-east Queensland on Saturday, November 21.