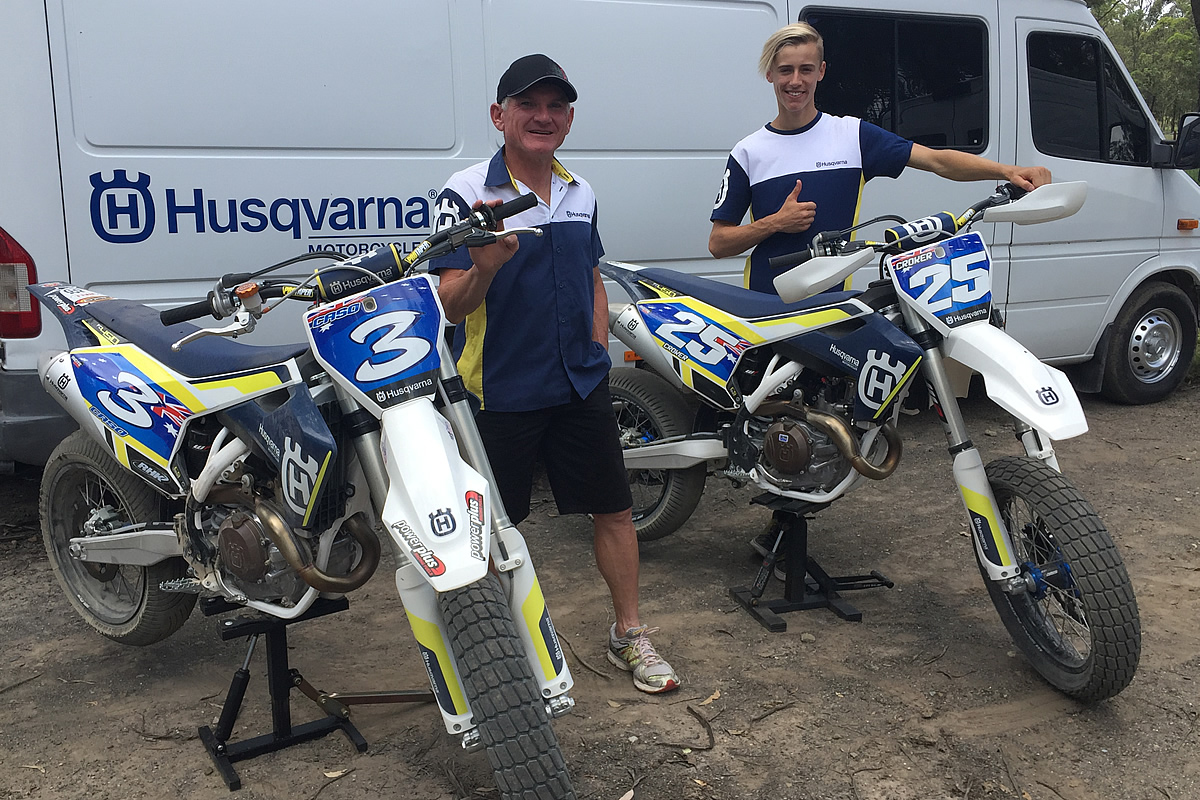 Aussie dirt track legend and veteran Husqvarna racer Paul Caslick will lead a three-rider Husqvarna Factory Support dirt track team into tomorrow's Troy Bayliss Classic – the biggest single event on the Australian dirt track racing calendar.
Husqvarna Press Release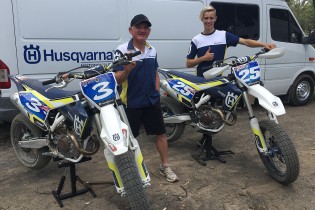 The Bayliss Classic is a mouth-watering annual Mecca for fans of Australian and international motorcycle racing, one which brings together more national and world champions from various disciplines of motorcycle sport than you can shake a con-rod at, to race dirt track.
The battlefield is the oiled track of the Old Bar circuit at Taree where the event host and three-time World Superbike Champion began as a junior.
An expanded number of quality international guests from Europe, the U.S. and Japan will join a host of very keen and well-qualified Aussie throttle jockeys.
Forty-eight year-old 'Caso' was the oldest rider in last year's TBC main event, but he was also the first Australian home – finishing third on the night – and his desire to experience the view from the top step remains undiminished.
He'll be joined this year by his two exciting young charges, rising Newcastle star Max Croker, and 13-year-old Casey Stoner Cup winner Billy Van Eerde.
Seventeen-year-old Croker will join Caslick in the invitation-only All-Stars class aboard a Husqvarna FC 450, while Van Eerde will take aim at the 13-16 150-250F class on his Husqvarna FC 250.
Another exciting Husqvarna FC450 entry will be that of Brit Chris Hodgson, the European Supermoto champion who dropped in down under last June, and added an Australian Supermoto championship to his resume.
For more information on Husqvarna motorcycles visit www.husqvarna-motorcycles.com
Paul Caslick – "I've always been a bit of a hothead but I've got a bit of a thing of calmness going this time. I know what I've got to do, and I know the bike we've got is a cracker. I know you need a bit of luck on your side; if you as much as blink in Superpole you can miss the final, doesn't matter who you are.
I led for three quarters of the final last time, but maybe lacked a bit of self-belief and just expected those high-profile riders to catch me, and then my lap times changed and I actually allowed them to catch me. Not this time. I think that experience was the best opportunity for me to learn.
Last year I tried to get a factory engine, but one just wasn't available. But the power we wanted for the Bayliss last year, we have in this bike, standard. Phil Bond has since done the modifications and only improved it more with the way it handles, steers, the power of it. I know everyone else is doing the homework as well, but at the end of the day, we've got a really good package."
Max Croker – "I'm pretty excited to be going to my first Troy Bayliss Classic. There's plenty of fast riders there but I've been training really hard, so I think I'm going to be ready for it. I've been invited into the All Stars event on my Husqvarna FC450, so that will be unreal. It's going to be tough but it's going to be fun to rub shoulders with all the best riders, particularly the Coach Paul Caslick. He's taught me a lot. My bike is unreal, straight out of the crate – I haven't ridden anything like it. This is only my third time on oil, but I do a lot on the tar, and a lot in the dirt, so it's in between, and the second time I did it I was going pretty well. Troy introduced himself to me at Cessnock – that was awesome. He's a great guy!"
Billy Van Eerde – "I'm pretty keen, it'll be good on the new '16 Husqvarna 250. The 16 models handle really good and have got a lot of power – they're nice to ride. I've only ever done the TBC before on 85s, so this is my first year on the 250. We had our practice day last weekend at Gunnedah and I went all right. It'd be really good to win there because it's the Troy Bayliss Classic and there's a lot of people there watching and you could impress some potential sponsors, and there's a lot of fast riders there. It's also good because of the people you meet, you've got the motocrossers, the road racers and Bayliss and all that, it's just awesome. I've talked to Troy a few times and he's nice. He understands what you're talking about because he did the same things when he was a kid."