JDR Motorex KTM's Matt Moss has taken out the Pro Lites championship in the 2011 Rockstar Energy Drink MX Nationals.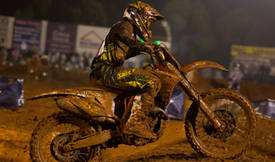 The 23-year-old finished with 4-9-1-5 results at Coolum Pines Motocross Park to wrap up the title aboard his KTM 250 SX-F by 10 points, taking out third overall for the round.
"I'd really like to thank the JDR Motorex KTM team, it's pretty much like a big family," Moss said. "My dad and the Moss Institute have pretty much bred me to be a motocross racer, so hopefully this championship does him proud. We're all so proud to have the championship after a great year."
Moss' teammate Brenden Harrison finished ninth overall at Coolum to secure a hard-fought fourth in the championship, now determined to return next season and battle for the title.
"The championship was good, I'm happy with the overall result even though today was disappointing," the Queenslander said. "I just can't thank the team enough – absolutely everybody has been behind me every weekend and we've taken positives to improve all year long."
Victorian rookie Josh Cachia, who was last year's Under 19s champion, concluded his debut Lites season with seventh overall, also taking out that same position in the championship.
"Today went fairly well, I couldn't ask for much more after starting off slow in the first two motos," Cachia commented. "I was able to redeem myself in the final two motos with two fifths. With a couple of race wins and podiums during the year, I'm pretty stoked with my first season."
In the Premier Pro Open category, Herb Watson Racing KTM's Louis Calvin took out the Andrew McFarlane Privateer Cup after finishing ninth in the series as a privateer aboard his 350 SX-F.
The Western Australian was a guest rider for JDR Motorex KTM at Coolum, racing to 15th overall after suffering a DNF in race one due to a flat tyre. Calvin had his best result of the day with ninth in the final moto.
"It's been a great season with ups and downs, I'm really happy to get the opportunity to ride for JDR Motorex KTM," Calvin said. "It's great to win the Andrew McFarlane Privateer Cup and have something to show for all of our hard work."
Top KTM finisher today was Herb Watson Racing's Jamie Law, taking 6-7-5-13 finishes. Law was a guest in the closing rounds of the series for the top privateer team in the championship.
KTM had three riders in the top 10 of the Under 19s round at Coolum, with Dan Banks (Eco-Pest Control KTM) seventh, Jay Wilson (Coastal KTM) eighth and Luke Reardon (KTM Brisbane) ninth.
Former Junior World Champion Wilson was sixth in the series as a rookie after winning two rounds, while Top Gear KTM's Dylan Long rounded out the top 10.
Visit www.ktm.com.au on the web for further information on KTM Australia, as well as KTM's full model line-up of off-road and road motorcycles available for 2011.
For additional information on the JDR Motorex KTM team, visit www.jdrmotorsports.com.au or check the team out on Facebook at www.facebook.com/jdrmotorsports.
2011 Rockstar Energy Drink MX Nationals
Round 9 Results:
Rockstar Energy Drink Pro Open
1. Jay Marmont 97
2. Billy Mackenzie 77
3. Todd Waters 64
4. Lawson Bopping 64
5. Cody Cooper 54
6. Jamie Law (Herb Watson Racing KTM) 53
7. Michael Addison 52
8. Michael Phillips 50
9. Josh Coppins 47
10. Beau Ralston 44
Motul Pro Lites
1. Kirk Gibbs 94
2. Kade Mosig 89
3. Matt Moss (JDR Motorex KTM) 71
4. Phil Nicoletti 67
5. Luke Styke 65
6. Justin McDonald 61
7. Josh Cachia (JDR Motorex KTM) 57
8. Daniel McCoy 57
9. Brenden Harrison (JDR Motorex KTM) 55
10. Keiron Hall 36
Pirelli Under 19s
1. Shaun Redhead 79
2. Jake Emanuelli 72
3. Luke Arbon 69
4. Jacob Wright 68
5. Errol Willis 63
6. Sam Martin 54
7. Dan Banks (Eco-Pest Control KTM) 54
8. Jay Wilson (Coastal KTM) 53
9. Luke Reardon (KTM Brisbane) 43
10. Dylan Peterson 41
Championship Standings (after 9 of 9 rounds):
Rockstar Energy Drink Pro Open
1. Jay Marmont 682
2. Josh Coppins 650
3. Billy Mackenzie 636
4. Dean Ferris 601
5. Cheyne Boyd 537
6. Michael Phillips 510
7. Lawson Bopping 497
8. Cody Cooper 449
9. Louis Calvin 340
10. Beau Ralston 246
Motul Pro Lites
1. Matt Moss 638
2. Kirk Gibbs 628
3. Phil Nicoletti 544
4. Brenden Harrison 533
5. Kade Mosig 529
6. Daniel McCoy 518
7. Josh Cachia 480
8. Justin McDonald 464
9. Cody Mackie 454
10. Luke Styke 437
Pirelli Under 19s
1. Errol Willis 719
2. Luke Arbon 619
3. Shaun Redhead 545
4. Dylan Peterson 466
5. Jake Emanuelli 452
6. Jay Wilson 438
7. Kyle McKeddie 401
8. Sam Martin 359
9. Kale Makeham 311
10. Dylan Long 306