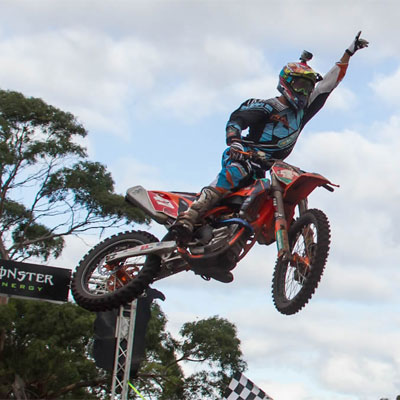 Another great day for Motorex KTM riders Todd Waters and Kirk Gibbs at the third round of the MX Nationals at the Victorian Wonthaggi circuit.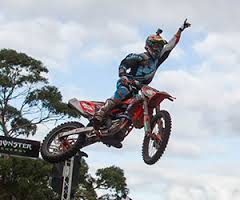 Waters missed out on being the fastest qualifier for the first time in the championship, but came back with his second double-moto win of the series. The KTM ace won the first moto from Cody Cooper and Lawson Bopping, then took the second ahead of Adam Monea and Matt Moss.
Gibbs posted seventh and fifth placings to register his highest overall placing in the championship to date (sixth), breaking into the top 10 in what is his first year in MX1.
Winning the overall extended Waters' early season championship lead to a handy 44 points over Moss and Monea, with Bopping, Cooper and KTM team mate Gibbs rounding out the top six.
Rob Twyerould, Team Manager – "Another great day of motocross, we thought it would get rougher than it did but it got more square-edgey bumps that really kept us on our toes with settings and tyre choice.
Todd rode really good today but didn't get all three today – he was still very competitive in Super Pole but was third fastest as one of only three to break into the 42s. He managed to grab three points there which was handy. In Race 1 Todd got a top five start and got through to the lead pretty quick, and then it was like New Zealand with him and Cooper streaking away. Cooper applied a bit of pressure for eight minutes, Todd made a few mistakes which allowed the gap to close then in the lappers he re-focussed and found some new lines and pulled out a three or four second lead to win by two. Kirk started just outside the top five but got stuck behind McCoy and suffered some arm pump which dropped him back.
"In the second Todd came through from a top five start to the lead pretty quickly, but Monea, who knows the track well kept Todd honest and stayed with him until the last ten minutes when Todd lit the afterburners and powered away to win by six or eight seconds. Kirk started around eighth and came right through fifth, passing Mackenzie and Cooper, then Marmont closed, but he was able to pull away. He just needs to work on his intensity in that first two or three sprint laps at the start but that will come. He's cracked the top ten now and the good thing is there's a lot of points on offer."
Todd Waters #47 – "We got two from two today which was great and third in the Super Pole got us some solid points. The track was pretty good for us – it got choppy in the hard pack and more rolly in the sandy sort of soil so it was like riding two different disciplines which always makes things a challenge. I had Coops tag along with me for a while in the first moto and Monea in the second which kept me honest and gives me something to work towards coming out for the next round. The points I know are important but I'm not really worried about them to tell you the truth – that's Rob's job, I'm just out to do the best I can do and wherever that lands me it lands me."

Kirk Gibbs #5 – "I qualified alright today, I really want to get into the Super Pole and I'm getting pretty close. We'll keep at it. The first race I was working towards a fourth or fifth and I felt good but I got some arm pump, faded back to 9th, then found my feet in the last couple of laps and worked my way back to seventh. The second moto I thought I rode well; I was ninth off the start and I struggled with the intensity early, but once it settled I moved forward pretty well. I got by Mackenzie in a pretty aggressive pass, then Lawson who was riding really well took me and I passed Cooper – not sure what happened to him. Toward the end I had Jay on my back, but I held my own. So that wasn't too bad, but I've got to keep moving forward. I'm lucky there's not a great deal of pressure on me with Todd doing really well but it's a really big learning year for me, I knew if I keep at it and stay fit and healthy, I'll be chasing podiums."
In the MX2 class, KTM's Kale Makeham and Brock Winston maintained third and fourth in the championship with third and fifth on the day (respectively) on their KTM250SX machines.
For more information on KTM motorcycles visit www.ktm.com.au  or  www.facebook.com.KTMAustralia
MX1 overall results Rd.3:
1. Todd Waters 73
2. Matt Moss 63
3. Adam Monea 62
4. Lawson Bopping 59
5. Cody Cooper 55
6. Kirk Gibbs 50
7. Ford Dale 48
8. Daniel McCoy 44
9. Tye Simmonds 42
10. Robbie Marshall 41
MX1 championship standings (after three of 10 rounds):
1. Todd Waters 214
2. Matt Moss 170
3. Lawson Bopping 168
4. Cody Cooper 160
5. Billy Mackenzie 157
6. Tye Simmonds 140
7. Adam Monea 133
8. Ford Dale 133
9. Kirk Gibbs 126
10. Jake Moss 124
MX2 overall results:
1. Luke Styke 67
2. Luke Clout 62
3. Kale Makeham 58
4. Josh Cachia 57
5. Brock Winston 51
6. Matt Ryan 47
7. Rhys Carter 46
8. Kayne Lamont 44
9. Dylan Long 43
10. Geran Stapleton 41
MX2 championship standings (after three of 10 rounds):
1. Luke Styke 202
2. Luke Clout 184
3. Kale Makeham 170
4. Brock Winston 160
5. Josh Cachia 145
6. Matt Ryan 137
7. Kayne Lamont 134
8. Geran Stapleton 131
9. Takeshi Katsuya 120
10. Rhys Carter 111
11. Dylan Long 109