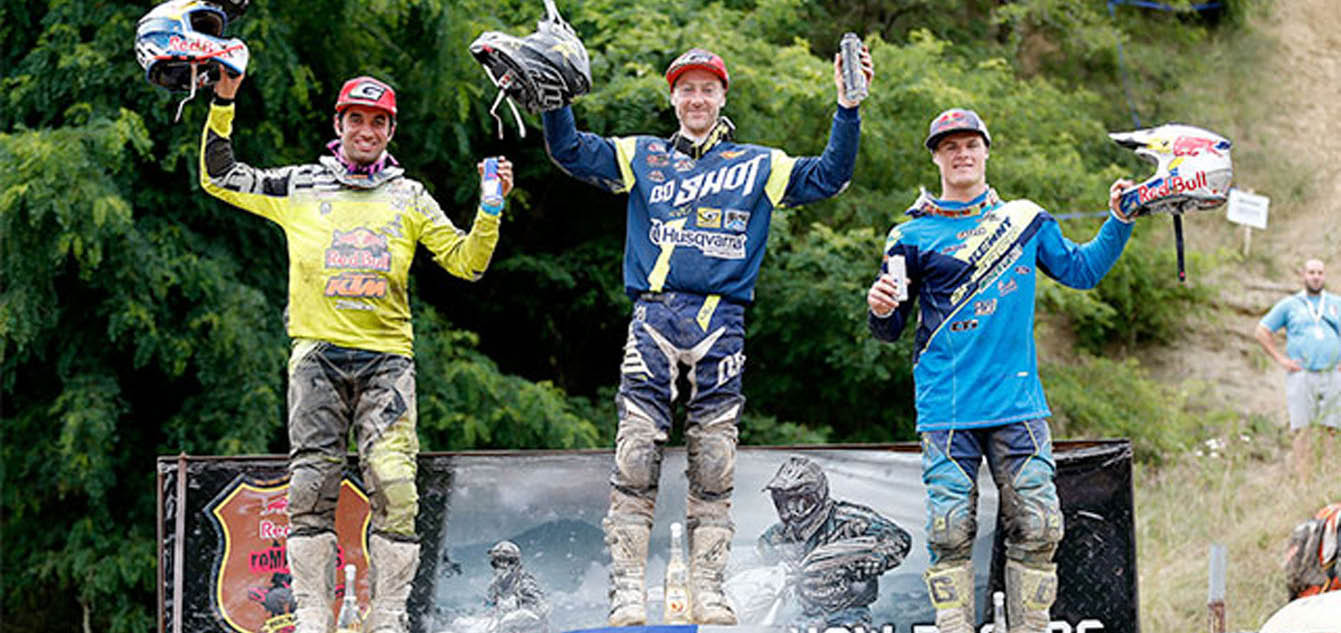 The Brit rode to a convincing record breaking win.
By Hayden Gregory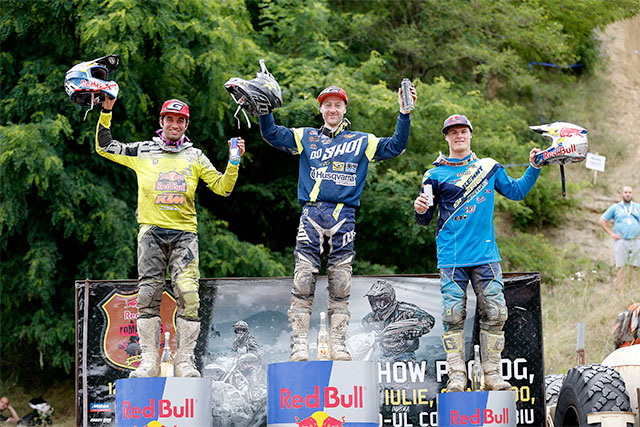 Graham Jarvis is known as one of the best enduro riders in the world and a Fifth Red Bull Romaniacs title has once again put him at the top of the sport. The thirteenth edition of the iconic race saw riders travel 654 gruelling kilometres across four days of action. Riders were well and truly pushed to their limits, with a mix of terrain and conditions adding to the difficulty of the world's toughest Hard Enduro Rally.
The opening day of riding saw South African Wade Young finish in the lead with Jarvis unable to find his rhythm back in fourth place. Looking to make amends the Rockstar Energy Husqvarna rider went on the attack on day two, reeling in the leading riders before pulling away to win. The third day was much the same with Jarvis dominating to clock up a 27 minute advantage.
Jarvis spent the final day in cruise control knowing he already had one hand on his record breaking fifth title. While Wade Young went on to win the stage, Jarvis still managed to extend his overall lead taking the chequered flag in just over 27 hours, some 35 minutes ahead of his nearest rival, KTM's Alfredo Gomez.
"It's an awesome feeling to win my fifth Romaniacs title," Jarvis stated, "No one else has ever done that before so this is quite special considering it's been three years since my last victory here. Like always it's been a tough week of racing. I didn't get it together on the first off road day and dropped down the order a bit. I knew I needed to regroup quickly and winning days two and three pretty much helped me secure the win. Finally a big thanks to Husqvarna and Damien my mechanic for their support, it's been a big team effort to get this winning result." 
It has been a standout couple of weeks for Jarvis who adds the Red Bull Romaniacs title to his dominant victory at the Erzbergrodeo Red Bull Hare Scramble last month.
"Erzberg and Romaniacs are the two biggest races of my year so to win them both is just perfect," Jarvis said. "I feel like my wins on days two and three is where the race was won for me. I managed to claw back the time I lost on day one and build a healthy lead.
"It feels great to ride into the finishing arena as the winner – I haven't had the feeling for three years. Hopefully I can keep this form going for the rest of the season."
Runner up Alfredo Gomez was proud of second place and admitted that you cannot afford to make mistakes when competing against someone with the calibre of Jarvis.
"It's good to finish second even though I really wanted to win," said Gomez. "I started this race strongly but had two days where I made some little mistakes. Against a rider like Graham, mistakes are not an option if you want to win."
Gomez who won the Red Bull Minas Riders Hard Enduro earlier this year further commented on the increased difficulty riders faced this year at Romaniacs.
"This year was my third Romaniacs and it really develops a lot. Last year we had one very difficult day but this year all the days were difficult. The level of the riders is improving but the race is also adapting to all levels. We took almost seven hours every day to finish the first three days, but in the past I remember we were finished in five hours 20 minutes."
Wade Young rounded out the 2016 podium after a fight to the finish with Mario Roman. A determined last day saw him move into third position, his second career podium at the event.
"It's fantastic to get on the podium," said Young. "I gave it everything I had today, I left nothing on the table. I passed Mario, but needed to keep my pace going before he could respond. Then I caught Graham and found the last bit of energy left in me to bring it home. It's been a hard week but worth it to get this result."
Jarvis has once again proven that he is the king of enduro and you would have to be a brave person to write him off for a sixth Red Bull Romaniacs title in the years to come.
Final Results – Red Bull Romaniacs 2016
1. Graham Jarvis (Husqvarna) 27:04:55
2. Alfredo Gomez (KTM) 27:40:23
3. Wade Young (Sherco) 27:45:29
4. Mario Roman (Husqvarna) 28:07:48
5. Scott Bouverie (KTM) 30:42:45