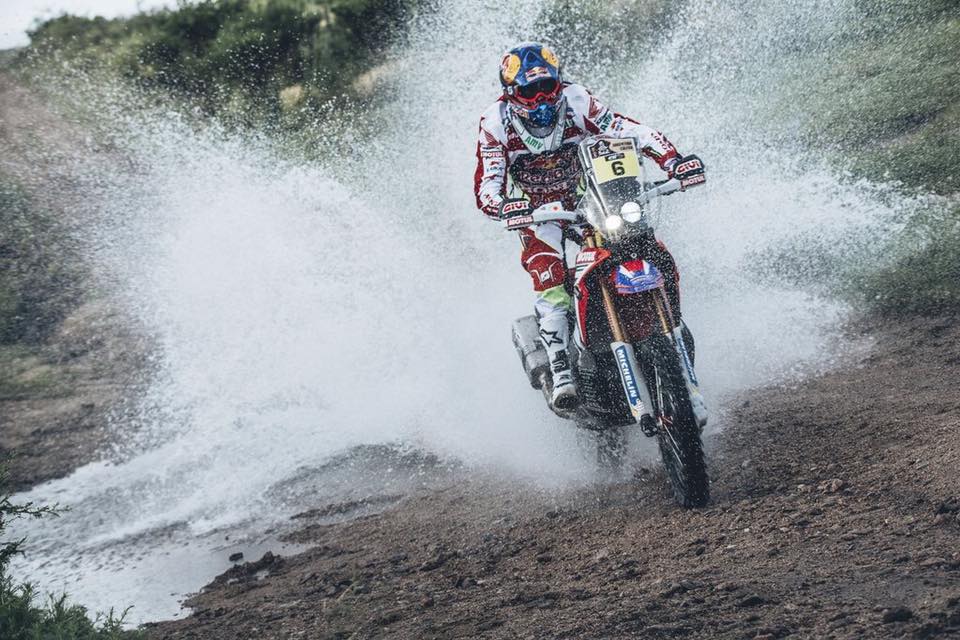 Joan Barreda was the fastest rider of the shortened stage which saw three Honda riders cross the line first.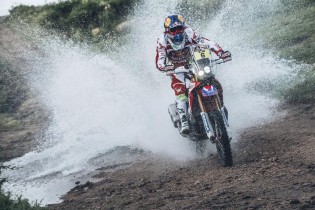 By Hayden Gregory
The ride from Termas de Rio Hondo to San Salvadore de Jujuy saw the Spaniard excel, to win by 26 seconds and also take his place at the top of the overall standings. Closely followed by team mates Kevin Benavides and Paolo Goncalves the Honda riders definitely put the other teams on notice.
Fourth place was taken by Red Bull KTM's Antione Meo. The Frenmchman made back some crucial lost time which he gave up assisting an injured rider during stage two.
"After that I pushed harder and it was good for me," Meo said. "I didn't want to start first tomorrow because I'm not ready to open a hard stage so fourth place is not too bad. Also it will be a difficult stage. I will try to learn more about the rally and also to understand the marathon stage. I need to use the tire better and stay safe."
Weather conditions led the stage to be shortened significantly yet many riders still faced their share of problems. No more than Australian hopeful Toby Price who fell from stage two winner to 37th in stage three, some eight minutes behind leader Barreda.
Price struggled with his GPS in the timed special before he ran into further problems with cars, spectators and animals on the track. The result has dropped Price down to 10th overall and he is still confident he can rebound from today's errors.
"That killed the confidence a bit so I backed it off because I didn't want to cartwheel or hit anything," Price said. "But it's a long race and today cost me a bit of time but I'm still in a good overall position and I'm happy about that. We're still good and we'll sort it out tomorrow."
Stage four will involve a 629km loop around San Salvadore de Jujuy weather permitting. The timed section will last 429km at an average altitude of 3500m which is set to challenge the very best of riders.
Stage 3 Results
1, Joan Barreda (POR), Honda, 2 hours 03 minutes 37 seconds
2. Kevin Benavides (ARG), Honda, + 00.26 seconds
3. Paolo Goncalves (POR), Honda, + 00.52
4. Antoine Meo (FRA), KTM + 00.53
5. Stefan Svitko (SVK), KTM + 00.57
6. Pablo Quintanilla (CHI), Husqvarna + 01.18
7. Adrien van Beveren (FRA), Yamaha + 02.02
8. Gerard Farres (ESP), KTM, + 02.12
9. Alain Duclos (FRA), Sherco, + 02.21
10. Matthias Walkner (AUT), KTM, + 02.52
11. Joan Pedrero ((ESP), Yamaha, + 03.07
12. Txomin Arana (ESP), Husqvarna, +03.11
13. Olivier Pain (FRA), KTM, + 03.41
37. Toby Price (AUS), KTM, +8.07
Overall Standings after Stage 3
1. Barreda at 6 hours 26 minutes 50 seconds
2. Svitko + 00.14
3. Benavides + 0048
4. Goncalves + 01.08
5. Duclos + 01.10
6. Walkner + 01.47
7. Quintanilla + 02.38
8. Faria +03.57
9. Pedrero + 04.33
10. Price + 05.03