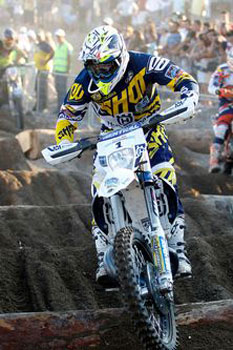 Bel-Ray Husqvarna Racing's Graham Jarvis has successfully defended his Sea to Sky crown, denying Jonny Walker a Hard-Enduro grand slam in the process.

By Hayden Gregory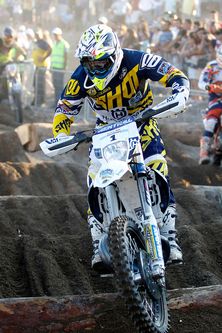 Heading into the final round of the 2015 Red Bull Hard Enduro Series, Walker was on track for a perfect season, winning all that was put before him. Things looked positive for the champion until a determined Graham Jarvis made his way through the pack eyeing off back to back titles.
Aboard his TE 300 Jarvis settled himself in to the race early, showing consistency to slowly catch the fast starters in Walker and Wade Young. At the halfway stage of the race, Jarvis hit the lead following a tactical decision.
Jarvis decided to skip the final refuel station, a move that payed dividends as he broke clear of the field to take the chequered flag by two minutes and 35 seconds.
"I really wanted this win," Jarvis commented. "It's been a long season without one so I'm delighted to end it on the top step of the podium.
"I knew everyone would be pushing for position early on so I let them get on with it and settled into my own race. I had a bit of ground to make up after the canyon section. I got up to third after the first fuel stop and closed up on Jonny shortly afterwards.
"I had a trick up my sleeve and gambled on skipping the second fuel stop. I knew the trail afterwards was going to be tight single track so if I was in front there would be a good chance I could keep the lead. It paid off and I got in front of Jonny when he was stopped. From there on I pushed hard over the mountain."
2015 Champion Jonny Walker managed to finish in second place while South Africa's Wade Young rounded out the final podium in third.
Results – Red Bull Sea to Sky 2015
Graham Jarvis (UK, Husqvarna) – 3 hours 8 minutes 35 seconds
Jonny Walker (UK, KTM) – 3:11:10
Wade Young (RSA, KTM) – 3:19:13
Paul Bolton (UK, KTM) – 3:20:19
Andreas Lettenbichler (GER, KTM) – 3:20:59
Lars Enöckl (AUT, KTM) – 3:22:57
Blake Gutzeit (RSA, Husqvarna) – 3:26:13
Jonathan Richardson (UK, KTM) – 3:30:43
Philipp Scholz (GER, KTM) – 3:37:57
Manuel Lettenbichler (GER, KTM) – 3:38:35