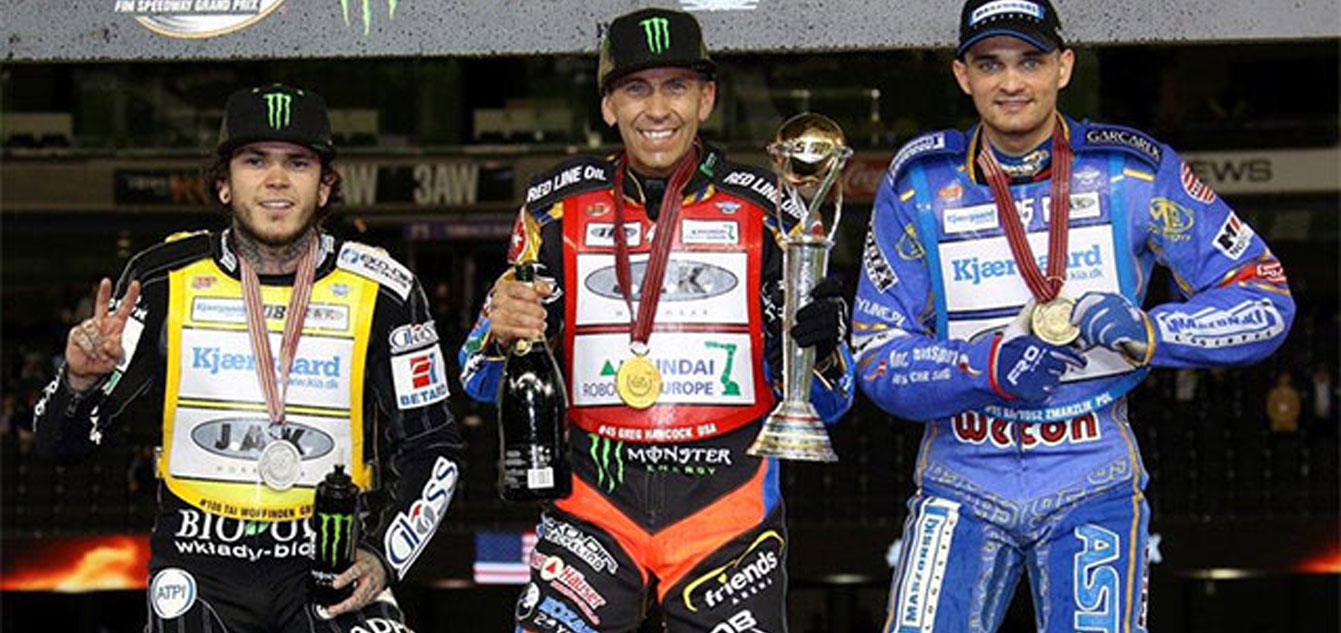 The American wrapped up the title while Australian rider Chris Holder scored round victory on home soil.
By Hayden Gregory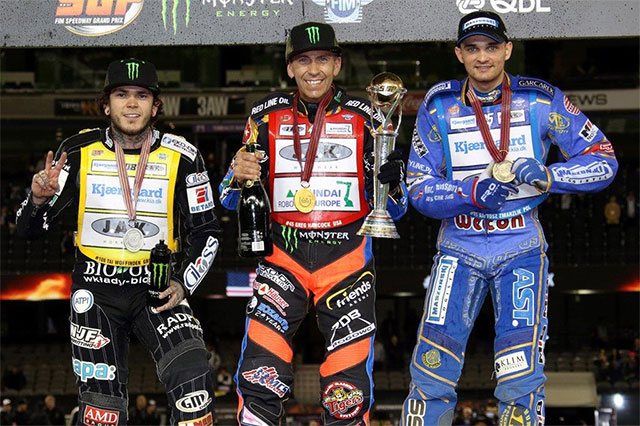 The finale of the 2016 FIM Speedway World Championship headed down under to Melbourne's Etihad Stadium and fans were treated to a great night of racing. American Greg Hancock capped off the night with yet another World Championship trophy, wrapping up the series in the early heats.
Hancock now joins the sport's elite, with only five other riders claiming the title four or more times. The sky really is the limit for the 46 year old who self admittedly has no intentions of slowing down.
"I've never put a timeframe on this game. I love what I am doing," Hancock said.
"As it is now, I'll keep fighting and I am trying to find that little bit extra every year to be a little bit quicker. I can't beat these guys on sheer aggression. I have to be a little smarter and a little quicker."
"It's great to be on a list of names with these other four-time world champions. Those guys have all been heroes, icons or pillars in the sport. To join them in something like this, I feel honoured. I'm impressed and happy for myself. It's a real, real honour to be in that company."
Hancock had nothing but praise for the Australian crowd and also paid tribute to round winner Chris Holder.
"It was fantastic to win it here in the Southern Hemisphere," he said. "The Australian people deserve a lot of credit. Obviously they were missing Jason, which is a shame, but Chris won and what a great result.
"Chris' year has been rough, so I'm just so happy for him. As it turned out, he worked hard from his first heat. He really, really worked hard."
Holder brought Etihad Stadium to its feet in the finale edging out Tai Woffinden, Bartosz Zmarzlik and Antonio Lindback in the finale. The Aussie was overwhelmed, scoring his first SGP victory since 2012. Victory also elevated him to fourth place in the 2016 standings.
"To be sitting here with the trophy in front of my home fans is amazing," Holder said. "It's sweet. It's something we dream about doing – all us Aussie guys. This is the best feeling in the world apart from being the champ.
"It has been a rough year off the bike, but on the bike, it has got better. I am looking forward to next year."
Defending World Champion Tai Woffinden finished second for the 2016 series and was pleased to go home with the silver medal.
"Regaining the championship is really hard and not many guys have done it," Woffinden stated. "But I gave it my all and to stand here and have a silver medal around my neck is pretty special.
"I'll come back fighting. As far as my own performance this year, I'm not really happy with it as a whole. But to be sat here with a silver medal around my neck is pretty good.
"We can't take anything away from this guy," he said inreference to Hancock. "He's a true legend and the biggest and best ambassador for this sport.
"He has won four world titles. I have done two, but I can't even imagine doing four. It totally blows my mind. He's so experienced. He's a legend. He keeps pushing and working hard.
"He has pulled it out the bag again. How much longer is he going to do it for? We don't know, but I'm looking forward to seeing what happens.
"I wish Doyley all the best. I hope you're back soon and we'll see you next year.
"Congrats to Chris for winning this GP. I have watched him over the last few rounds and he has started to become the Chris Holder of a few years ago. I'm looking forward to having some good battles with him for the next few years.
The top eight competitors for 2016 have also booked their place in the 2017 SGP series, meaning Australians Holder and Doyle are safe for another year on the circuit.
QBE INSURANCE AUSTRALIAN SGP SCORES:
1 Chris Holder 17,
2 Tai Woffinden 15,
3 Bartosz Zmarzlik 15,
4 Antonio Lindback 14,
5 Niels-Kristian Iversen 12,
6 Matej Zagar 11,
7 Michael Jepsen Jensen 10,
8 Piotr Pawlicki 8,
9 Andreas Jonsson 6,
10 Fredrik Lindgren 6,
11 Greg Hancock 5,
12 Maciej Janowski 5,
13 Peter Kildemand 4,
14 Chris Harris 4,
15 Jack Holder 2,
16 Sam Masters 2,
17 Brady Kurtz 2,
18 Max Fricke 0.
FINAL WORLD CHAMPIONSHIP STANDINGS: 
1 Greg Hancock 139 Points
2 Tai Woffinden 130 Points
3 Bartosz Zmarzlik 128 Points
4 Chris Holder 126 Points
5 Jason Doyle 123 Points
6 Piotr Pawlicki 99 Points
7 Antonio Lindback 93 Points
8 Niels-Kristian Iversen 91 Points
9 Matej Zagar 90 Points
10 Maciej Janowski 90 Points