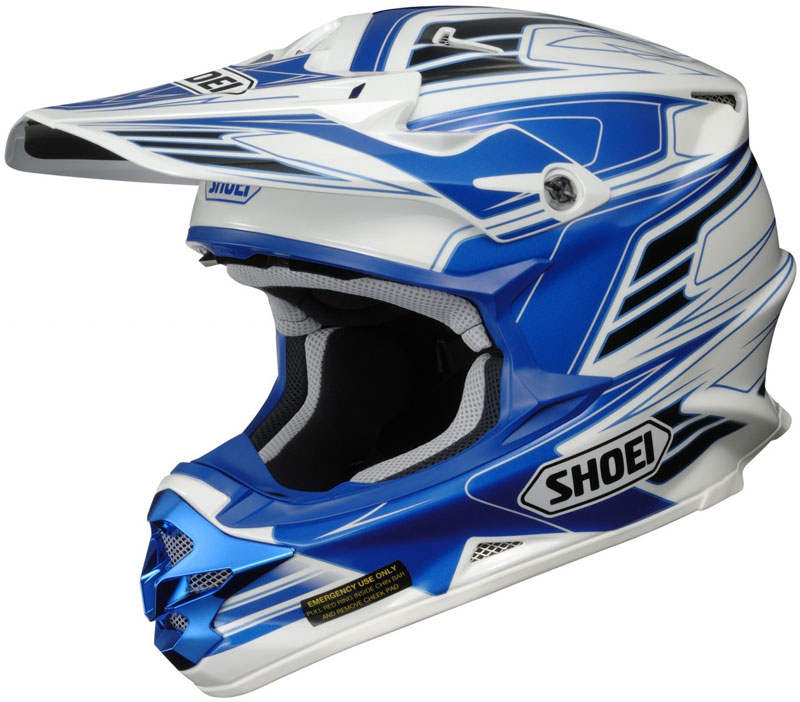 I know I did a review on the Shoei VFX-W a few issues back after a full 12 months of testing in the helmet, however, thanks to the guys at McLeod Accessories, we have a fresh-colour VFX-W to put to the test. After putting this helmet on my head, there were a few things I wanted to make mention of and also take a more in-depth look at the Shoei's high-quality features.
When I first slid the helmet over my head, something struck me. Usually when you wear a helmet for a good 12 months, it starts to bed in, even get a little looser as the foam and cheek pads bed in and wear a little. The difference between the Shoei I have been wearing and the new one was minimal! Sure, there was a difference, but I was expecting a super-tight fit compared to the Shoei VFX-W that has been put through the wringer for the past 12 months. Not the case.
It has that new feel to it, but in 12 months the other helmet hasn't worn to the point where it's overly noticeable. This is a huge tick for me as most people will wear their helmet for a minimum of two years. I guess this is why the Shoei VFX-W has a five-year warranty from purchase date.
SAFETY FIRST
The Shoei VFX-W is created using AIM+ technology. This process combines fibreglass with organic fibres, which is so strong it can only be cut with a laser. Not only does this create a safer, stronger shell, but it's also light and distributes the force safely.
Inside the shell is the dual-layer EPS liner. The liner has adjusted thickness in certain areas for better impact absorption; the inner liner features air channels for cooling; and there is also an impact-absorbing EPS liner through the chin bar.
The visor on the VFX-W is not just there for show; it was developed by Shoei's world-class sponsored riders and is designed to break away during impact, not forcing your head into damaging position. It's a fairly long visor for roost and sun protection, but also is adjustable in a manner that makes it easy to remove completely from view. The matte-black strip is to minimise glare.
The 3D Max-Dry liner is made up of foam pads that are three-dimensionally formed for a comfortable fit and the synthetic fibre absorbs sweat twice as fast as conventional nylon. The liner is removable and washable.
The emergency quick-release system is such a fantastic idea. Tabs on the side of the cheek pads make it easy to remove the pads without putting considerable load on the rider's head and neck, which could lead to the possibility of further injury.
Keeping your head cool inside a helmet is paramount to an enjoyable riding experience. Shoei has nailed this with intake points at the mouthpiece, forehead and through scoops that direct air straight into the EPS liner. All ports are covered with mesh to ensure they don't fill up with dirt. There is a total of seven exhaust ports to dispel hot air from the rear of the helmet.
THE PRICE
Let's not beat around the bush. This helmet is at the top of the price range for helmets — but it belongs there. At $799.90 it's a considerable investment, but it will last longer, be more comfortable and, above all, safer than a large number of helmets that are cheaper.
All helmets sold in Australia have AS1698 Australian Standards approval, which makes them legal for on- and off-road use in Australia, which isn't the case when buying from overseas. McLeod Accessories also offers full sales support. If you are serious about protection and want one of the safest helmets you can possibly purchase, head to your local bike shop and try on a Shoei. You won't regret it. — Matt Bernard
Price: $799.90