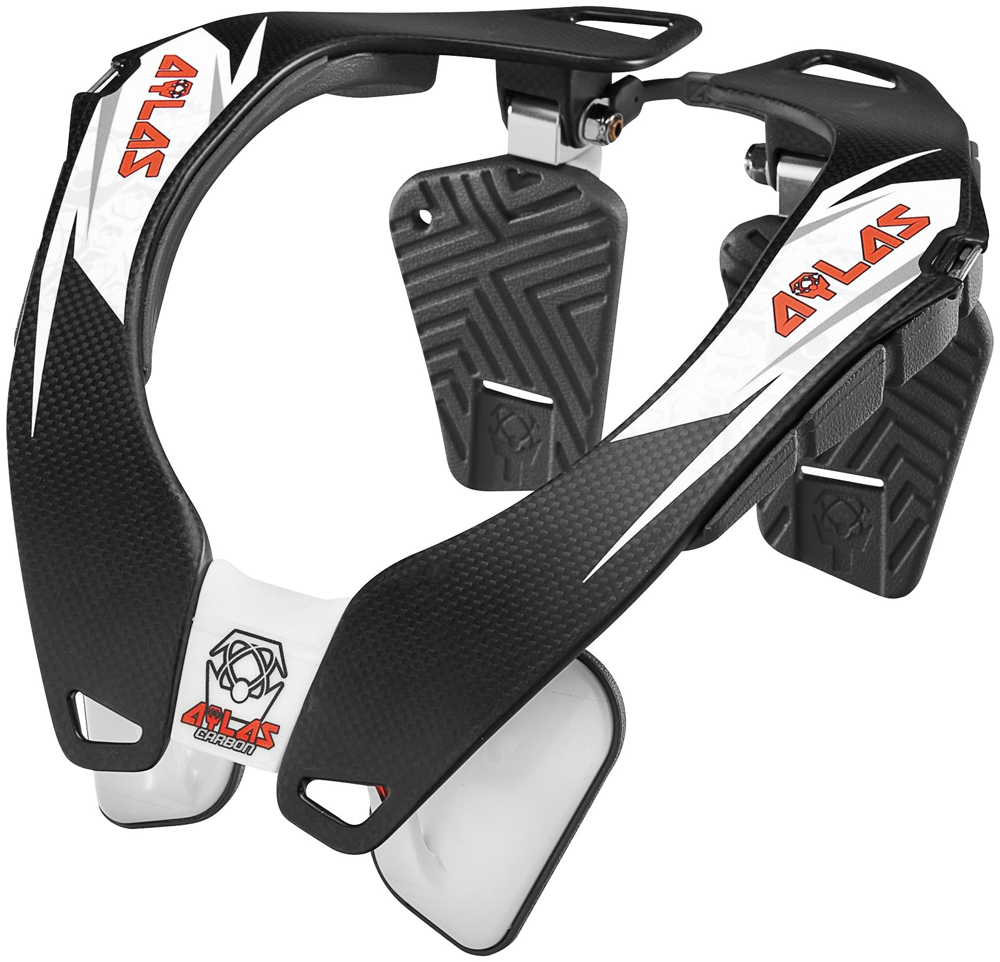 ATLAS ORIGINAL NECK BRACE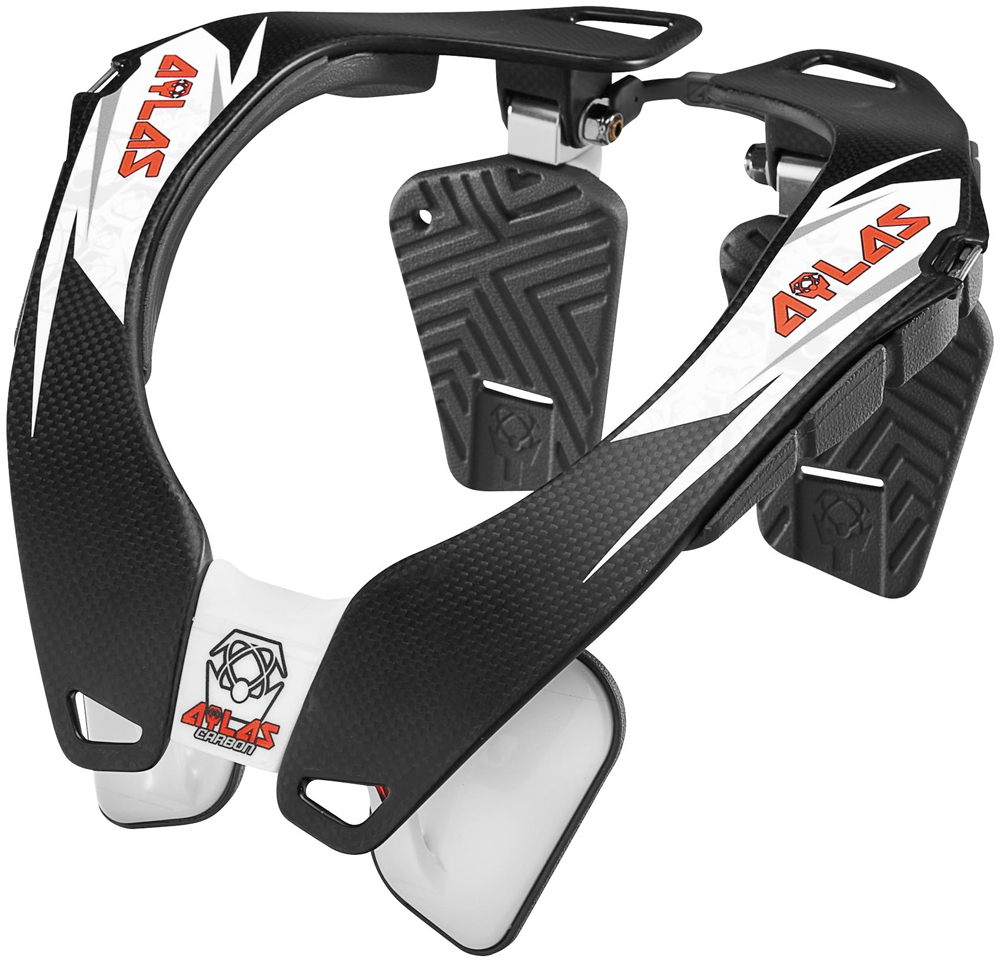 The subject of neck braces is divisive. There are some who won't ride without them and some who believe they actually cause more damage than they protect from. It's ultimately a difficult choice for any rider to decide which brace is best because the effectiveness of each is backed up by a tonne of data and evidentiary study — but which one actually works best is still a mystery.
I'm a brace wearer. I believe they're a good thing and in fact I believe that on at least one occasion a brace saved me from further injury. I've also seen that evidence in another huge crash a friend of mine had. I've tried the Leatt and I like it. I'll wear it happily but have always wished it was less restrictive when looking up. I believe the 2014 model braces from Leatt are designed to help there (with some considerable redesigns on the back piece as well) but I haven't tried one as yet so I can't confirm.
Recently, the good folks from Monza Imports suggested I try the Atlas Original brace and I must admit I was struck by its relative simplicity compared to the Leatt. There seems to be fewer pivots and joins, screws and clasps to deal with and maintain. It's light and comfortable, no doubt; in fact the actual points that contact your chest and back are well designed and you hardly register you're wearing the thing when you're riding. Ryan Villopoto rides with the Atlas and he sure as shit hits the ground hard, too, so if he's confident the brace works then who am I to doubt him?
You see, who wants to actually test its capabilities? It's all about trust and informed judgement when it comes to neck braces. I certainly liked riding with the Atlas on. It didn't restrict my movement in any way so I could once again look up and ahead. It can be put on straight over your head, which I do before my helmet goes on, or can be split and slid off horizontally in the event of a crash when it's unsafe to remove the helmet. It sat really nice and although I didn't use the straps it didn't move about at all. In fact that's one of the standout features of the Atlas: it's adjustable to suit your body shape, as you'd expect, and only a tiny adjustment was needed for me to find the sweet spot and I barely remembered the thing was there. It is in fact designed to flex and move with your body so you don't get that odd feeling of something rigid sitting on your shoulders while you ride.
I don't wear a chest protector much — I don't even own one to try the Atlas with — but the company explains it should fit with many modern chest protectors and given where it actually makes contact I can see it should be no drama in most cases. But certainly take your chest protector or armour into the dealership when you're trying on the Atlas.
It feels solid and at 750 grams it's certainly not heavy — yet not so light that you wonder if it's sacrificing durability. It's easy to clean, too, with all the crevasses easy to reach so no crap builds up.
I reckon the Atlas is worth a go and my impression, as a functional object that I'm wearing on the trails, is that it's unobtrusive and valuable. Is it the best neck brace when the shit hits the fan? I can't answer that about any brace on the market. The data is there, but I don't understand it all and have to go on how I feel. I feel good about the Atlas.
Atlas has been making neck braces since 2009 and the company has a wealth of knowledge in its ranks. Some of the thinking on this brace (like split, pivoting back and sternum supports), has been adopted by other companies, which shows some industry leadership and clever engineering. – Damien Ashenhurst