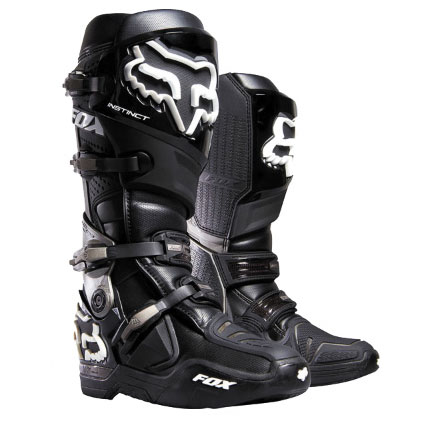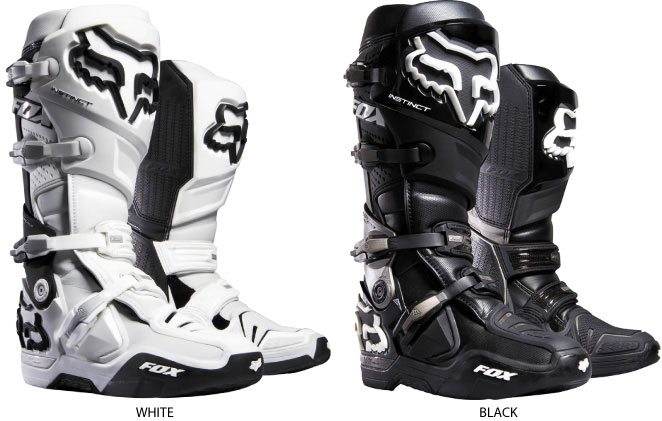 Fox – Instinct Boots | $549.95
Meet the boot that officially changed the game, the Fox Instinct boots. Developed in conjunction with the assistance of Ricky Carmichael, the new Instinct Boot from Fox is a premium offering which is soon to lead the pack. With years of product development and testing and a reputable name like Fox, the Fox Instinct boot will take your game to the next level.
The Fox Instinct boot has undergone the most extensive product wear testing in the history of Fox. Six prototypes & hundreds of test boots over three-years evolved into the Instinct of today, with the final result being a clear elevation of motocross boot performance. The objective of the Fox Instinct boot was to produce a boot with exceptional ankle support with a hinge design that keeps a subtle, leather boot feel with instant comfort & no break-in time. A unique, new buckle utilizes a lever system with friction enclosure. No pins are used. This buckle is made to last the life of boot.
Specifications
Comfort and Support:
Insole: The athletic foot bed acting as the first stage in Instincts progressive cushioning system is similar to one that you would find in a running shoe.
Shank: Imbedded in the Polyurethane midsole, the shank design is perfectly positioned to provide arch support while letting the front of the foot & boot flex for bike interface & walking comfort.
Midsole: The PU (Polyurethane) midsole provides amazing step-in comfort & vibration dampening. The embedded tempered Steel Shank is encapsulated in the PU material giving the Instinct footpeg arch support & awesome comfort (Patented Design).
Heel: The strategically placed TPU Heel Stabilizer provides heel & arch support.
Out sole: Features Fox's DURATAC rubber compound that disperses vibrations from the bike, provides amazing grip & outstanding durability (Lifetime Guarantee).
Buckles:
All new Patented buckle design that utilizes a pivoting clasp system.
By using a spherical locking head, the Instinct buckle works like a ball & socket joint. The clasp pivots 8 degrees in both directions allowing for automatic natural alignment of the straps.
Easy to use, smooth operation time & time again.
Buckles move with boot as it flexes.
Interface:
RCI (Ride Control Interface): The entire outsole & medial side of the boot is shaped & textured to provide the rider with unobstructed contact with the bike.
LRC (Low Ride Chassis): Gets the riders foot lower & closer to the footpeg. Lower toe box provides easier shifting & better rear brake feel & control.
DURATAC rubber compound on the outsole, burn guard & hinge cover was engineered exclusively by Fox's development team. The goal was to achieve optimal grip with bulletproof durability.
Fluid Movement:
FRE Hinge design (Full Response Engineering): Provides a controlled range of movement allowing effortless linear mobility & incredible lateral stability.
Patented hinge lock-out stops rear motion before hyper extension.
Top of boot gasket creates a secure seal. Velcro was eliminated to offer increased mobility.