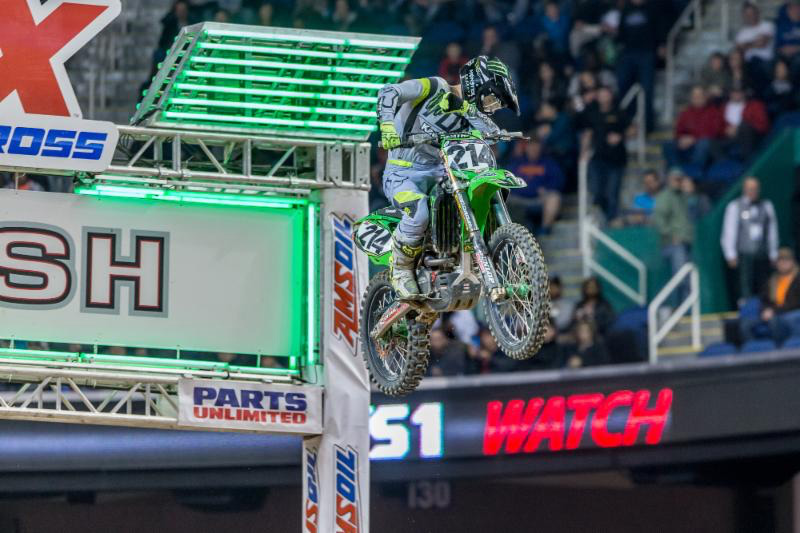 Austin Forkner has trumped the field in only his second career start at AMSOIL Arenacross.
By Hayden Gregory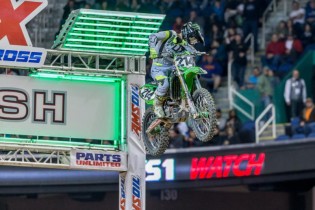 Forkner won all three races on the night to become only the second Ricky Carmichael Road to Supercross rider in history to win an event in the premier class.
The first 15 lap event saw Gavin Faith shoot to the holeshot with Forkner and Kyle Regal following close behind. Competition leader Chris Blose challenged Regal for third and had his man by the end of lap two. Faith looked solid up front until a crash on lap five left him to remount in sixth. Forkner took advantage of the mishap and was able to hold on to claim his first event win.
In a competitive race a number of riders held and lost the remaining podium positions but as the chequered flag waved it was Hayes in second and Jace Owen in third.
Ahead of race two Forkner was responsible for choosing the case with number 8 inside meaning half of the field would be inverted for the start. Despite the poor gate pick, Forkner was still able to shoot into the lead claiming the holeshot on his way.
Tucking in behind Forkner was Regal, Owen and Faith who were having a very competitive battle behind the leader. While they bashed it out the youngster was able to extend his lead on the field, cruising away to clean sweep the night's main events.
Regal was able to hold onto second place for a 4-2 result while Faith claimed the final podium position for a 5-2 finish. The podium places for the second event would also reflect the final standings for the round.
Forkner has no doubt stamped his mark on the competition highlighting his standing as one of the best young riders in the country. Becoming the second rider to clean sweep a round this season, Forkner is hot property and this win will undoubtedly be the first of many.
Arenacross Class Results – Main Event 1
Austin Forkner, Richards, Mo., Kawasaki
Jacob Hayes, Liberty, N.C., Kawasaki
Jace Owen, Matoon, Ill., Honda
Kyle Regal, Lake Elsinore, Calif., Husqvarna
Gavin Faith, Duncombe, Iowa, Kawasaki
Kyle Bitterman, West Pelzer, S.C., Husqvarna
Ben Lamay, Forney, Texas, Honda
Isaac Teasdale, Robbinsville, N.C., KTM
Cody VanBuskirk, Harvard, Ill., KTM
Joey Crown, Metamora, Mich., Kawasaki
Arenacross Class Results – Main Event 2
Austin Forkner, Richards, Mo., Kawasaki
Kyle Regal, Lake Elsinore, Calif., Husqvarna
Gavin Faith, Duncombe, Iowa, Kawasaki
Travis Sewell, Westville, Ind., KTM
Jace Owen, Matoon, Ill., Honda
Jacob Hayes, Liberty, N.C., Kawasaki
Chris Blose, Phoenix, Kawasaki
Ben Lamay, Forney, Texas, Honda
Kyle Bitterman, West Pelzer, S.C., Husqvarna
Jacob Williamson, Swartz Creek, Mich., Kawasaki
Arenacross Class Overall Results (Main Event Results)
Austin Forkner, Richards, Mo., Kawasaki (1-1)
Kyle Regal, Lake Elsinore, Calif., Husqvarna (4-2)
Gavin Faith, Duncombe, Iowa, Kawasaki (5-3)
Jace Owen, Matoon, Ill., Honda (3-5)
Jacob Hayes, Liberty, N.C., Kawasaki (2-6)
Ben Lamay, Forney, Texas, Honda (7-8)
Kyle Bitterman, West Pelzer, S.C., Husqvarna (6-9)
Travis Sewell, Westville, Ind., KTM (13-4)
Chris Blose, Phoenix, Kawasaki (11-7)
Cody VanBuskirk, Harvard, Ill., KTM (9-12)