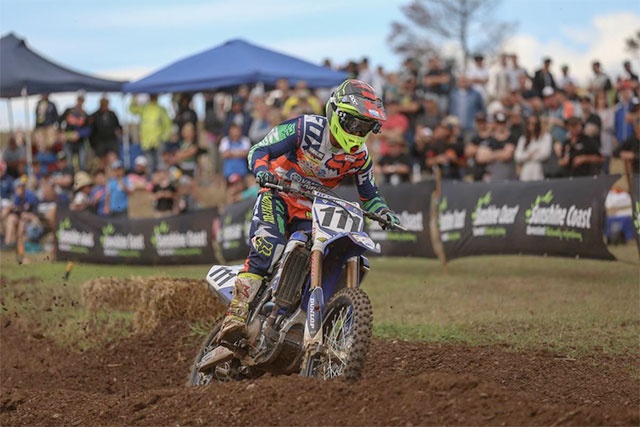 CDR Yamaha's Dean Ferris has topped the second round of MX Nationals, taking with him the red leader's plate.
By Hayden Gregory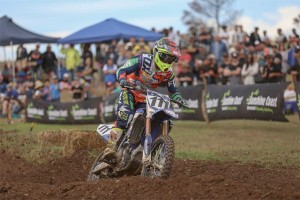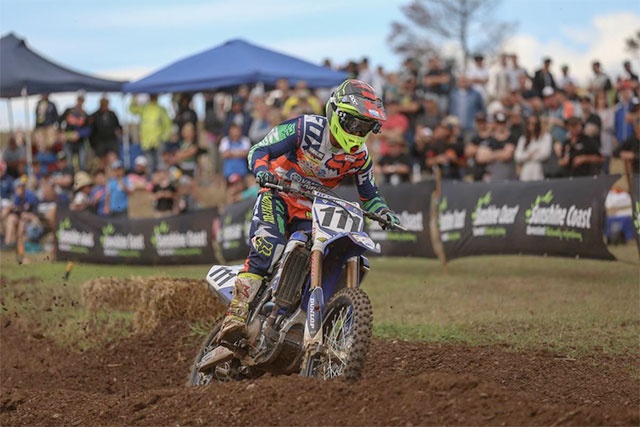 A very consistent effort in the Thor MX1 class has moved Ferris into the championship lead. A first moto win followed by a third in the second race was enough to take overall points in a very strong display.
As qualifying got underway, Wilson Coolair Motul Factory Suzuki's Todd Waters recorded the fastest time followed by Kirk Gibbs and Matt Moss. The speed then continued for Waters claiming the GoPro Superpole with a lightning fast lap.
The first moto got underway with a holeshot to Ferris closely followed by Waters and Moss with all three riders battling for the overall lead. By lap three, Waters made a move to the front before stretching out to a few bike lengths.
In chase, KTM's Kirk Gibbs looked up to the fight closely tailed by Ferris. As the race moved into the latter stages, 2015 champ Gibbs was able to snatch the lead, leaving Waters and Ferris to battle it out for second.
In a thrilling last lap, Gibbs appeared the likely victor before a last ditch effort by Ferris proved the deciding factor, moving him to the front and securing the chequered flag. Gibbs held onto second with Waters in third.
After an exciting first moto the stage was set for an even better second and it was Matt Moss getting things underway with a classy holeshot. In second place Brett Metcalfe started well alongside the ever consistent Gibbs in third.
Moss looked steady out in front, while Metcalfe continued to press for the lead. On lap seven the move was made and the Husqvarna rider hit the lead much to the delight of the crowd. Metcalfe began to extend on Moss reaching a near four second lead after only one lap.
A late crash to Moss was a dampener for the Kawasaki rider handing podium positions to Waters and Ferris. Gibbs was also able to benefit from Moss' misfortune moving into fourth.
The story of the day was Metcalfe who was evidently ecstatic with his first ever MX1 victory. The victory placed him just shy of round honours falling short of Ferris by just two points. Todd Waters would round out the Appin podium just ahead of Kirk Gibbs and Matt Moss.
"I'm stoked to get the round win today, the plan was always just to get through the first round, but honestly I was pretty disappointed not to get the win in Horsham to be honest," Ferris said.
"It's nice to get the overall win here at Appin, but I've got to give a lot of respect to my competitors, everyone is riding very well and it's great to be back at the MX Nationals. I'm having so much fun riding with the CDR Yamaha team, so it's nice to give those guys a good result.
"Everyone is fast at the moment, and when you've got the red plate you've always got a target on your back, but I'll just keep doing my best to ride well – the first three rounds are critical so we want to be putting ourselves in the best position possible."
Ferris now holds the MX1 red leader's plate with 127 points. Kirk Gibbs sits second on 125 while Todd Waters moves into third.
The Motul MX Nationals will now begin preparations for round three of the championship, being held at Broadford in Victoria on May 1, 2016
Thor MX1 round two results 

1) Dean Ferris – 65 points
2) Brett Metcalfe – 63 points
3) Todd Waters – 62 points
4) Kirk Gibbs – 60 points
5) Matt Moss – 52 points
6) Daniel Reardon – 49 points
7) Kade Mosig – 48 points
8) Jacob Wright – 45 points
9) Dylan Long – 44 points
10) Jay Wilson – 43 points
Thor MX1 Championship Standings
1) Dean Ferris – 127 points
2) Kirk Gibbs – 125 points
3) Todd Waters – 119 points
4) Matt Moss – 117 points
5) Brett Metcalfe – 115 points
6) Kade Mosig – 104 points
7) Daniel Reardon – 99 points
8) Dylan Long – 92 points
9) Jay Wilson – 86 points
10) Kurt Wightman – 69 points
.