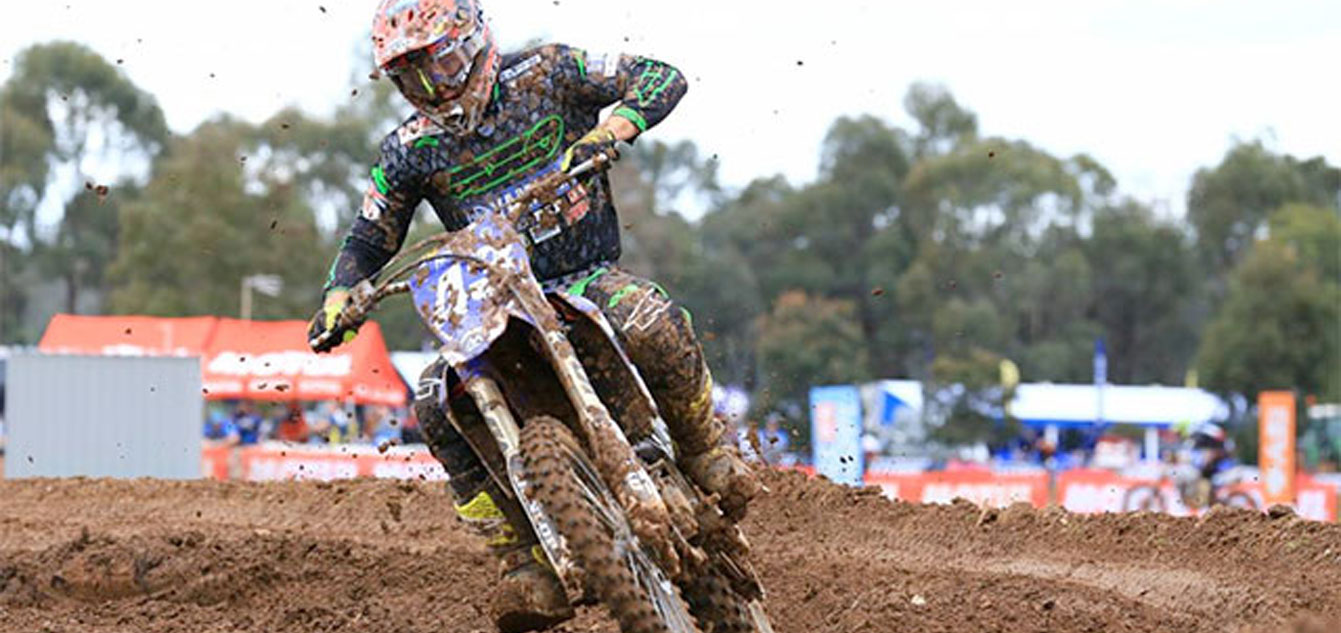 Mitch Evans has swept round eight of the Motul MX Nationals moving into the championship lead.
By Hayden Gregory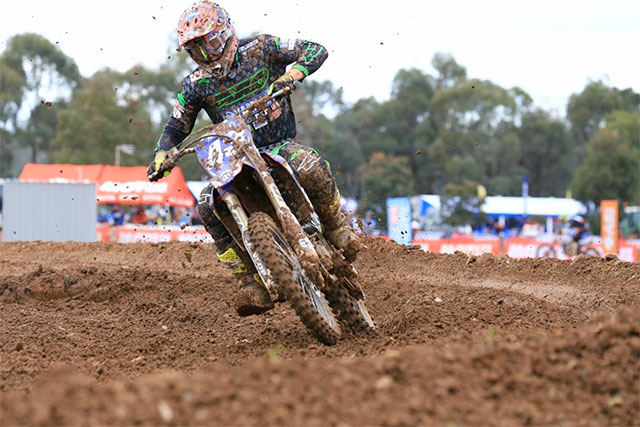 The Yamalube Yamaha rider clocked the fastest time in qualifying ahead of Wade Kirkland and Lochie Latimer.
In the opening moto KTM's Luke Abela scored the MXStore holeshot with Connor Tierney finding the lead only a few laps in. This was shortlived however as a small mistake allowed Evans to move into the lead. With only three laps down, Evans had already amassed a 14 second lead and was looking dominant out in front.
A long way behind, Zak Small moved into second place with Kirkland also passing Abela into third.
As the chequered flag waved, the top three held their positions and Evans sensationally scored moto victory by 28 seconds.
Race two got underway in similar circumstances with danger man Evans taking control of the race. Small and Kirkland found themselves battling for the minor positions again closely followed by Connor Tierney.
Evans shut out the competition once again as he cruised to his second victory of the day. In the closing stages Tierney was able to charge through the field passing both Small and Kirkland into second place.
In a dominant display, Evans claimed another undefeated round, moving into the championship lead three points ahead of Connor Tierney with two rounds left to race.
"I've definitely got a lot more confidence after this round, going 1,1 gives you a lot of confidence and it's good for the points chase so I couldn't be happier," Evans shared.
"It was a bit of a slow start to the series for me, but now we've got the red plate and we're back on track. Mike Ward, my mechanic has been helping me out heaps and getting me back training, so I'm feeling 100 per cent.
"Now that I've got the red plate, and I'm heading back to my home state I couldn't be more confident for the next two rounds."
Wade Kirkland was awarded second for the round with KTM's Cooper Pozniak landing on the final step of the podium.
Pirelli MXD round eight results
1) Mitchell Evans – 70 points
2) Wade Kirkland – 62 points
3) Cooper Pozniak – 56 points
4) Connor Tierney – 54 points
5) Kaleb Barham – 50 points
6) Luke Abela – 50 points
7) Justin Hart – 48 points
8) Levi McManus – 47 points
9) Hugh McKay – 40 points
10) Jackson Coulson – 38 points
Pirelli MXD Championship Standings
1) Mitchell Evans – 416 points
2) Connor Tierney – 413 points
3) Wade Kirkland – 404 points
4) Cooper Pozniak – 394 points
5) Kaleb Barham – 350 points
6) Zak Small – 324 points
7) Jordan Hill – 322 points
8) Lochie Latimer – 303 points
9) Hugh McKay – 268 points
10) Levi McManus – 245 points