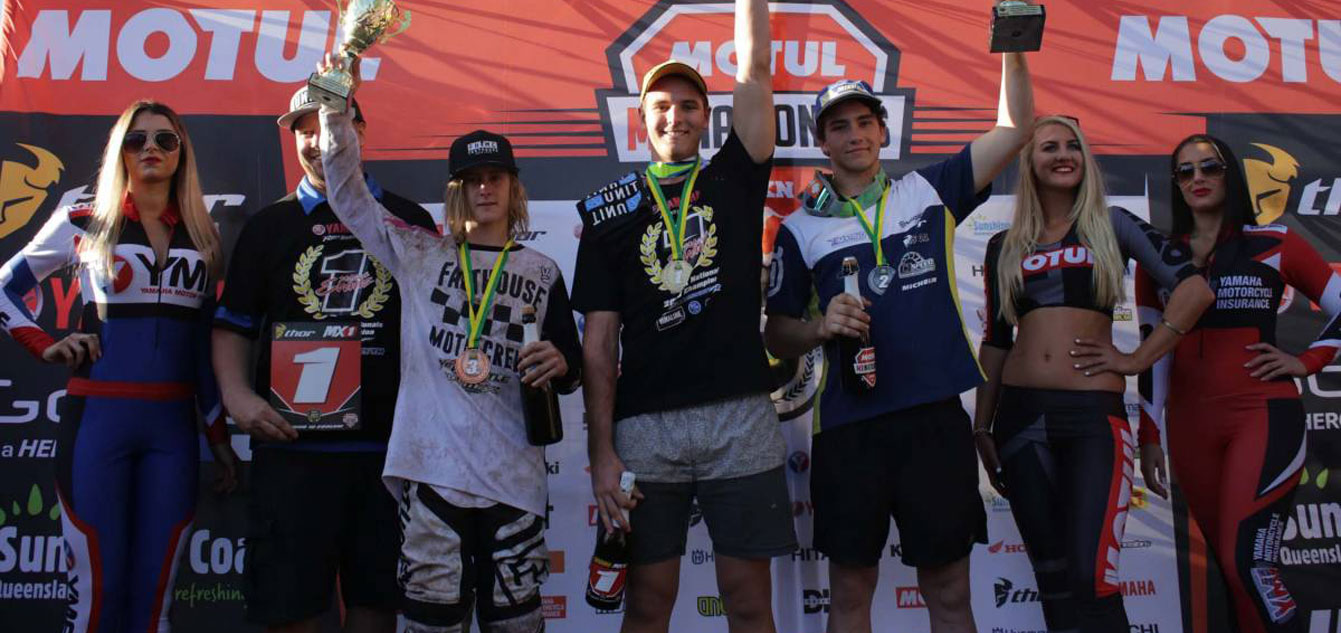 Mitch Evans wrapped up the 2016 Championship despite a sixth place finish at the Coolum finale.
By Hayden Gregory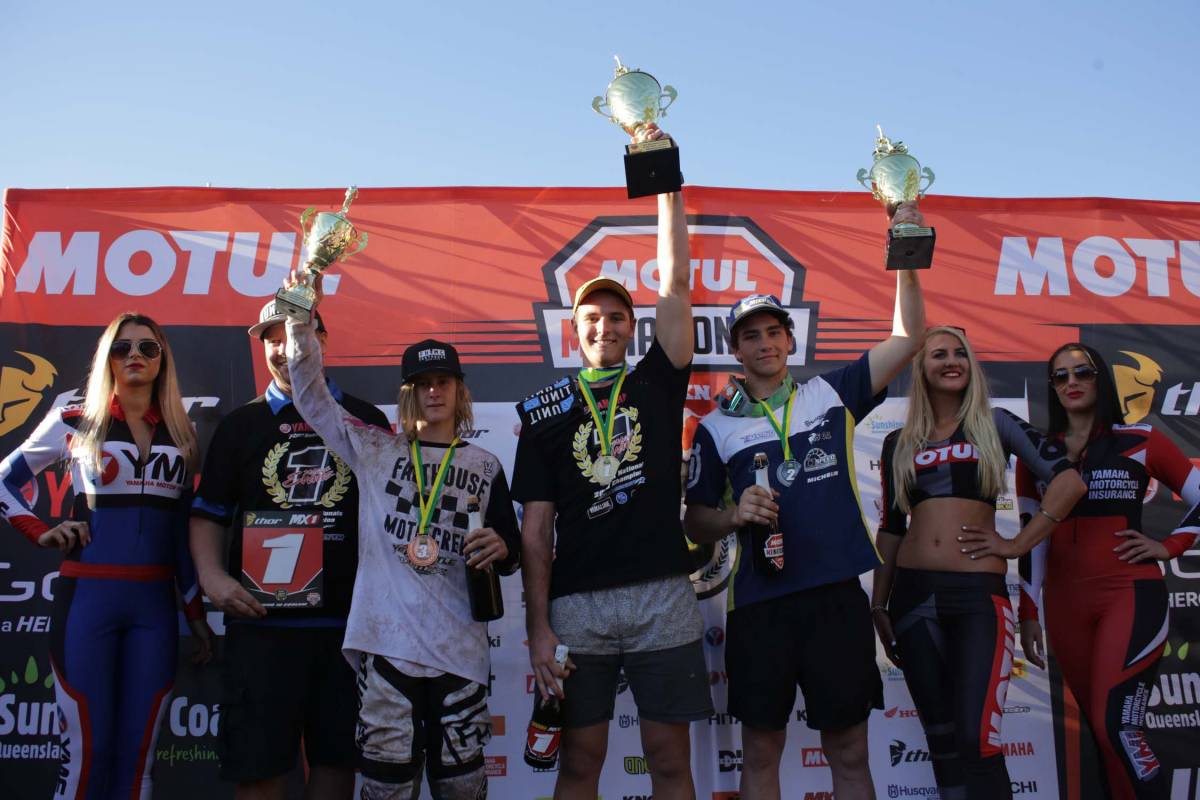 The under 19 riders hit the motocross track for the final time in 2016 and it was Cooper Pozniak getting the pick of the starts scoring the MXStore holeshot ahead of Husqvarna's Connor Tierney. A few turns later and chaos erupted with a number of riders colliding leaving a scramble for position. Raceline Pirelli KTM's Wade Kirkland emerged the new race leader while red plate holder Evans remounted near the back of the pack.
Kirkland began to stretch his lead from Pozniak in second and Justin Hart in third. By the halfway stage Connor Tierney managed to chase down Hart before Kirkland began to fade dropping right off the pace into third.
With two laps remaining Tierney would go down rejoining the race in ninth place. Cooper Pozniak would cruise to the chequered flag followed by Zak Small and Kaleb Barham. Kirkland was relegated to fourth while Evans made a huge charge home to crack the top ten.
With one moto left to race the MXD championship was still wide open and Evans would need to put the woes of race one behind him if he wanted to secure the title.
As gates dropped, Kaleb Barham scored the second MXStore holeshot before Tierney quickly moved into the lead. Kirkland also made his way past Barham as did Small, while Evans once again found himself fighting outside the top five.
Kirkland continued to apply pressure on Tierney out front and on lap nine he finally had his man. In the closing stages Barham also made his move on Tierney moving into second place. The final chequered flag of the season had Kirkland out front, Barham second and Tierney third.
In a much calculated and safe ride, Mitch Evans crossed the line in fourth place, taking with him the 2016 MXD Championship title.
"It hasn't really sunk in yet that I've done it. This is a feeling I can't describe," Evans shared.
"There's a lot of work that goes in during the week and there's a lot of things behind the scenes that people don't see so it's just a great feeling to see that finally pay off.
"We had a pretty comfortable lead coming in to this round, but we had a tough first moto and I was actually scared I was going to lose this championship, but we came back, and honestly that last race was the longest 20 minutes of my life, but we got the job done and I couldn't be happier."
Wade Kirkland won the final round with 63 points ahead of Pozniak (61) and Barham (60).
The final championship tally would see Mitch Evans rise to the top on 536, Connor Tierney in second on 523 and Cooper Pozniak on the final step of the podium with 510 points, just one single point ahead of Kirkland in fourth.
Pirelli MXD round ten results
1) Wade Kirkland – 63 points
2) Cooper Pozniak – 61 points
3) Kaleb Barham – 60 points
4) Zak Small – 57 points
5) Connor Tierney – 52 points
6) Mitchell Evans – 50 points
7) Jordan Hill – 49 points
8) Dylan Wood – 48 points
9) Luke Abela – 45 points
10) Sam Pelz – 42 points
Pirelli MXD Championship
1) Mitchell Evans – 536 points
2) Connor Tierney – 523 points
3) Cooper Pozniak – 510 points
4) Wade Kirkland – 509 points
5) Kaleb Barham – 454 points
6) Zak Small – 433 points
7) Jordan Hill – 431 points
8) Hugh McKay – 345 points
9) Levi McManus – 310 points
10) Lochie Latimer – 303 points