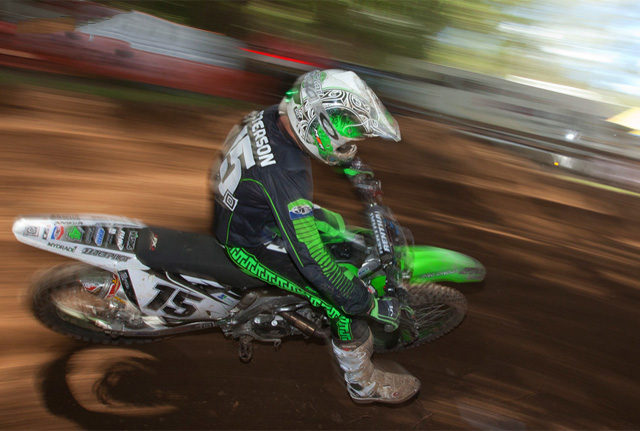 Monster Energy Kawasaki's Billy Mackenzie Sidelined with Wrist Injury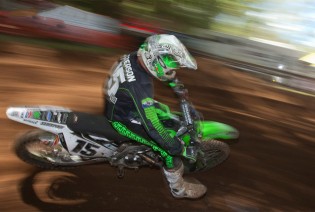 Monster Energy Kawasaki rider Billy Mackenzie will miss up to 3 months of racing due to ligament damage in his left wrist. The Scottish champion injured his wrist in a race crash at the 2nd round of the 2012 Monster Energy MX Nationals at Coonabarabran, NSW on 15 April.
The injury is a real blow to Mackenzie who proved himself to be a legitimate contender for the championship crown in 2012, racing up the front for the majority of the races so far. Surgery to repair Billy Mackenzie's injured wrist last Friday was successful with the extent of the injury not as serious as first presumed.
Billy Mackenzie say's, "Obviously this is a set back. I've been riding well so far this year. I don't have a bad conscious about getting injured because I was trying my best in the race. I was in 2nd place and going for the win, leaving nothing on the table. These things happen. I didn't crash through lack of effort or speed, I just got caught out."
"I'm going to take a couple of weeks to let the pain and swelling from the surgery subside before starting my training again."
Privateer rider, Dylan Peterson, from Kawasaki team Ride4 has earned himself the coveted seat on the Monster Energy Kawasaki KX450F vacated by Billy Mackenzie by being Kawasaki's top privateer MX1 rider in the first two rounds of the series.
Dylan Peterson say's, "It's great to come on board with a team like Monster Energy Kawasaki. There's no real pressure on me which is good so my goals are just to improve my results as the season goes on and become a better and faster rider and crack the top ten."
Monster Energy Kawasaki Team Manager, Troy Carroll say's, "It's a real shame Billy got injured this season. He was fast and fit and had all the tools to win. We look forward to his return."
"It's a big deal for Kawasaki to give the top Kawasaki privateer in the country the opportunity to ride for the factory team. Hopefully Dylan will be able to step up to the plate and improve on his results on the factory bike."
Dylan Peterson will join Monster Energy Kawasaki riders Jay Marmont and Kade Mosig at the 3rd round of the 2012 Monster Energy MX Nationals atWonthaggi,Victoria on 28-29 April.