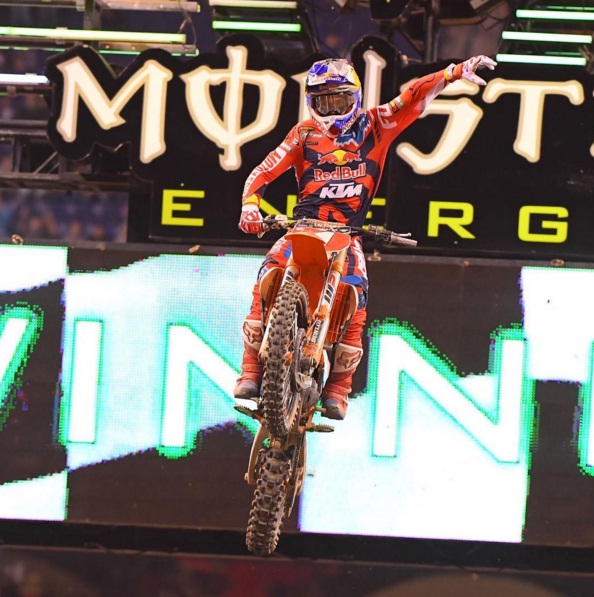 Ryan Dungey has held off Ken Roczen in a thrilling Indianapolis 450SX main.
By Hayden Gregory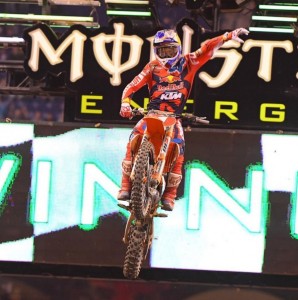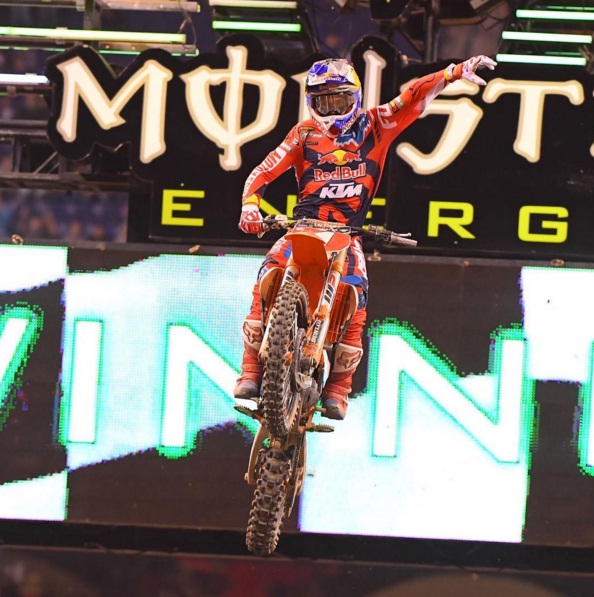 The two riders went toe to toe for twenty laps with Dungey ultimately claiming the chequered flag by less than two seconds. It was an exciting race which had the 60000 strong crowd on the edge of their seats.
The main got underway with a holeshot to Mike Alessi before Dungey's inside line once again paid dividends with the KTM rider moving into the race lead by the end of the first rhythm section. Behind him Eli Tomac had moved into a shortlived second with Ken Roczen moving past him moments later.
Dungey was unable to pull away out front allowing Roczen to attack for the lead. A number of battles would follow with the two virtually inseparable changing positions at nearly every turn. Tomac was cruising along in third before a crash on lap eleven allowed Jason Anderson to move into the final podium position.
With five laps left to race Dungey and Roczen were still side by side and one lap later a small slip up by Dungey allowed Roczen an opportunity to pull away. While completing the lap Roczen rolled the finish line proving extremely costly as Dungey jumped through to regain the lead. From there, Dungey held on to capture his seventh victory of the season.
That's what it's all about right there. That's why we work hard [during the week], to put on a good show," said Dungey. "It's not going to be easy all the time, but we fought to the end. I was riding on the ragged edge there to keep it [the bike] in line. I was able to get a good start and that's what put me in position to run up front and take the win."

Dungey extended his overall championship lead to 45 points over Roczen while Anderson solidified his hold on third.
"Ultimately I wish the race kept going for another five laps. The track was really rough out there, but we kept fighting the whole way," said Roczen. "I was able to make a pass for the lead but I made a mistake right before the finish and couldn't make the jump, so that gave [Dungey] back the lead. I made another mistake later and that pretty much ended it." 
In the 250SX Eastern Regional class, Aaron Plessinger scored round victory to become the fifth individual series winner in as many races. Plessinger moved into the lead on lap one and never looked back piecing together an exceptional ride to win by more than 10 seconds.
"I can't even tell you how amazing this feels. I'm speechless," said Plessinger. "These fans are crazy. I heard them every lap. I was so determined today, especially in front of my hometown crowd. I just put my head down and got the start. It wasn't easy, but it was easier than my last races for sure." 
Malcolm Stewart held consistent in second place maintaining his overall championship lead.
"Hats off to Aaron. Now he knows what it feels like to win," said Stewart. "I'm happy with second. I can't take anything negative from this. I'm going to keep doing what I'm doing and hopefully I keep the red plate [as the points leader] and win this championship. We only have four races left, so we'll keep trying to get those points." 
Gannon Audette secured his first career podium in third after also claiming the SupercrossLive.com Holeshot award.
Plessinger now sits second behind Stewart in the championship, with Martin Davalos dropping to third after a fifth place finish.
450SX Class Results
1. Ryan Dungey, Belle Plaine, Minn., KTM
2. Ken Roczen, Clermont, Fla., Suzuki
3. Jason Anderson, Rio Rancho, N.M., Husqvarna
4. Trey Canard, Edmond, Okla., Honda
5. Blake Baggett, Grand Terrace, Calif., Suzuki
6. Chad Reed, Dade City, Fla., Yamaha
7. Christophe Pourcel, San Antonio, Fla., Husqvarna
8. Justin Brayton, Mint Hill, N.C., KTM
9. Eli Tomac, Cortez, Colo., Kawasaki
10. Mike Alessi, Hilliard, Fla., Honda
450SX Class Championship Standings
1. Ryan Dungey, Belle Plaine, Minn., KTM – 303
2. Ken Roczen, Clermont, Fla., Suzuki – 258
3. Jason Anderson, Rio Rancho, N.M., Husqvarna – 240
4. Eli Tomac, Cortez, Colo., Kawasaki – 212
5. Chad Reed, Dade City, Fla., Yamaha – 193
6. Marvin Musquin, Corona, Calif., KTM – 182
7. Cole Seely, Sherman Oaks, Calif., Honda – 173
8. Justin Brayton, Mint Hill, N.C., KTM – 149
9. Trey Canard, Edmond, Okla., Honda – 138
10. Jacob Weimer, Wildomar, Calif., Suzuki – 106
Eastern Regional 250SX Class Results
1. Aaron Plessinger, Hamilton, Ohio, Yamaha
2. Malcolm Stewart, Haines City, Fla., Honda
3. Gannon Audette, Tallahassee, Fla., Kawasaki
4. Shane McElrath, Canton, N.C., KTM
5. Martin Davalos, Clermont, Fla., Husqvarna
6. RJ Hampshire, Brooksville, Fla., Honda
7. Anthony Rodriguez, Cairo, Ga., Kawasaki
8. Tyler Bowers, Corona, Calif., Kawasaki
9. Luke Renzland, Hewitt, N.J., Yamaha
10. Cedric Soubeyras, France, Kawasaki
Eastern Regional 250SX Class Championship Standings
1. Malcolm Stewart, Haines City, Fla., Honda – 102
2. Aaron Plessinger, Hamilton, Ohio, Yamaha – 92
3. Martin Davalos, Clermont, Fla., Husqvarna – 77
4. Jeremy Martin, Millville, Minn., Yamaha – 74
5. Tyler Bowers, Corona, Calif., Kawasaki – 66
6. Justin Hill, Yoncalla, Ore., KTM – 63
7. Gannon Audette, Tallahassee, Fla., Kawasaki – 61
8. RJ Hampshire, Brooksville, Fla., Honda – 59
9. Shane McElrath, Canton, N.C., KTM – 53
10. Matt Bisceglia, Weatherford, Texas, Suzuki – 49