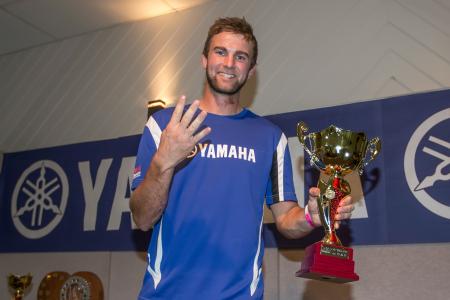 CDR Yamaha's Daniel Milner has made it four wins in a row at the Australian Four Day Enduro, joining Stefan Merriman as the second most successful rider in the event's history.
By Hayden Gregory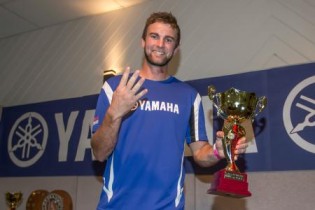 Milner claimed his fourth title leading the way start to finish in an extremely impressive enduro ride. Taking out the E2 class on his way, Milner now sits joint second in the history books behind six time winner Shane Watts.
"I'm absolutely stoked with it. It's been such a rough year that I've had in the States, but to come out on top with my fourth one (outright Four Day title) I'm absolutely pumped." Milner explained.
"It's definitely good. Winning Four Days was something that I always looked up to doing as a young fella, with the likes of Shane Watts and all the big boys up there at the time. To get away with four in a row, it has put the biggest smile on my face that's for sure.
"This one would have to be up there. Coming from such a bad year that I've had – it's been the toughest of my career by far being over in the States – so this is probably the best. It is Matty's (Phillips) home ground as well, and to beat him over here I'm stoked.
"I just kept a level-head really. I tried to eliminate the mistakes and stay smooth for the whole four days. Everything that happened throughout the week worked well, so I was happy with that."
Milner finished a minute and 27 seconds ahead of KTM Enduro Racing's Matthew Phillips who secured second overall in his hometown event and first in the E3 class. KTM teammate Daniel Sanders completed the outright podium finishing third.
2015 AORC champion Toby Price and Active8 Yamaha's Josh Green rounded out the top five. Green followed on from his AORC E1 title, to achieve the same result in the four day event.
"This is my first Four Day class title so I'm really happy about that. It was a really good week and it was really good to come down to Tasmania." Green said.
"It's been great to get the double in this class both here and in the AORC (Australian Off-Road Championship). I've been trying to do this for a very long time, so it's good I've finally been able to pull it off. It's pretty special.
In the women's class Tayla Jones won her first A4DE title, while Damian Smith took out the veteran's class and David Fleming topped the Masters.
"I'm pretty stoked to end the year on a high by winning the Four Day here, so hopefully I can keep it rolling on for next year." Jones said.
"It was challenging; the week started off dusty, and then it got wet on day two, then went back to being dusty again before ending on a sick final moto, so there was a bit of everything this week."
2015 A4DE OUTRIGHT TOP 10
1. Daniel Milner – 3:07:30.489 (E2)
2. Matt Phillips – 3:08:57.680 (E3)
3. Daniel Sanders – 3:10:27.687 (E3)
4. Toby Price – 3:12:15.821 (E3)
5. Josh Green – 3:12:37.981 (E1)
6. Chris Hollis – 3:13:16.828 (E2)
7. Lachlan Stanford – 3:14:26.158 (E2)
8. Tye Simmonds – 3:14:32.649 (E1)
9. Glenn Kearney – 3:15:02.924 (E3)
10. Peter Boyle – 3:17:57.128 (E2)