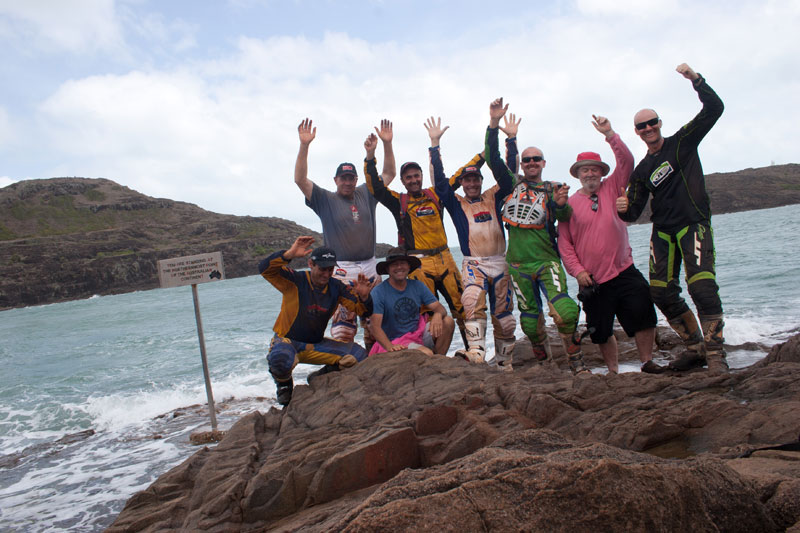 What better way to commemorate turning 50 than riding to Cape York with a bunch of great mates? When one of those blokes happens to be Glen Bell and the other Mark Luksich — and their mates include Phil Christenson and Graeme Baynes — then the story just has to be told
STORY & PHOTOS PHILLIP CHRISTENSEN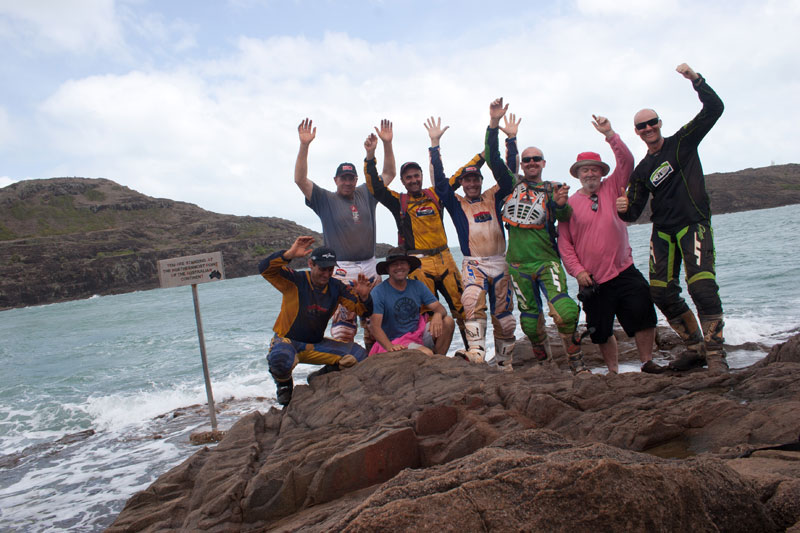 OK, so everyone's been to Cape York. No trail rider worth his brake calipers has not and countless retellings have filled magazines for decades. Well, this trek came with an interesting cast and was in the name of a good cause. And it's always useful to gather an assortment of perspectives.
Banner name was Glen Bell, 10-time Australian motocross and supercross champion. Has ridden and won all over the world, but a Cape York virgin.
Belly turns 50 — yes, half a century — and discovers he's one of the very few who've not ridden to the Top. Nor has his lifelong buddy Mark Luksich, Svengali to the easy-going Belly, who cruised through a stellar motorcycle career while Mark absorbed the accompanying headaches of sponsor chasing, bike choice and the like.
Luksich (Mr Marco) just so happens to be turning 50 the same year. Rather than throw a dreary backyard barbeque to mark the milestone, the pair set their minds on Cape York. Mark's Glenorie neighbours are all bikies and well grounded on the trip through Far North Queensland. And the sweetener is that the golden hearts at Honda Australia will provide Glen with a new CRF450X on the proviso it's later raffled off for charity.
That's fine — Bell has close personal affiliation with Hear and Say, the organisation that helps hearing-impaired kids on the road to a fuller life, stumping up for very costly hearing implants that open up the fundamentals in the important formative years of childhood. Great stuff.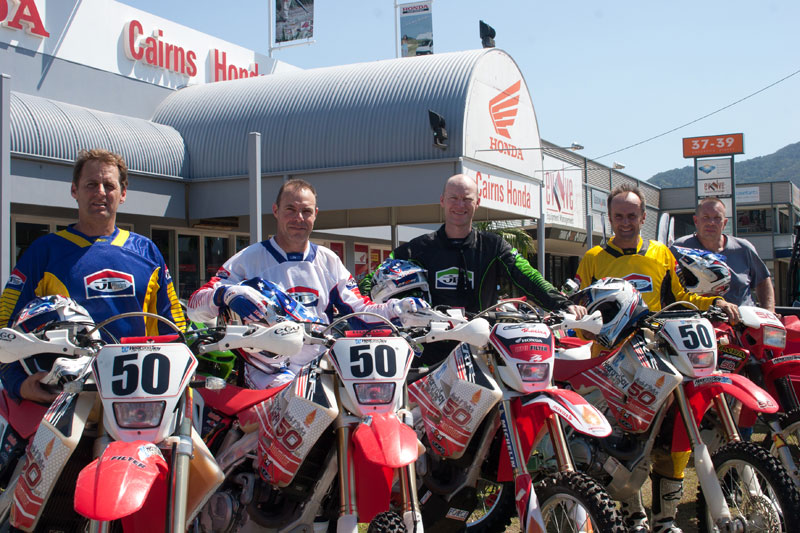 THE BEASTS OF BURDEN
There are six bikes engaged, all imports — not the hire bikes available via group travel operations operating out of North Queensland. Hondas, of course. Thus the bikes are crated up and transported to Cairns from both Sydney and Melbourne.
A complete day is dedicated to assembly work at the workshop of friendly Cairns Honda. The following day is the coastal highway up to the Daintree before the real purpose of the trek unfolds.
In many ways, a ride up to the Cape must be like Friday night at the pub: familiar sites and sights, but very obsessive. GP road-race champ Daryl Beattie quietly admits he is hooked. You can't stop a repeat dose.
All trek troupes need a good support vehicle. On your own, you determine your own fate — go hard or go soft. With a bunch of other riders, you have no choice but to throttle on. Several occasions see some of our mob run their tanks dry but backup is quickly on hand.
Support is in the hands of Pat Z (Patzee), a veteran Top-Ender, currently without a bike in the shed; he's happy to handle the 4WD support vehicle. A dab hand with the skillet, Patzee promises full bellies on a daily basis. Helping him out is Phillip Christensen (Christo) — yes, the past supercross guru of the famous Supercross Masters Series.
The bonus will be the baskets of coral reef fish Patzee will drag in each night on the end of his trusty rod. Thommo the Sparky, astride one of the two XR650s, will add his piscatorial talents. The troupe will be buried in fish.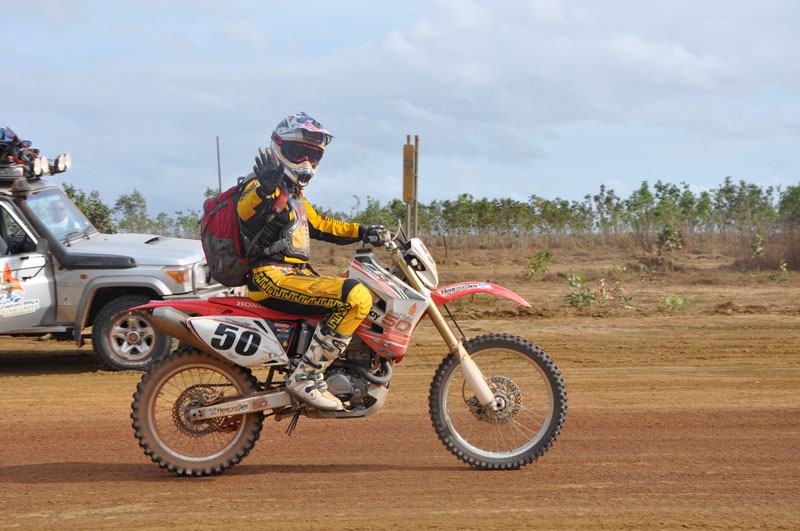 KEEPING BELL PACE
How fit need you be to tackle a 12-day trek when the lead rider is multi-Australian champion Glen Bell? Smithy is a case in point. He has a gnarly old ankle (he fell from a ladder, not a bike). But, rather than ease himself into the trip, he begins the second day by jogging 4km before camp breaks.
Belly himself retains the fitness he possessed when half his current age. You'd back him to run a 30-minute moto tomorrow. He gets ahead of the pack on some occasions so he can seek out some suitable supercross-type jumps.
Graeme Baynes, Honda Australia's ever-smiling Parts & Accessories Manager, has idolised Glen since the first moment he met him back at MC Mart. "The rest of us won't keep up even if he coasts," is Mr Baynes' assessment very early into the exercise. He is in the presence of Elvis.
One large unit on the other XR650 is Big Mike. This bloke seems to forget you have a front wheel. Not that he often uses it. Handy on a bike in every way, Big Mike is the bloke you need around when something goes wrong.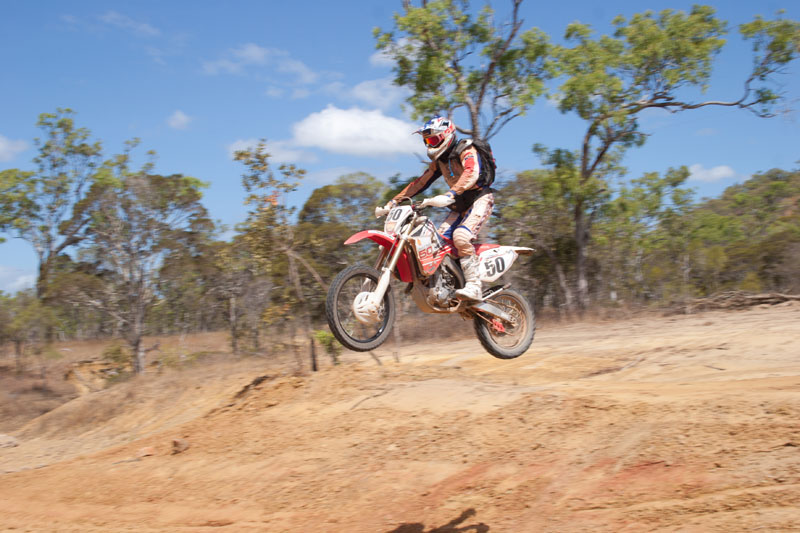 FIRST SLICE OF HEAVEN
Cairns to Cooktown seems like playtime but no sooner have you left the tar behind than there's a couple of awesome downhill clay drops. The 4WD calls for strategy and the immediate impression is that nothing but a bike would handle the slightest of wet weather.
Then, within 20 minutes' riding, the ground surface swaps from red clay to dusty trail to loose, deep sand surrounded by dense rainforest and then sickly scrub — just like moving through a house from front door to the back: every room totally different.
The solitude begins at Cape Melville with just the odd campervan to be seen — plus the first sighting of saltwater crocodiles. The crocs run the place, really. How is it that from Townsville all the way up to the Cape is a no-go zone for surfers? The best ocean coastline in the world and you shake nervously standing 10 metres from the water.
Don't leave here without sighting the Water Hole. It's like a leaf-covered version of heaven: plunge in after a day's hard ride. The Water Hole sits at the base of a stone monolith that resembles a mini-Uluru.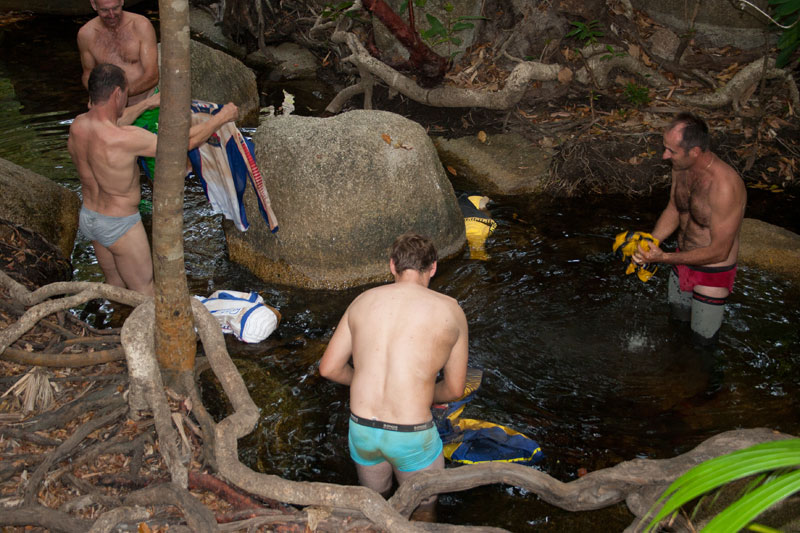 BUSH PRICES
Musgrave Roadhouse is one of the friendly oases en route to the Top and here a can of Jim Beam from the fridge will set you back $9. It's all about supply and demand, but transport can double the cost of any product. Fuel at $3.10 per litre seems a bargain!
Speaking of economics, the big seaport of Weipa — a good long dirt highway ride to the western coast — tells a tale. Based around the Monsanto mining achievements of the past 50 years, the town is long on marine pursuits and slightly short on culture.
Everything on the shop shelves is shipped in from Cairns; that is, north from Cairns, around the Cape and down through the Gulf of Carpentaria. The local blat carries the news that Woolworths is increasing deliveries to twice a week. That's isolation for you. And Mateus Rosé is $24 a bottle.
Being a pisshead up north is no fun. For starters, the laws seem to change from one region to the next. And then there's the heavy shadow of tribal community administration. Firewater is more frowned upon than recreational drugs. Sure, you're allowed the occasional sip (rations like one can per day). Authorities can search your possessions and, for excessive supplies, hand out fines up to $45,000. Yes, $45,000! But this is old news to Cape York regulars.
Oh, and before anyone leaves Weipa, be mindful there's a pretty spectacular mining tour that will occupy you for something like two hours. One gets to inspect some really awesome mine equipment. There's also a neat nearby crash site of a World War II plane.
Weipa is a little far from the action — the great trails are left and right of the central dirt highway. But it could be handy if spare parts need to be flown in. Again, the tyranny of distance strikes. Most stuff, like say, pistons, would have to arrive on the daily flight from Townsville where Bernie Koppe is the long-time Honda dealer. Or maybe from Cairns if you're talking other makes.
The two major fuel stops on what becomes the Old Telegraph Road are the roadhouses at Musgrave Station and Archer River and you can continue right to the Top. Both will sell you a phone card that activates a landline in the old Clark Kent phone booth. Mobile phones only come good at significant townships, so schedule your business with your share broker and the account master at eHarmony.
The key to ultimate two-wheel joy is to share the knowledge of those who've done it all before. Our troupe knows what not to miss — and the trek to our country's northern tip is obviously obsessive. Thommo and Patzee have done it 20 times between them. And Moto GP star Darryl Beattie, not in our party, tells us he's made the trip 12 times by bike and with 4WD on four occasions. He should go into the tour business!
Everyone's perspective differs on what impressions they want to take away — like a European couple riding pushbikes on the unsealed highway, equipped with serious face masks and happy to share the road with squadrons of motorcycles and the odd 18-wheel freight truck.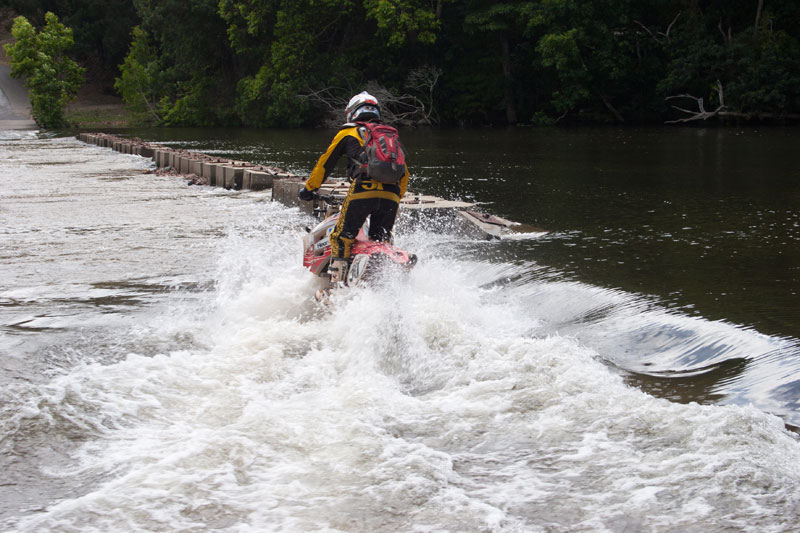 NOT WAVING, DROWNING
At Fruit Bat Falls, all six of our riders stand to attention while an intrepid pastor parks his wife and kid safely to one side and tackles a 90-degree drop-off in his 4WD. No divine intervention here — just a $10,000 damage bill for his nose-planting feat. He cheerfully says he couldn't leave the site without making an attempt. Temptation.
The good folk at the Croc's Tent souvenir complex just short of the Cape offer the information that drowning a four-wheel drive is the most common variety of vehicle homicide in these parts. Once the vehicle has been immersed, the insurance companies declare it a write-off. Something to do with the computer system. And the two auto repair shops in Bamaga and Seisia handle about 100 such cases between them every six months. Chuck them on a barge and down the coast to Cairns — and who knows what?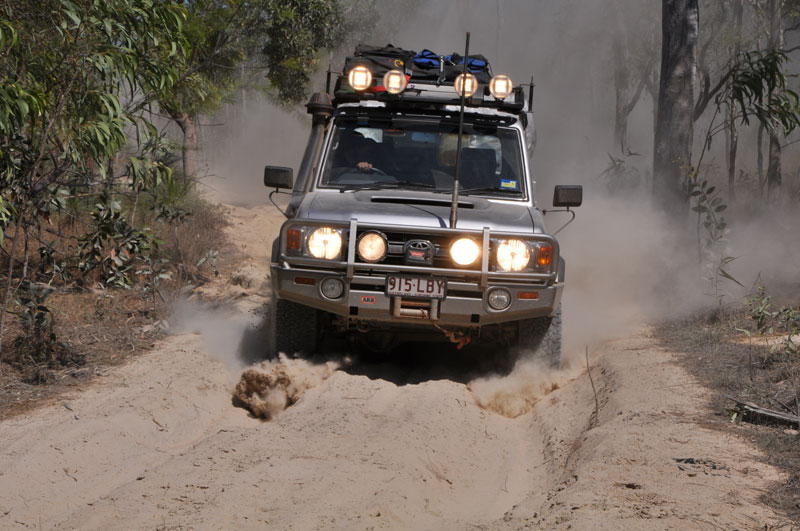 VISUAL CHECKLIST
The visual standouts are familiar and much photographed but it's hard to beat the Elliot Falls and adjoining Twin Falls. The suggestion is to keep upstream to avoid the crocs!
Captain Billy Landing is some 30km south of the Top and thus isolated from civilisation in any direction. History tells us it got its start to facilitate a gold-seeking enterprise then to ship in cattle to support some Monsanto mining endeavour 50 years back. Today it makes a mighty camping site but with nothing there but a septic tank. Bring your own dunny paper.
But north from the Landing stretches gorgeous white sand (which provoked covert roosting). Take a walk south to the headland and you encounter some dramatic bat caves that would do credit to a Hollywood movie.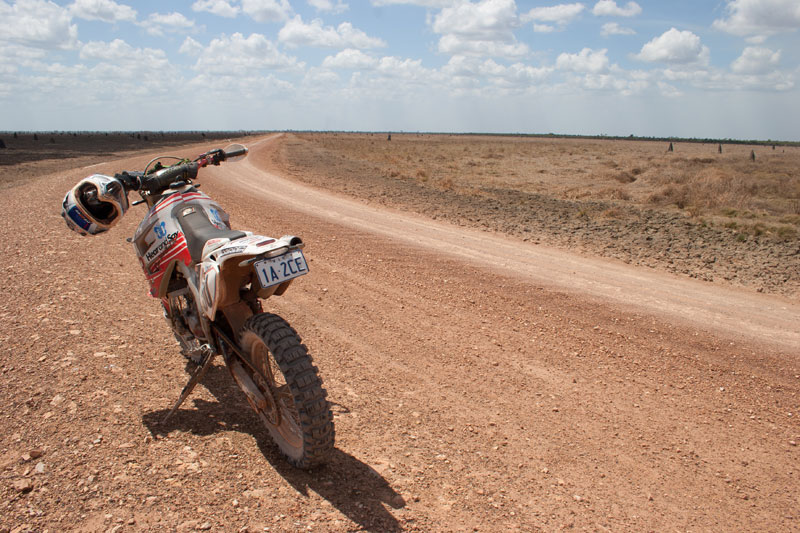 TAKE IT ALL IN
The end of the rainbow is ultimately when you stand at Cape York and recognise this is the absolute top of our island nation. The square metre of real estate beneath your feet is closer to the Equator than anywhere else you could tread. It might not be Hillary on Everest nor Armstrong on the Moon, but still pretty cool.
So what else could first-timers contribute to Cape York for Dummies? Well, if you're fortunate enough to encounter a cassowary — we did, complete with two chicks — give her plenty of distance. Those three-clawed feet could slice you like a watermelon.
Make time to park the bike for a day of deep-sea fishing off Cooktown. The ocean depth drops into the abyss about 25km from shore and there is where the good ones bite. Don't let your skipper move on once you start to land them.
In the day of excellent weather forecasts, our one-day fishing wonders set out in bright sunshine and flat seas and return with a perfect storm bearing down. But the catch more than makes for previously empty baskets. And the local restaurants will gladly prepare all you can provide them.
And the perfect keepsake is not to be found in the souvenir shacks en route; nor in the Port Douglas market. There's a neat skin store in one of Cairns' backstreet arcades. You can do a great deal on an awesome crocodile skin, complete with permit.
Time to plan the next run.
HEAR AND SAY
Aside from the milestone of 50 years on this planet for mark and Glen, this epic ride was in aid of an amazing organisation called Hear and Say, which has been helping deaf children since 1992.
The primary aim of Hear and Say is to teach kids to listen and speak and they work with kids of all ages and with all manner of available technologies within proven programs.
To see more of what this great organisation does go to www.hearandsay.com.au
Want more articles like this? Subscribe to Dirt Action Magazine.