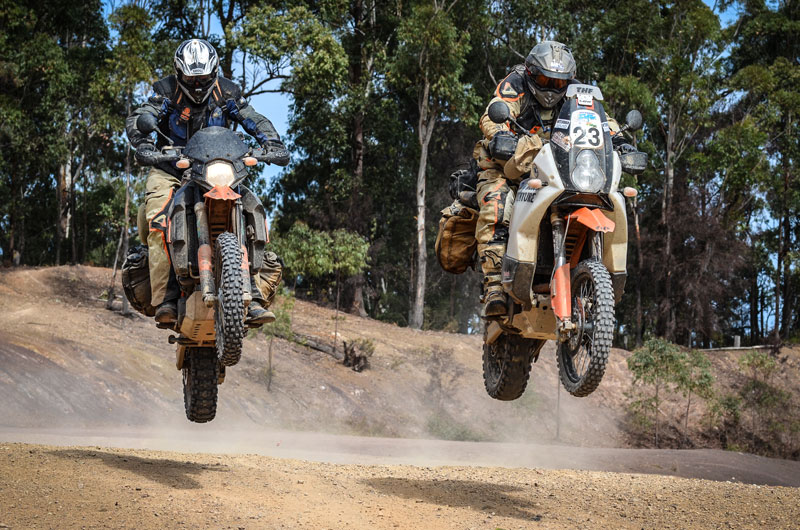 RALLY FOR KIRBY: Tony Kirby was one of the great names of dirtbike journalism. He left an impression on anyone that heard his infectious laugh or read his work. TK left us too soon and we all miss him. This is the story of the 2012 Tony Kirby Memorial Ride …
STORY BY DANNY WILKINSON | PHOTOS BY DANNY WILKINSON
The familiar flicker of flashing red and blue lights caught my attention as I idled down the main street of Walcha near midnight. Straight-faced, the big burly cop looked me in the eye and said, "We have just pulled you up for a random drug test." It threw me off for a bit and then I saw the grin creep across his partner's face. "You'd have to be on somethin' to be riding a motorbike through Walcha at this time of night."
It was certainly chilly and to be honest they had a point. I mentioned the heated cabin I was heading for and their confidence in my state of mind started to lift. Eyeing off the proceedings from across the road, Rusty Coxall wandered up the street and suggested they take me back to the station for further testing. We happily chatted and joked for a while before the police sent me on my way. I'm not sure about Rusty, but it was the most pleasant encounter I've had with the constabulary for a long time.
Tracking back to the morning, a group of 40 riders had converged on Walcha to take part in the second annual Tony Kirby Memorial ride. The bikes and riders were from all over Australia and even NZ, a testament to the impact Tony Kirby had had on the adventure riding scene. Making the most of crisp mountain skies, we set out on a set of twisty dirt roads and tracks heading for Nundle and the famous Barry Station Track.
SIZE MATTERS
The slippery creek crossings caught a couple of riders off guard but most made it through largely unscathed to the lunch stop at Moonan Flat. From there we made our way over the spectacular Barrington Tops where ride organiser John Liddell led us through some brilliant mud-filled forestry trails and little-used farm tracks.
It was about this time that a few of the riders started feeling the effects of the first 300km and John started shuffling his feet when quizzed on the actual length of his "300-odd-kilometre" ride. By the time we pulled up at the rather ambiguously named The Rock a few were getting concerned that Walcha looked a long way away on the GPS. I wandered in to get some photos of a structure that had been more appropriately named "Cock Rock" by a local signwriter as John jumped on his bike and led off down another forestry track before he could be drawn on the distance to go. Probably a smart move, I reckon.
At the 400km mark things were starting to cool off as the sun set in the west and, by the time the field rolled into Walcha after dark with 470km on the trip meter, a warming fire at the Apsley Arms Hotel was well received. We had a great night, swapping stories and catching up with people we'd crossed paths with in years gone by.
A casual start to Sunday morning followed for many and I teamed up with the Hartley brothers for the trip back home. Craig and Tony are genetically modified for adventure riding, having covered hundreds of thousands of kilometres between them, so it was great to be travelling with them again. We started off with a diversion into Tia Falls which resulted in a decent hike down to the viewing platform on the opposing escarpment. I guess it wasn't all that far but 1.3km seems like a long trek in MX boots and knee braces. The six-foot red-bellied black snake was certainly intimidated by the pounding of size-12 hooves and cleared out on hearing the ruckus. I'll admit to keeping a bit of a closer eye on the track for the rest of the walk, though.
Deciding that bikes with engines were a far better form of transport, the Hartleys thought about revoking my leading privileges but relented on the proviso that future walking expeditions were to be limited in length to 20 metres. We worked our way east across Werrikimbe National Park via the appropriately named Racecourse Trail. What an awesome piece of track this turned out to be. It twisted and flowed, rolling through dense dark forest on its way over a rainforest ridge. It was the best piece of riding I'd done for a long time and I would happily go back and ride it all over again tomorrow.
FROM OYSTERS TO BEERS
We pulled up for lunch at a derelict forestry camp and quickly raided the panniers for sources of sustenance. We'd been riding for a couple of hours through the forest and hadn't seen a single soul, yet here we were kicking back with smoked oysters (from a can) and wild mushroom risotto (from a dehydrated camping satchel). It almost seemed too fancy for three hungry adventure riders but it was really, really good. Settled in the dappled sunlight, joking about life and knocking over a three-course camp meal (whipped up in minutes), it was hard to stress about much at all.
Craig and Tony agreed, adding that the omission of a red wine stash was the only thing keeping them from an impromptu overnight camp. We continued on trails that meandered their way through the forest and eventually brought us out on a winding dirt road that would make an awesome WRC rally stage. It was wide and smooth and, judging by the tyre marks of a car in front of us, I don't think we were the only ones thinking that way. I wound up the DRZ and for the first time that day was envious of the big V-Twin KTMs rumbling away behind me. Surely there's a picture of this road on the wall of the R&D department in Austria.
Back onto the bitumen for the short run into Taylors Arm, I pulled up in front of the "Pub with No Beer" and was quickly immersed in the sounds of a Sunday afternoon band. With the sun casting a golden light over the establishment and the boys sensing happy hour at the bar, we called it a day and retired to the beer garden. An hour or so later, a trio of Queenslanders rolled in. They'd made a dedicated start considerably earlier than we had that morning and, after a bit of dodgy "mud map" advice from the locals in Walcha, they ended up riding in circles and following us in. I think their original plan had them a lot further down the road by this stage but the promise of T-bone steaks that we could cook up on the wood-fired barbecue across the road meant they were reluctant to go any further.
Another great night on the road ensued, with us backing up for more early the next morning. John Hudson took over navigational duties and as the organiser of the APC Rally he had a few handy tracks up his sleeve. By the time we got to Dorrigo for breakfast at Juan's Cafe del Fuego ("The World's Smallest Motorcycle Museum") we'd covered 120km of rainforest trails and tracks, definitely a great way to start the day.
We parted ways again at Dorrigo, John, Bryce and Dave making a direct line for Brisbane while our travelling trio from yesterday had a bit more time available. Naturally we took to the bush again and pretty much stayed there for the next couple of hours, emerging on the Pacific Highway near Grafton. We had ridden some great tracks and it was a treat watching the big twins part the sea of rocks on Sherwood Forest Trail. It may sound silly but, while I cautiously made my way up the weathered rock shelves on my DRZ, the big Katos rode straight up them like they were flat ground. Amazing what you can do with a bit of inertia (and a degree of talent behind the bars).
All good things must come to an end, though. After lunch at the Whiporie Store, Tony bolted for Brisbane while I led Craig across the range and sent the dingo back towards Dalby.
TONY KIRBY
Gone but never forgotten
TK is perhaps best known for his adventurous slant on dirtbike journalism that created a league of devoted readers during his time at the helm of ADB and later Sidetrack magazine. He was a tough, uncompromising bloke with a sense of mischief a mile wide. For those lucky enough to know him beyond the inspiration of his writing and photography, he was a gentleman to the core and one of the most loyal mates a person could hope for.
The ride this year was a good excuse to get like-minded riders together for a spin but it was also great to recall the impact Tony had on us before falling victim to the curse of motor neurone disease.
John Liddell did a great job of organising things this year and with Craig Hartley accepting the responsibility to get next year's ride up and running a trip to the Sunshine State is on the cards for 2013.
Want more articles like this? Subscribe to Dirt Action Magazine.