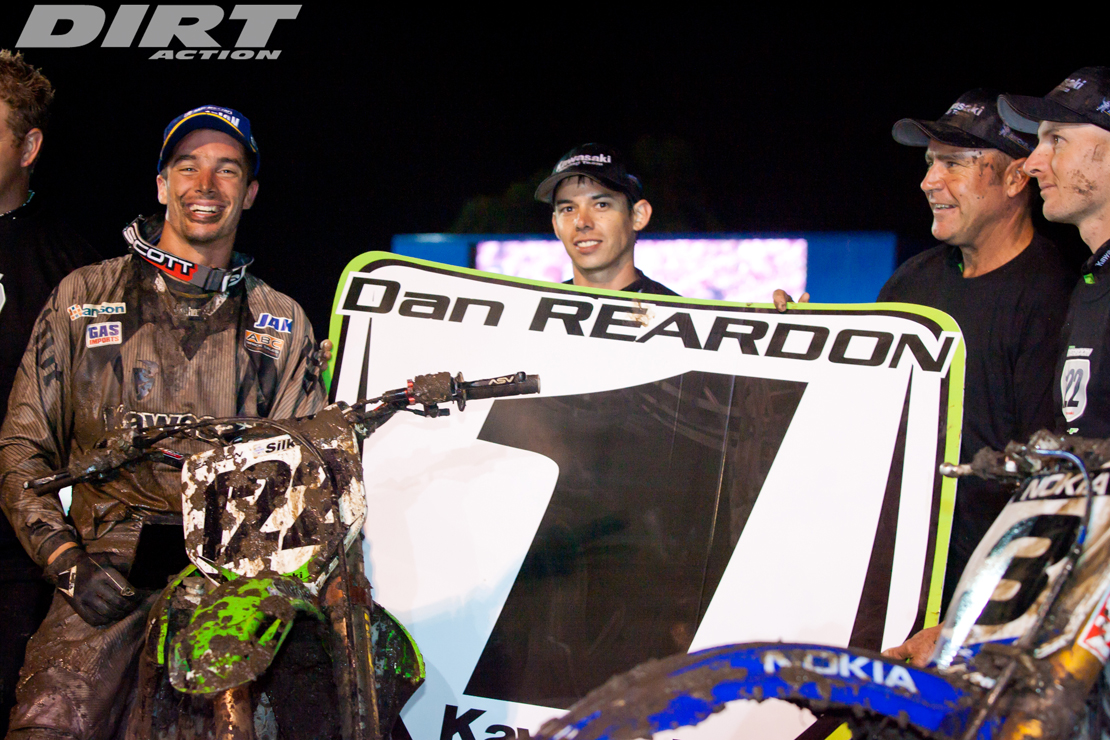 The 2007 Dapto Supercross lives-on as one of the most treacherous supercross races this country has ever seen
STORY BY SHANE BOOTH | PHOTOS BY DAMIEN ASHENHURST
Daniel Reardon held onto a seven-point lead over Cheyne Boyd heading into the night's racing. While it was an OK points buffer, once the skies opened up it would have seemed much smaller.
Ryan Marmont was the man with that weight on his shoulders in the Lites class. While his lead was slightly larger than what Reardon held in the Open class, Ryan was nursing an injury. In what easily could have been a night of huge upsets and massive championship swings, both of these riders kept their composure and battled the conditions to take home their very hard-earned championships.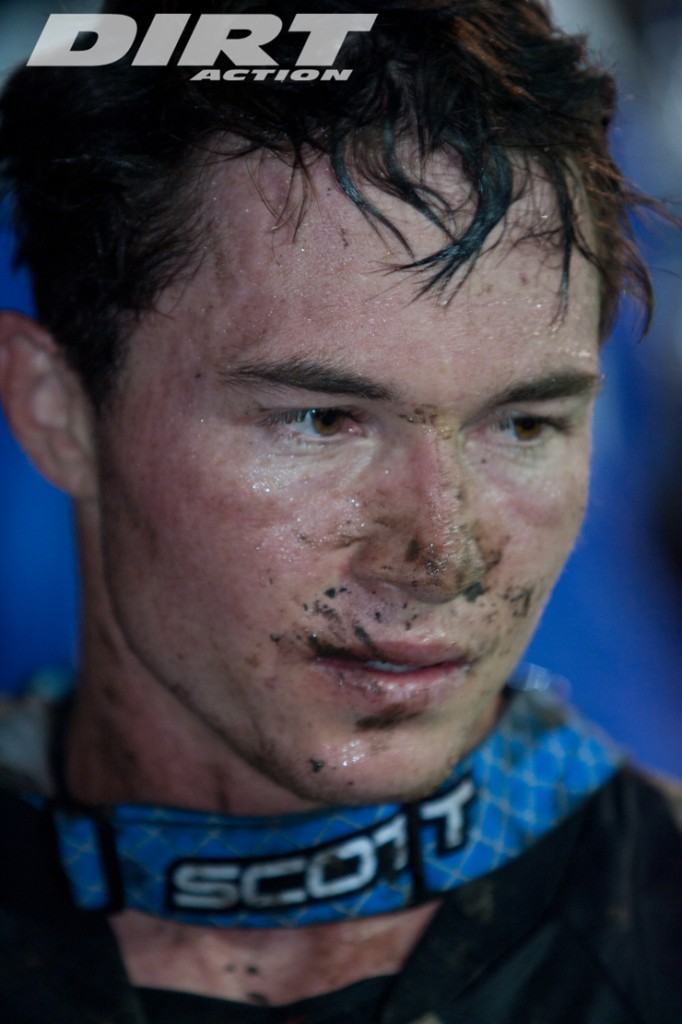 Cheyne Boyd: "Dapto supercross 2007 was a great night for me. It was the last round of the championship and I was seven points behind the points lead coming into the round. The track was pretty straightforward and basic but right before the night racing started the heavens opened up and it rained like you wouldn't believe. It made it become one of the muddiest races I've ever done. I put myself in a good position in the final with a holeshot, led most of the laps and came away with the win. Unfortunately, Daniel Reardon finished second, which gave him the title over me, with Jay Marmont third overall. I was bummed about that, but was happy I won on that night."
"Man, I'm glad I've retired and I don't have to do that again"
– Troy Carroll
Troy Carroll:  "Dapto Supercross 2007: what a race! I remember it was a stinking hot day in downtown Dapto and practice went really good; all the top guys like Reardon, Marmont and Boyd were on the gas that afternoon. Then we looked over the hills to the west about an hour before racing was about to start and all of a sudden the skies just opened up. I don't know exactly how much rain we got but, man, I didn't want to ride in it. The final came along and I remember walking to the first turn and thinking, 'I just need to get through this mess and I'll be fine.' I did and I believe I was in second or third and then those gruelling 20 laps started. At one point I remember I spun around before the finish line a couple of times and missed the transponder loop, which put me a lap down. It was crazy how slippery and muddy it was. I ended up sixth that night. Man, I'm glad I've retired and I don't have to do that again."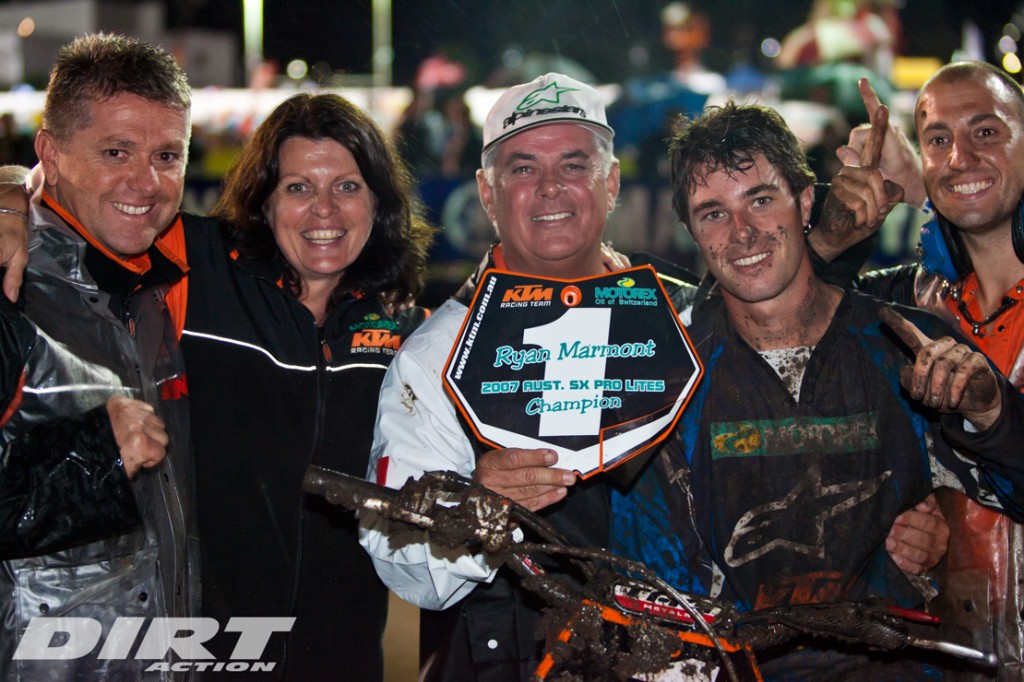 Ryan Marmont:  "The Supercross series that year was tough for me. I actually broke my foot the day before the first round. Thought I'd ride the first round and see how it went and I ended up winning it, so I was committed to trying my best to make it happen from that point. Riding a whole series injured wasn't much fun. I wasn't able to train or ride during the week, which made the weekends that much more stressful. Going into Dapto, I had a bit of a points buffer over second place; I think I just had to finish in the top seven or eight to clinch the title. The day started off with OK weather then it just closed in on us and we copped it. Adding such crazy mud to a final race just added to the stress of the night. Even with a points lead it was still anyone's title at that point. It was purely survival during the race. I remember crossing the finish line and half the team were celebrating and the other half weren't sure. No one could tell who finished where until the official results come in and I had done enough, so the night ended well for me. One crazy story from the night was Jay's bike stopping during the final — he thought it had seized but it turned out so much mud kept getting packed up around the motor and under the fuel tank it [had] forced his fuel tap to the Off position."
"I managed to tweak my finger a bit because I was holding on to the bike that hard"
– Cody Cooper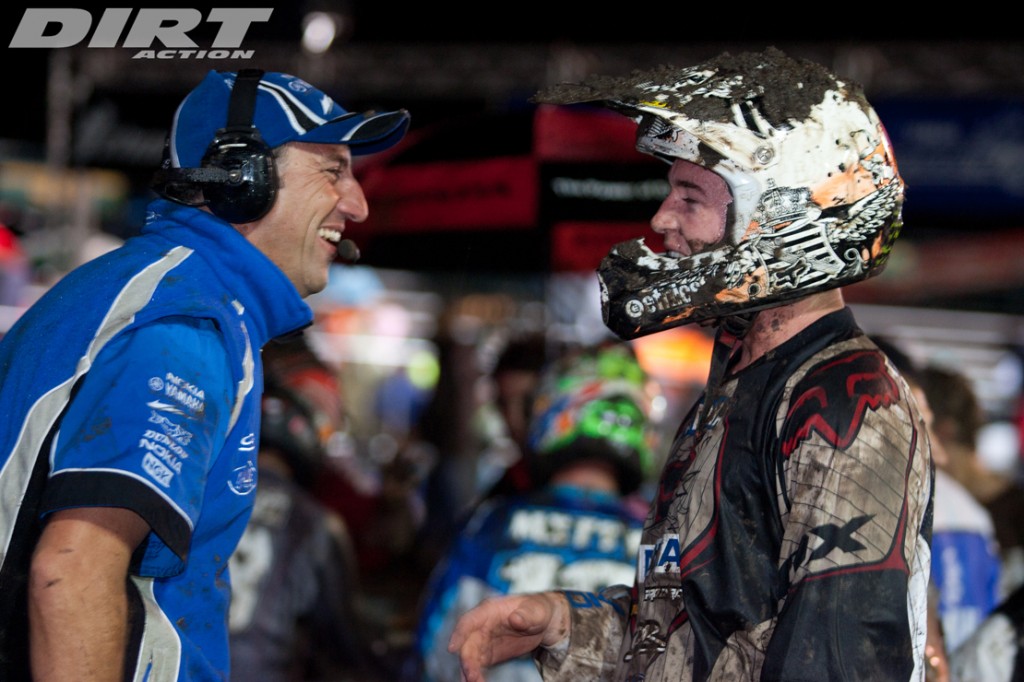 Craig Dack:   "That was one of the gnarliest supercross races we've had to deal with. Boydy has always ridden sand well and I think that helped him that night [to] ride so well in the mud. He made really good decisions and kept him and his bike out of any major trouble. It was that tough, I remember guys getting stuck and going down a few laps before they could get moving again. The track pretty much turned into one big rut that lasted the whole lap. There's such a huge mess to clean up after an event like that and it makes it easier when you've come away from it with a win." 
Cody Cooper : "Well I managed to move myself up the Championship ladder so that was a real bonus considering how tough it was out there. I managed to tweak my finger a bit because I was holding on to the bike that hard. I just didn't want it to stall no matter what! The bike's were running fine, it was just the conditions were so bad. "
OPENS TOP 5:
1 – Cheyne Boyd
2 – Daniel Reardon
3 – Shane Metcalfe
4 – Ford Dale
5 – Cody Cooper
LITES TOP 5:
1 – Mitch Hoad
2 – Daniel McCoy
3 – Tim Weigand
4 – Jake Moss
5 – Taylor Potter
———————————-
Want more articles like this? Subscribe to Dirt Action Magazine.