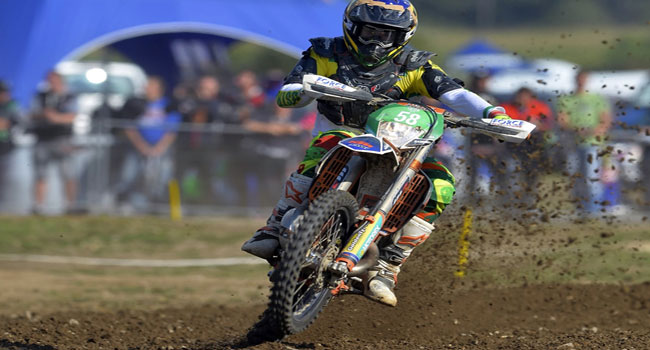 KTM's Daniel 'Chucky' Sanders has excelled in Slovakia for the ISDE winning the E3 class and ranking as the fourth-fastest rider overall.
By Hayden Gregory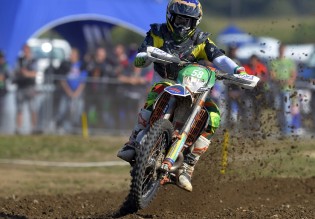 The young Victorian finished fourth in this year's Australian Off-Road Championship only to match the result a few weeks later on the international stage. Sanders ranked as the fourth fastest rider across all classifications much to his own excitement.
"It's just a crazy feeling," Chucky exclaimed. "I'm rapt with how things turned out, I couldn't really ask for anything better. I had no idea I could do that, not this year, maybe in a couple of years time. Fourth overall, first in E3 class and winning the juniors, and with the senior team winning and the girls winning, it's pretty much the perfect week for us. We partied hard just to show we deserve it, and had a good time. Myself, Tye, Mick, his helper and Kearney were still going strong at 7.30 the next morning!"
Chucky formed part of the all conquering Australian Junior trophy team which dominated the competition placing 15 minutes ahead of their closest rivals Sweden. The Junior team included Sander's KTM team mate Tye Simmonds, and KTM mounted duo Tom Mason and Broc Grabham.
"We realised on day one in the juniors after we got a gap on all the other riders, that we had the fastest team and that we could do it if we all stayed on two wheels and finished every day. In my class I got into the lead on day two and kept pulling a bigger and bigger gap so I came into the final Moto with a two-minute lead and I had about 40 seconds on fifth outright so I  knew all I had to do was hold it together and not get lapped.
"I got a good start in the final Moto and tried to just stay consistent and I was really happy with it. After I rode around the last corner my old man jumped over the fence and celebrated with me a bit and that felt good to have my family there, they've put a lot of effort into my racing career so far, so to achieve those things early in my career is a very memorable thing and really puts a big smile on my face," Sanders finished.
Team manger Ben Grabham was also ecstatic with Sanders individual efforts.
"I kept in touch with both Chucky and Tye via text and I'd watch the special test results," Grabham said. "I'm pretty excited for Chucky – for a lot of people it might have come as a surprise but for me it's not.
"He works as hard or harder than every other rider out there with training and diet and whatever you have to do to do well. So it doesn't really surprise me, it looks like everything's come together for him and I'd say he's learned quite a bit from these six-days, both with confidence, and what he can actually do on a bike, and just knowing his preparation, like he took every little bolt and thing that we had on his race bike here, he made sure his bike was going to be exactly the same. He did everything he could to get the best result and you can see it in his outcome."