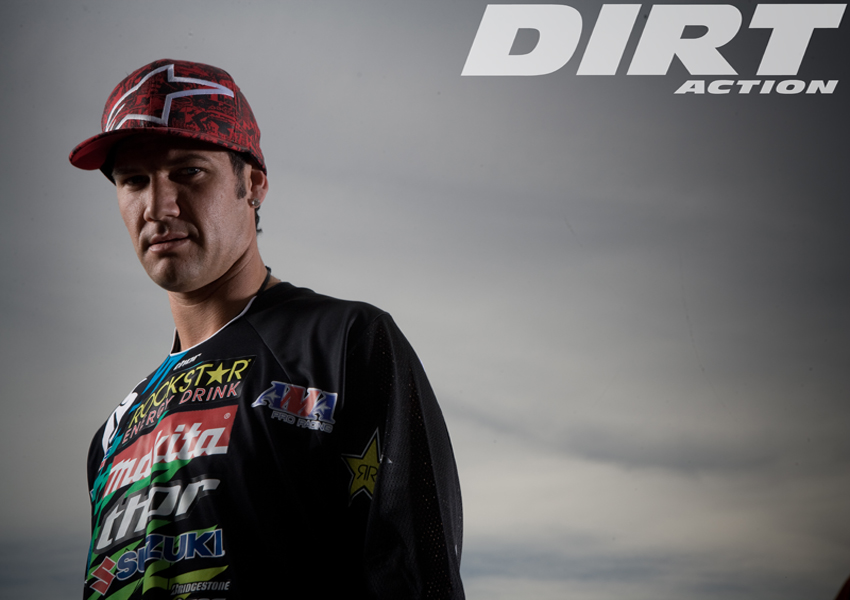 Dunlop and 360fly return as AUS-X Open official partners.
Press Release
An incredible and unique insight into the mind and future of Australia's greatest supercross rider of all time, Chad Reed has been released in conjunction with the announcement of major partnership renewals between the AUS-X Open, Dunlop and 360fly; each returning as the Official Tyre and Official Camera partner's respectively, for the event's second running at Qudos Bank Arena, in Sydney, on November 12 and 13.
The video (link below) shows the sporting icon from Kurri Kurri, in NSW in one of his most candid and relaxed interviews ever, speaking about his secret to remaining competitive at 34 years of age and his future in the sport in which he has been so successful on the international stage for well over a decade.
Returning as the 'Official Tyre' partner of the AUS-X Open; Dunlop have already achieved tremendous success domestically in 2016, after capturing all three of the major MX Nationals (Australian Motocross) Championships through their supported race teams.
For the AUS-X Open event on November 12 and 13, Dunlop will also provide traction to four-time World Supercross Champion – Ryan Villopoto, two-time World Supercross Champion – Chad Reed, and the 2016 AMA Motocross 250cc National Champion – Cooper Webb.
Sabastian Mincone – Dunlop Motorcycle Motorsport Manager, is excited about the partnership for 2016.
"We are thrilled to once again partner with the AUS-X Open and to showcase Australian racing on the global stage. Dunlop supported the AUS-X Open in the event's first year, and jumped at the opportunity to continue the partnership for 2016.
Being a large global brand, Dunlop identifies key international races to support, and the AUS-X Open has proven that it is a world-class event, attracting some of the sport's biggest names.
This year, we welcome a wave of Dunlop athletes to the AUS-X Open, with 10 x AMA SX/MX Champion – Ryan Villopoto, two-time World Supercross Champion – Chad Reed, and 2016 AMA Motocross Champion, Cooper Webb all in attendance. Alongside these guys will also be our domestic line up of talent, including 2015 SX1 Champion – Dan Reardon."
After capturing and broadcasting some astonishing content of the event in 2015, the AUS-X Open is extremely excited to continue a partnership with the revolutionary camera brand, 360fly again in 2016.
CEO of Riise PTY LTD – Jason Haynes, is thrilled to be partnered with the AUS-X Open in 2016, and is excited for what is set to be a world-class event.
"360fly is excited to again be partnering with the AUS-X Open in 2016. 360fly is leading the market in 360 consumer cameras and software applications so to align with the innovative AUS-X Open event again for the second year in a row was a perfect fit for the brand," commented Haynes.
"360fly 4K camera enables consumers to capture in both immersive 360 and standard point of view via then easily edited and shared direct from your mobile phone to social media, missing nothing in the process.
360fly has been a big supporter of motorsport from the start with ambassadors including Australia's very own Chad Reed, 3-time World MotoGP Champion – Jorge Lorenzo and 6-time Supercars Champion – Jamie Whincup."
To celebrate the partnership announcements, an amazing new video featuring exclusive vision and an incredible and candid interview with Aussie favourite Chad Reed at his stunning private facility in Dade City, Florida, has been released the above video.
"We are of course absolutely wrapped to have incredible and international brands like Dunlop and 360fly back along side us for this year's AUS-X Open. Both are as committed to innovation and developing their respective products as we are. The fact that we can announce them along with the release of an amazing video of Chad Reed, whom they both partner with, is the icing on the cake!" – Event Director Adam Bailey
The AUS-X Open is the largest and most prestigious action sports event in the Southern Hemisphere. Featuring the world's best supercross riders going up against Australia's best, the world's best in the Monster Energy FMX Best-Trick competition, live DJ performances by Brooke Evers and much, much more.
The AUS-X Open kicks off at Qudos Bank Arena (formerly AllPhones) on November 12 & 13. Tickets start at $40 and are selling fast, get your tickets now via Ticketek.