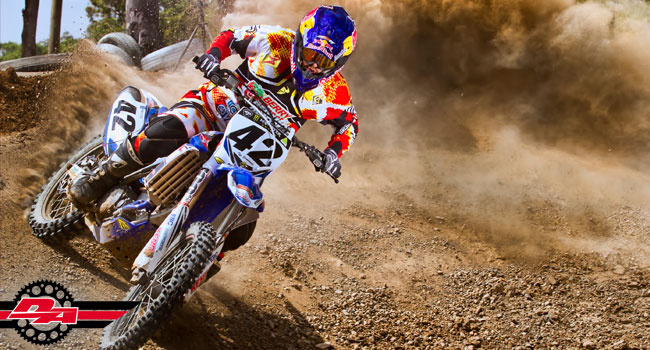 In a late season development that will stun many, the Berry Sweet Lucas Oil Yamaha race team has accepted Tye Simmond's retirement from all professional motocross/supercross effective immediately.
Tye made the decision after the Appin round of the Monster Energy Motocross Nationals, sighting the reason that he no longer feels a passion for the sport that can see him compete at the highest level.
After several conversations with team owner Craig Anderson, Simmonds admitted that retirement had been on his mind for some time. "I don't feel the passion for racing that I used to. I've put a lot into motocross for most of my life and I while I did have plans to retire at the end of the 2013 season, I've found it more difficult to give it my all as the year has gone on and things don't seem to be coming together for me," said Tye. "The team has done such a great job and I can't thank them enough. Ando has spent so much time with me trying to get me back up the front in races and have me believing in myself. I've had a great bike, amazing sponsors and the right environment around me, but my mind is somewhere else and I know that it's time to walk away."
"I've had a great career that's taken me around the world. I've met some amazing people and been involved in some unforgettable moments in the sport and I can honestly say that I've always given racing everything I had."
Team owner Craig Anderson said he was saddened by Tye's retirement but not totally surprised. "I know when someone's not totally committed and the frustrating thing is that you try and fix everything around them when what is going on is that the excitement and love of the racing is gone. Once that's gone it doesn't matter how good your bike is or how big the team is, it's time to walk away. This sport can take its toll on a rider at this level if they aren't 100 percent committed."
"I've got so much respect for Tye and his ability on a bike, but for him to be honest with me, the team and our sponsors, shows that he's got integrity as well. It's a big decision at any point, let alone so early in a career, but in the middle of a season it's obviously very difficult for all concerned and I appreciate Tye's honesty."
"As for the Berry Sweet Lucas Oil Yamaha race team, we have to take it on the chin and keep pushing forward. We have a lot of loyal and supportive sponsors and the process of singing another rider is already well advanced. I don't believe that we'll miss a round and I'm confident that we'll be competitive at the remaining four. I do want to thank Tye for everything he's done with us this year and wish him the best for the future. The motocross/supercross world will miss him but I hope he finds excitement in whatever he turns his hands to from here on."
A further announcement on the new singing for the Berry Sweet Lucas Oil Yamaha race team will be coming soon.