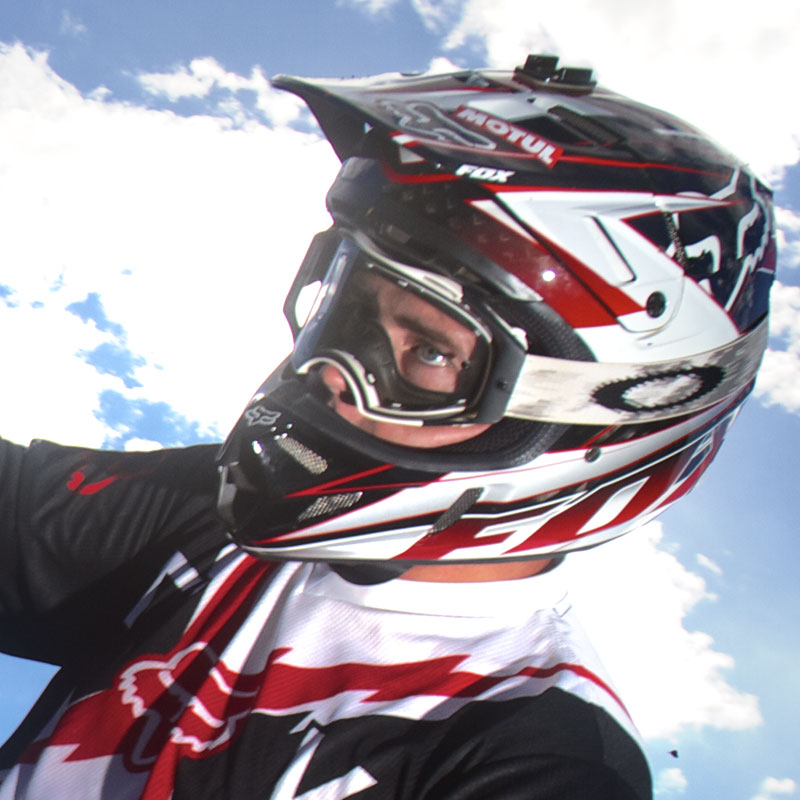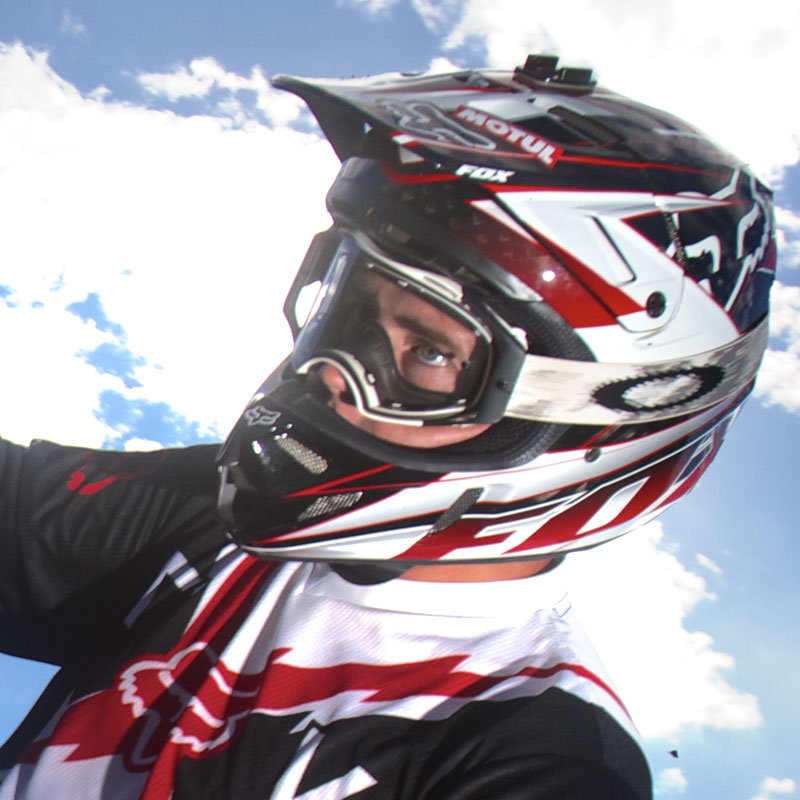 Oakley is making some big claims about their latest motocross goggle so it was always going to be interesting to get my hands on a pair and try them out. I've been wearing these goggles for just over a month now and, in the fine words of the Alessi family, "Believe the hype." There's a list of new features as long as your arm, which I will get to shortly, but the biggest one for me is the new lens. It's much stronger than any other motocross goggle I've ever worn or seen.
Up until now you could easily press in the centre of a goggle lens when you were wearing them and make the lens come back and touch your face. I've never come across a goggle that you can't do that with. I know plenty of racers that have ended up with a shiner after a rock nailed them in the goggle lens, sometimes even knocking the goggle lens out of the frame. You were just happy you had goggles on and they worked to minimise the damage.
This is where the new Airbrake is very impressive. The new lens is much firmer; its rigidity comes from being injection moulded from Plutonite, the same material used for the lenses in Oakley sunglasses. It also helps maintain better optical clarity. When these goggles are on your face you can press as hard as you like, you'll not get the lens near your face — in fact it hardly flexes at all. Then there's the new system for changing the lens. It requires just two clips to be released and the lens can be removed and a new or different one fitted. It really is as easy as that sounds. If you've wrestled with a goggle frame and a new lens before, you'll know how nice that is.
The frame itself is a great fit into my Fox V4 helmet and the goggle offers a new level of peripheral vision due to the way the lens is mounted and the shape of the frame. You have the usual options for clearing your vision: tear-offs or a roll-off specific goggle.
The slight catch with this goggle is the price tag: from $179.95, which is a hefty amount for a goggle but this one does have genuine innovations for motocross riders so the price can't really be compared to that of anything else on the market. In the scheme of what you invest in riding, it's a fair price to protect your vision. It's still early days with this so we'll update you in a couple of issues on how the goggle and lens have held up after some more sustained abuse. — Shane Booth
FEATURES
LENS:
* Injection-moulded Plutonite lens material provides 100% protection against ambient UVA, UVB, UVC and harmful blue light up to 400nm (ambient light tested from 190 to 380 nanometres)
* Expanded lens volume for optimised peripheral vision
* Fog elimination of lens with Flow-Coat Anti-Fog coating
* Integrated tear-off posts for mounting of optional laminated or standard tear-offs
* Glare reduction and tuned light transmission of Iridium lens coating (optional)
* Meets impact requirements based on ANSI Z87.1 and EN 1938:2010 standards (pending)
FRAME:
* Exoskeleton chassis construction combines rigid O Matter exterior with a pliable thermoplastic urethane faceplate
that conforms to your face comfortably
* Dual Switchlock mechanisms lock the lens securely in place
* Rigid O Matter strap connections provide even distribution of goggle pressure
* Twin surge ports at top of chassis to channel airflow into the helmet
* Low-profile frame design provides increased visibility and improved helmet compatibility
* All-day comfort of O-Hydrolix triple-layer foam with moisture wicking polar fleece lining
* Matte black textured inner frame surface for glare reduction
* Microcellular urethane lens gasket to seal out dust or moisture
* Dual-adjustable strap with silicone lining for versatile, secure fit
* Fully integrated Race-Ready roll-off system with increased film height for expanded field of view in muddy conditions (optional)
SIDEBAR
ACCESSORIES:
* 7-pack of Oakley laminated tear-offs included
* 2-pack of Oakley lens protector shields included
* Sand-specific faceplate kit with closed-cell vent foam (optional)
* Snowcross faceplate kit with extended facial coverage (optional)
5 QUICK FACTS
Impact-resistant lens
Fully serviceable to extend life of your investment in the Airbrake
Easy lens changing
Increased vision
The best roll-off system we've ever seen