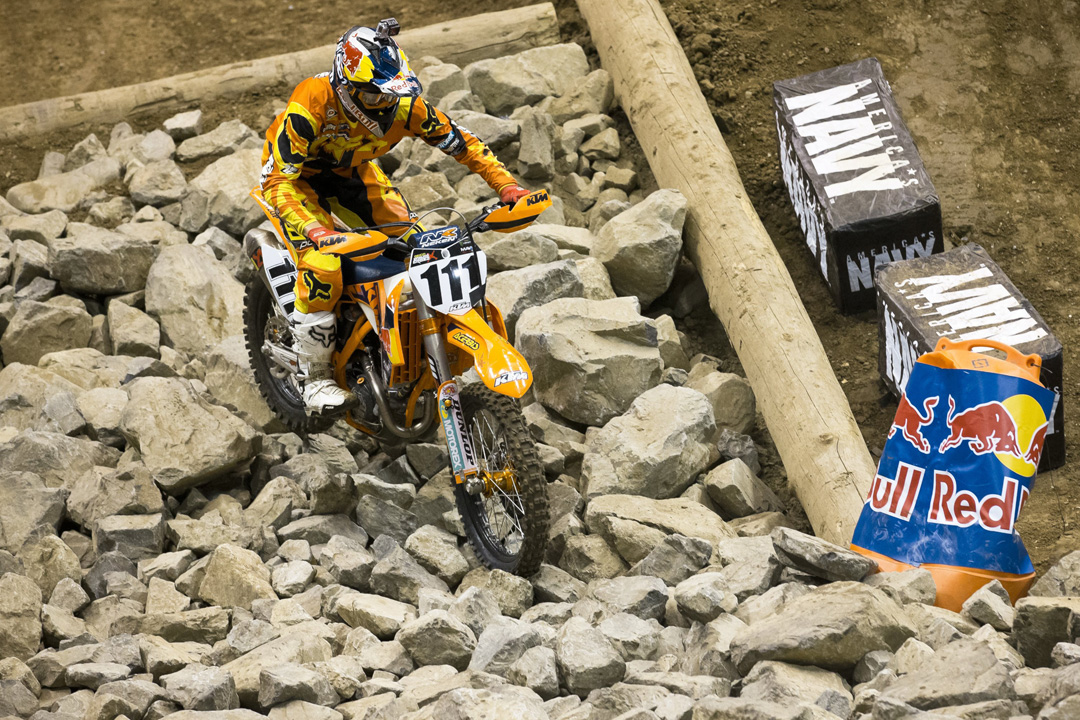 X Games Gold to Taddy in LA
Securing Gold in the men's Enduro X event at the Los Angeles X Games Taddy Blazusiak brought his participation in the 2013 X Games tour to a perfect close. Starting off with a winning result in Brazil, Taddy then crashed hard in Barcelona before battling his way back to the podium in Munich. Back to his best in LA, and free from the injury he sustained in Barcelona, Blazusiak delivered a considered and dominant performance. Here's Taddy's thoughts on winning Enduro X Gold at X Games in Los Angeles…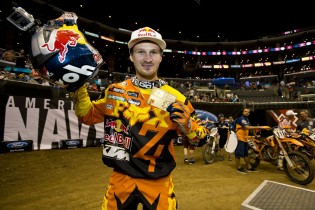 Congratulations on claiming your second X Games Gold Medal in 2013… it must feel great?
Taddy Blazusiak: "Thanks! It does feel great to come away with the race win in LA. Everything seemed to go better than expected. We put a lot of effort into preparing for the race and right from the very first lap, I felt that it was going to pay off. I'm so happy to get the win in LA."
The Enduro X events in Barcelona and Munich didn't quite go to plan for you. How important was it to win in LA?
"Every time I race I'm trying my best to win, it's just that in Barcelona and Munich I had a lot of bad luck. Leading into Barcelona I had finally got over my injuries from the SuperEnduro World Championship and was feeling better on my bike. Unfortunately, I crashed and it knocked me back to square one again. I was off the bike for one month and wasn't ready for Munich the way I know I should have been. I was happy to come away from it with a Bronze medal but felt I could do better."
What did you work on to improve your chances of winning in LA?
"Basically I just upped my bike time. I trained as much as possible on my Endurocross tracks to work on my fitness. We also worked on the setup of the bike. With the race being held inside the Staples Centre we knew the track would be different than the previous rounds so we set it up more towards what we would do in the AMA series. Coming into LA I felt fit and ready."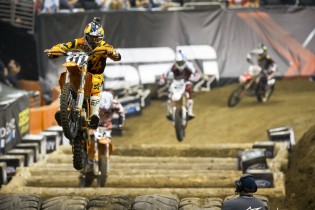 You started off the night in the best possible way with a Heat race win, how was that?
"I focused a lot on the start and managed to get the holeshot. Unfortunately I missed the first double jump and that knocked me back to second. But at the end of the second lap I was back into the lead. I rode my own pace and it was enough to take the win. I was pleased with that as it gave me the first gate pick for the main event."
How important was getting the holeshot for the main event?
"The holeshot was critical – it was probably about 50% of the race. I knew that coming out of the first corner in the lead could be the difference between winning or not. The track was also probably one of the easiest we'd ridden. There weren't too many places to overtake on so if you were buried in the pack on lap one then life was going to be difficult."
Talk us through the main even. How did it go for you?
"I took the inside starting gate and grabbed the holeshot. I knew the pace would be fast so I put my head down and rode as hard as I could for the first few laps. It was hard to break away but I managed to pull a small gap over Mike Brown and then when he crashed on the rocks it gave me a little extra breathing room. I settled myself and relaxed for two laps. The guys behind closed in again so during the final couple of laps I rode at my maximum and took the win."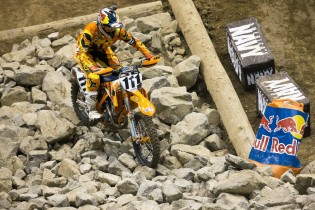 `
How pleased are you with two Gold and one Bronze medal from the 2013 X Games global tour?
"Of course there are some bits I'm not happy with but overall it's been good. To get two Gold Medals and one Bronze has been fantastic – I can't ask for much better than that."
What's next for Taddy Blazusiak?
"I've got a couple of small races to do before the AMA EnduroCross Championship resumes in September. From then on I'm flat out until Christmas. The US series has races almost every second weekend and then once that's over I'm going straight into the SuperEnduro World Championship. It's going to be a hectic couple of months but I'm looking forward to it. I'm feeling good now. Like I said my training and fitness is back on track. Hopefully with some more quality bike time before the next round of the AMA series I can finally get a win on the board."