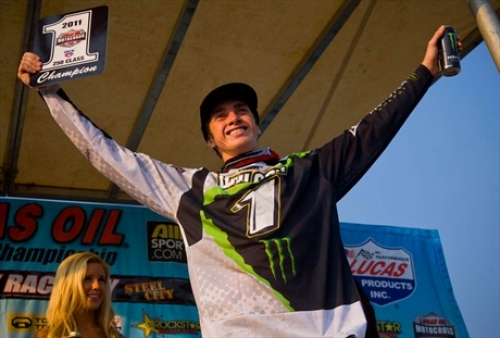 Dean Wilson Secures First Professional Title with a 250 Class Win at Steel City
Villopoto Extends Points Lead with Third Victory of 2011 Season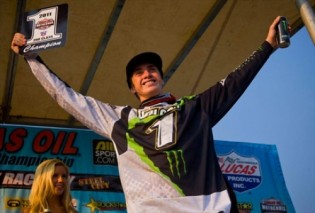 DELMONT, Pa. (September 3, 2011) – Thousands of fans lined the fences surrounding Delmont's Steel City Raceway on Saturday, as the Lucas Oil AMA Pro Motocross Championship celebrated Labor Day Weekend with the Steel City Motocross National. The penultimate round of the 12-race season featured stellar battles throughout the day, and following two grueling 250 Class motos, the first champion of the 2011 season was crowned, as Monster Energy/Pro Circuit/Kawasaki's Dean Wilson, of Scotland, posted a 1-1 moto sweep, to take his second win of the season, and secure his first-career professional title. In the 450 Class, Monster Energy Kawasaki's Ryan Villopoto, of Poulsbo, Wash., raced to his third win of the season with a perfect day of his own, extending his lead in the 450 Class standings.
In the opening 250 Class moto, Wilson assumed the top spot out of the gates, and never looked back. A slight challenge from GEICO Honda's Justin Bogle, kept Wilson honest early, but he eventually pulled away from the field to win by nearly 10 seconds.
In Moto 2, Wilson once again found himself at the front of the field early. However, GEICO Honda's Eli Tomac was eager to claim his first win of the 2011 season, and slipped by shortly thereafter. Tomac opened up a comfortable advantage over Wilson, but it wouldn't last long. On Lap 6, Wilson erased the deficit, re-passed Tomac, and effectively ran away from the competition, savouring the closing laps to become the 24th different 250 Class champion in AMA history, and just the third internationally-born rider.
"This is the greatest day to me," said Wilson, who statistically has been the best rider in the entire series this summer. "I went to sleep when I was young dreaming about winning an outdoor championship. Now, it's a dream come true. I was feeling really good today. In the first moto, I got the holeshot, and in the second moto, I didn't get a good start, but I got lucky and found a hole that helped me pass a lot of people. It's just the greatest feeling. I went by the pits and saw on my pit board that I was the 2011 MX Champion, and it gave me goose bumps. I just went out there and rode the way I know how to. I actually didn't want to win it this weekend, because my parents aren't here to share it with me."
Tomac posted a pair of runner-up finishes to claim his best finish of the season with second overall, while Red Bull KTM's Marvin Musquin, of France, grabbed his first-career podium finish in third (3-3).
American Honda's Justin Barcia, of Monroe, N.Y., grabbed the early lead in the opening 450 Class moto, but was quickly passed by Rockstar/Makita Suzuki's Ryan Dungey, of Belle Plaine, Minn., prior to the completion of the first lap. Shortly thereafter, Villopoto made his way around Barcia, and set his sights on Dungey. The championship rivals were never separated by much more than a second throughout the 15-lap moto, with Dungey fending off any challenge Villopoto presented. As the pair took the white flag, they were the closest they had been the entire moto. That bike-length difference never changed, and as both riders approached lappers in the final corner, Villopoto made a move to the outside that allowed him to slip by Dungey, narrowly avoiding contact, and steal the moto win.
As the gate dropped on Moto 2, Dungey grabbed the holeshot, looking to get away from the field quickly. However, Villopoto squeezed his way into the lead for what was the winning pass. The Kawasaki rider quickly opened up a small gap by the completion of the first lap, and set sail. As Dungey looked to close in, he tipped the bike over, falling to third behind TwoTwo Motorsports/Bel-Ray Racing's Chad Reed, of Australia. Dungey was able to fight his way back into second, but it was too late to catch Villopoto, who led all 15 laps.
"You had to ride the track as hard as you could without making mistakes, which was really tough," said Villopoto. "Getting a win in one of the motos was crucial heading into Pala. I have a little breathing room which is nice, but I'm still going to have to go out there and race, just like everyone else. The last couple years haven't been the greatest, but it's nice to get in a full season. Now, we're almost done. Hopefully we have a good weekend at Pala, and wrap it up."
Dungey's 2-2 moto finishes landed him second overall, but also resulted a loss of six points in the championship. His Rockstar/Makita Suzuki teammate Brett Metcalfe, of Australia, rounded out the overall podium in third (3-4).
"It was a pretty tough and technical track, but good overall," said Dungey. "I just have to put the Suzuki up front next weekend. To go 1-1 would be great, but all I can ask for is the most from myself. It's a long series at 24 motos. Consistency is the key, and there is a lot of hard work that goes into it. You've got to make the most of your bad days and keep your head up. It's not over until it's over. You've got to have faith in that."
Villopoto's advantage over Dungey in the standings sits at 14 points with one round remaining.
The Lucas Oil AMA Pro Motocross Championship concludes next weekend, on Saturday, September 10, from Pala, Calif. Pala Raceway, located just outside San Diego, will host the 2011 season finale, beginning at 4 p.m. EST.
Lucas Oil AMA Pro Motocross Championship Round 11
450 Class (Moto Finish)
1.Ryan Villopoto, Poulsbo, Wash., Kawasaki (1-1)
2.Ryan Dungey, Belle Plaine, Minn., Suzuki (2-2)
3.Brett Metcalfe, Mannum, Australia, Suzuki (3-4)
4.Chad Reed, Kurri Kurri, Australia, Honda (5-3)
5.Jake Weimer, Rupert, Idaho, Kawasaki (6-6)
6.Mike Alessi, Victorville, Calif., KTM (8-5)
7.Justin Brayton, Fort Dodge, Iowa, Yamaha (7-7)
8.Kyle Regal, Howell, Mich., Suzuki (9-8)
9.Nick Wey, Dewitt, Mich., Yamaha (11-10)
10.Michael Byrne, Rockhampton, Australia, Suzuki (13-9)
450 Class Championship Standings
1.Ryan Villopoto, Poulsbo, Wash., Kawasaki – 481
2.Ryan Dungey, Belle Plaine, Minn., Suzuki – 467
3.Chad Reed, Kurri Kurri, Australia, Honda – 402
4.Brett Metcalfe, Mannum, Australia, Suzuki – 342
5.Mike Alessi, Victorville, Calif., KTM – 272
6.Jake Weimer, Rupert, Idaho, Kawasaki – 251
7.Andrew Short, Colorado Springs, Colo., KTM – 196
8.Kevin Windham, Baton Rouge, La., Honda – 193
9.Justin Brayton, Fort Dodge, Iowa, Yamaha – 191
10.Davi Millsaps, Murrieta, Calif., Yamaha – 173
250 Class (Moto Finish)
1.Dean Wilson, Glasgow, Scotland, Kawasaki (1-1)
2.Eli Tomac, Cortez, Colo., Honda (2-2)
3.Marvin Musquin, La Reole, France, KTM (3-3)
4.Tyla Rattray, Durban, South Africa, Kawasaki (4-4)
5.Gareth Swanepoel, Johannesburg, South Africa, Yamaha (7-6)
6.Blake Baggett, Grand Terrace, Calif., Kawasaki (5-8)
7.Justin Bogle, Cushing, Okla., Honda (6-10)
8.Alex Martin, Millville, Minn., Honda (10-7)
9.Martin Davalos, Quito, Ecuador, Suzuki (11-9)
10.Malcolm Stewart, Haines City, Fla., Suzuki (8-14)
250 Class Championship Standings
1.Dean Wilson, Glasgow, Scotland, Kawasaki – 488
2.Tyla Rattray, Durban, South Africa, Kawasaki – 436
3.Blake Baggett, Grand Terrace, Calif., Kawasaki – 427
4.Eli Tomac, Cortez, Colo., Honda – 290
5.Kyle Cunningham, Aledo, Texas, Yamaha – 283
6.Gareth Swanepoel, Johannesburg, South Africa, Yamaha – 270
7.Broc Tickle, Holly, Mich., Kawasaki – 236
8.Martin Davalos, Quito, Ecuador, Suzuki – 197
9.Alex Martin, Millville, Minn., Honda – 195
10.Darryn Durham, Butler, Pa., Honda – 181
WMX Class (Moto Finish)
1.Jessica Patterson, Tallahassee, Fla., Yamaha (1-1)
2.Ashley Fiolek, St. Augustine, Fla., Honda (3-2)
3.Tarah Gieger, Aguadilla, Puerto Rico., Honda (2-3)
4.Mariana Balbi, Belo Horizonte, Brazil, Yamaha (5-4)
5.Jacqueline Strong, Cottonwood, Ariz., KTM (4-6)
6.Vicki Golden, El Cajon, Calif., Kawasaki (6-5)
7.Kasie Creson, Vallejo, Calif., Honda (8-7)
8.Sayaka Kaneshiro, Osaka, Japan, Suzuki (7-8)
9.Alexah Pearson, Sacramento, Calif., KTM (9-9)
10.Sarah Whitmore, Cheboygan, Mich., KTM (10-10)
WMX Class Standings
1.Ashley Fiolek, St. Augustine, Fla., Honda – 321
2.Jessica Patterson, Tallahassee, Fla., Yamaha – 299
3.Tarah Gieger, Aguadilla, Puerto Rico., Honda – 268
4.Jacqueline Strong, Cottonwood, Ariz., KTM – 195
5.Kasie Creson, Vallejo, Calif., Honda – 180
6.Vicki Golden, El Cajon, Calif., Kawasaki – 171
7.Marissa Markelon, Bridgeport, Conn., Yamaha – 168
8.Alexah Pearson, Sacramento, Calif., KTM – 161
9.Sayaka Kaneshiro, Osaka, Japan, Suzuki – 140
10.Lindsey Palmer, Albuquerque, N.M., Honda – 137