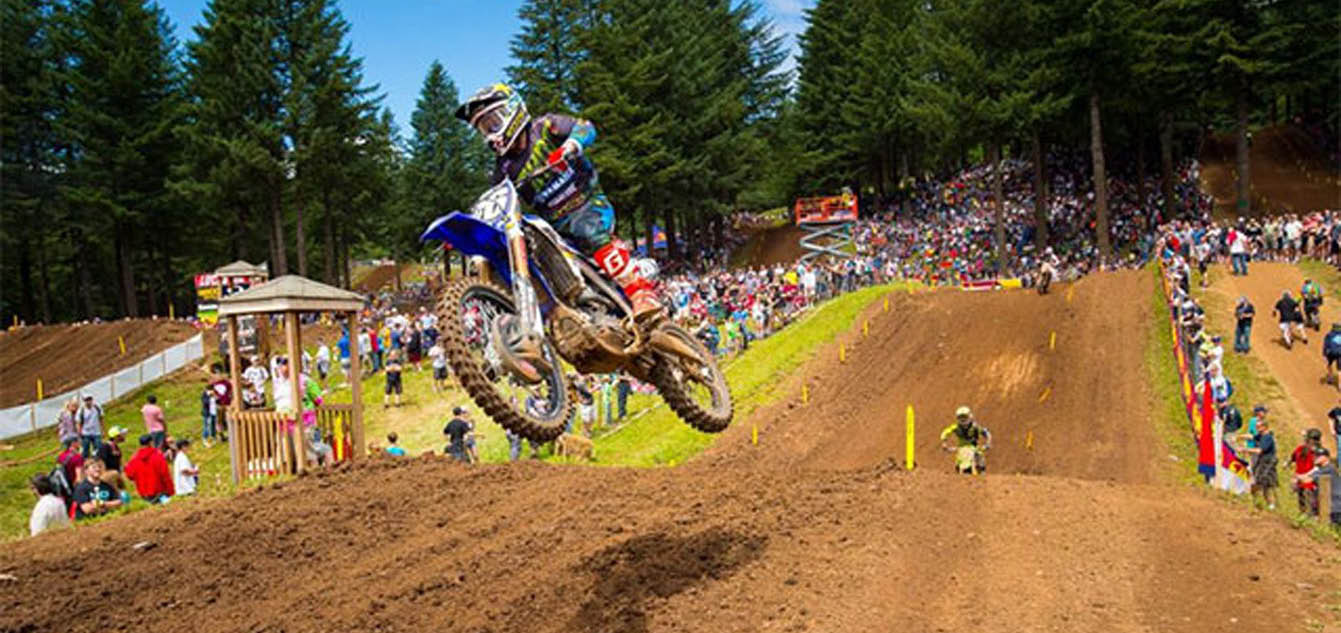 Martin earned his second win for the 2016 season.
By Hayden Gregory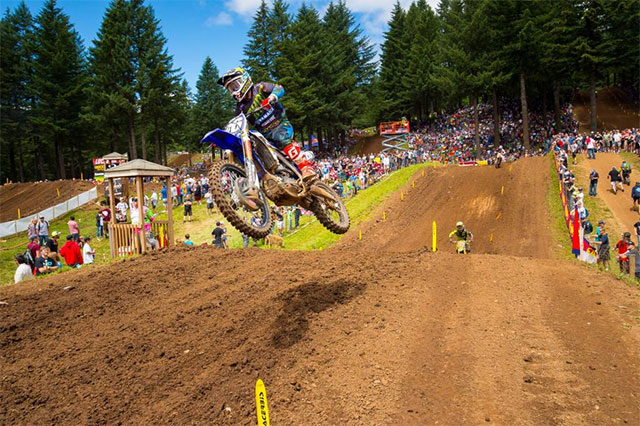 The Yamalube Yamaha rider got 250 racing underway with his third consecutive holeshot ahead of Mitchell Harrison, Joey Savatgy and brother Jeremy. Harrison soon dropped off the pace leaving the top three to fight it out over the opening few laps.
At the halfway stage Alex Martin and Savatgy had built a ten second lead on the rest of the field and the Kawasaki rider mounted numerous attacks on Martin. Unable to make a pass stick, Savatgy was forced to settle for second with Martin taking the moto in a start to finish effort. Cooper Webb managed to score third place after a determined ride saw him rise from a 12th place start.
Moto two saw a much better start for Webb, scoring the holeshot ahead of Savatgy and rookie Austin Forkner. While tussling for position Webb and Savatgy came together, allowing Forkner to slip into the race lead.
The pair would once again come together this time stalling their motorcycles and creating a bottleneck for a number of riders. Webb and Jeremy Martin went down while Martin Davalos took advantage to move into second ahead of Jessy Nelson in third.
While mounting pressure on Forkner, Davalos hit the dirt giving some much needed breathing room to Forkner out front. The rookie would go on to secure his maiden moto victory ahead of a hard charging Alex Martin and Nelson in third. Webb would recover for sixth place with Savatgy never getting back in it at 11th.
A 1-2 scorecard handed Alex Martin comfortable victory in the overall, the second for his career.
"Hard pack conditions [like at Washougal] can be tough for me, so I've tried to train in California to help with that. I was pretty excited to get third holeshot and lead every lap. I had pressure from Joey [Savatgy] the whole time and I've been so close [to winning] all year, so it feels so good to get that out of the way," said Martin. "I didn't get a good start in the second moto but there was a little chaos and I was able to get through it in fourth. I had a battle with Jessy [Nelson] and got by him and then Martin [Davalos] had his problems, so we were able to get up to second and wrap up the overall."
Austin Forkner secured a career best second overall with a 10-1 finish while Cooper Webb was able to rally for third (3-6). Webb continues to lead the 250 Championship on 372 points.
"We want to win and we weren't close to that today, so that's kind of a bummer. I didn't get a good start in the first moto but I got back to third so I was happy with that," said Webb. "In the second moto I got the holeshot but then we [Joey Savatgy and I] got tangled up. From there it was a mad dash to make up as many positions as we could, so that's what I did. It was tough to charge on the track [in the second moto] so I'm happy with how far back I was able to get [in the running order]."
The 2016 Lucas Oil Pro Motocross Championship will take one more break before the last three rounds commence on August 13-14 in New York.
250 Class Championship Standings
1 Cooper Webb, Newport, N.C., Yamaha – 372
2 Jeremy Martin, Millville, Minn., Yamaha – 321
3 Joey Savatgy, Thomasville, Ga., Kawasaki – 319
4 Alex Martin, Millville, Minn., Yamaha – 317
5 Austin Forkner, Richards, Mo., Kawasaki – 257
6 Zach Osborne, Abingdon, Va., Husqvarna – 253
7 Aaron Plessinger, Hamilton, Ohio, Yamaha – 245
8 Arnaud Tonus, Switzerland, Kawasaki – 190
9 Adam Cianciarulo, Port Orange, Fla., Kawasaki – 179
10 Mitchell Oldenburg, Alvord, Texas, KTM – 169