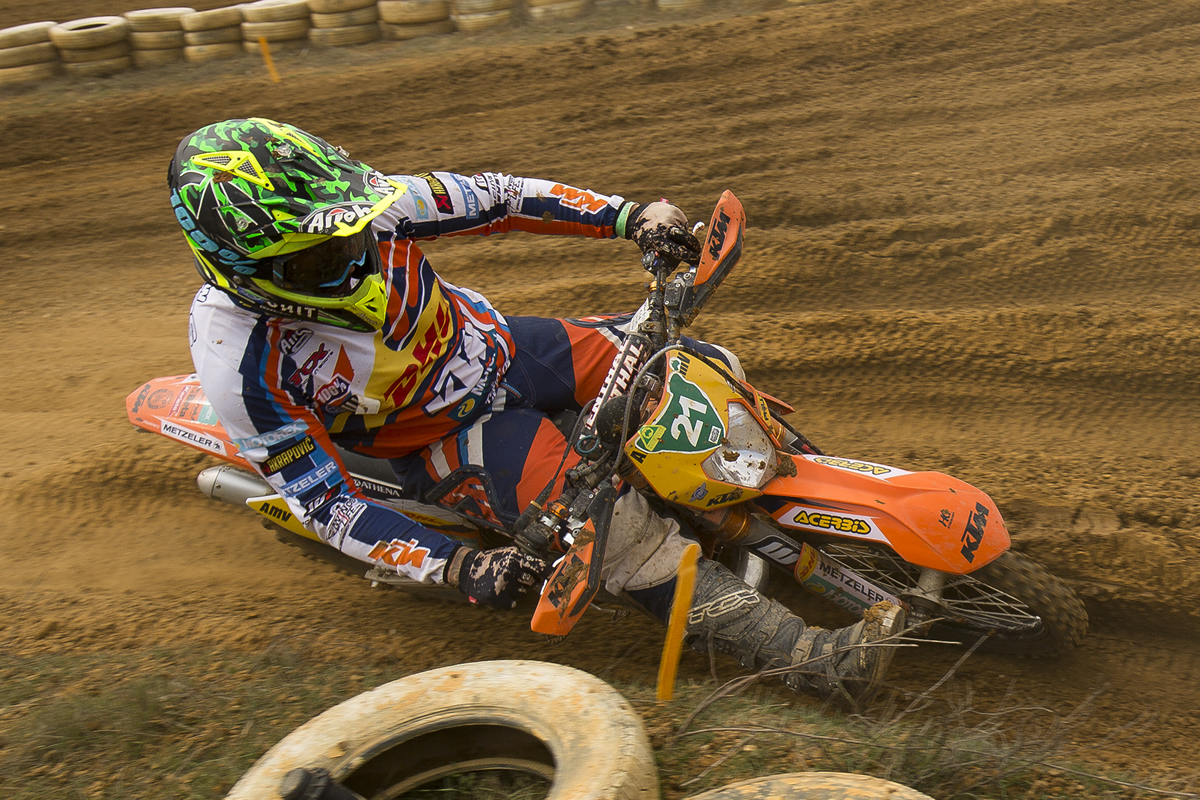 KTM Press Release 24/10/2015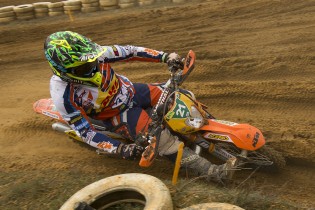 KTM's World Enduro Championship winner Matthew Phillips and Daniel Sanders both powered to outright podium finishes as this year's Australian four-day enduro reached its completion today at Wynyard in Tasmania.
Phillips and Sanders secured their respective second and third outright positions behind defending champion Daniel Milner as the day's final motocross unfolded.
It was a KTM logjam at the head of the pack with the KTM Enduro Racing Team's AORC Champion Toby Price finishing fourth overall despite battling the fatigue of a recent illness and a hectic rally testing and racing schedule, as well as the challenge of switching from his Rally bike back to the nimble KTM two-stroke.
Phillips, Sanders and Price made the E3 category the exclusive domain of KTM's 300 EXC, finishing first, second and third with less than a minute twenty between them.
It was, however, Sanders who had the last laugh, winning today's final moto by just over a second ahead of his famous teammate, while Phillips comfortably wrapped up the class win with a safe third place.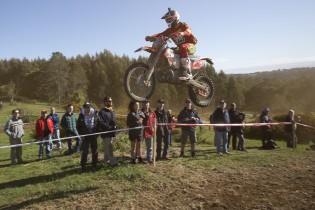 For Price, the four-day was the last outing on Australian soil before committing exclusively to his rally career with the Red Bull KTM Team, and though the Maitland ace wanted dearly to end on a high note, Australia's king of off-road racing was characteristically philosophical and upbeat at the end of a majestic 2015 which has included wins at Finke, Hattah, the AORC and a podium finish in his maiden Dakar Rally.
The only member of the factory KTM team not competing in the E3 class, Tye Simmonds completed his first A4DE – and his first full season in Australian off-road racing – with a creditable second place in the E1 class behind Josh Green and eighth outright, the former motocross pro reminding everyone of his background with a demonstrative win in today's final motocross.
For more information on KTM motorcycles visit www.ktm.com.au or www.facebook.com/KTMAustralia.
Matt Phillips – KTM 300 EXC – "It was a good week and pretty crazy. It was cool to be racing here and pretty interesting to see the support we got from the locals. It was awesome! There were chainsaws without blades and all sorts of things going on.
"I don't know the numbers but there were a lot more people here than I've ever seen at a four-day before, so that was pretty cool. My run was nice and cruisy, I just didn't get it done yesterday; I couldn't find my lines, but the rest of the days I felt pretty good and had a bit of fun. It was good fun riding with Chucks and Toby today as well.
"The KTM guys rode really well and they were well organised, and accommodated my mechanic Stef. I'd also like to thank my Mum and Dad as well because they were a big part of organising this week as well. I'm looking forward to coming back and joining the crew again one day."
Daniel 'Chucky' Sanders – KTM 300 EXC – "Probably the best four-day I've done. Awesome Trail and big long tests which sorted the boys out. The final motocross track was sick and I won the final E3 Moto which was awesome because I had never won a moto before!
"It was good to win that in front of Price and Matty on his home track too, that was a good feeling. I just had two crashes on day two when it rained, but everyone crashed that day it was that wet and slippery it was that hard to keep it upright. But the rest of the week I was really smooth and consistent and that's what I was sort of aiming for – to keep it upright and then pin it in the tests.
"I just had to keep the bike maintained, which is pretty easy with the KTM's – they are pretty bullet-proof. Especially the 300s! I also enjoyed riding with Phillips on the trail, we had some fun mucking around, it was just an awesome race."
Toby Price – KTM 300 EXC – "It hasn't been the best week for us, we tried our best and it wasn't the result we wanted for our last four-day, but now the contract starts for all the rally stuff so I will be full gas with that now.

"Once we got a few tests under our belt the fatigue set in a little bit; my test times were a long way off, but crashes hindered us as well. At the end of the day the guys upfront were on pace and killing it so there are no excuses for my side, we did the best we could.
"Changing from the Rally bike back to the 300 is a big difference but I started to feel a bit better each day. It's been a good four-day the first time in Tassie here, there was good country for it and the tests they marked out were awesome, so it's been a great experience to come down for the first time.
These boys in the team have been pretty much like family when we go away, so I'm definitely going to miss working with them."
Tye Simmonds – KTM 250 EXC "It's been a good event and good fun but I'm a bit disappointed with my performance, but that's the way it goes. I had a pretty decent crash in prologue, so then we started a bit further back on day one which hurt, but some tests I did really well and some I struggled with, but the 250F was unreal; I was happy with that, and couldn't have asked for a better thing to do the four-day on, it never missed a beat.
"Final moto today was good, I got the holeshot and sort of put down three really good laps, but then just got a bit of arm pump – I wanted to win by a lot more, but that's the way it goes.

"I'm pretty pumped to get this first year done and dusted with no injuries and lots of good experiences, and I'm definitely looking forward to adding a decent off-season and actually getting some training done and being bike fit and seeing what sort of damage we can do next year."
Ben Grabham, Team Manager – "We had a decent four-day, obviously we always aim for the top step, and we just missed out, with Phillips in second and Chucky in third, Toby in fourth and Tye got through to eighth outright. Matty definitely pushed hard but I think a few little mistakes cost him. Chucky was a standout over the four days, he has grown and grown as the year's gone on and he capped it off today with a nice E3 final Moto win over Toby so it was good to watch him move forward during the year. He should be very happy.
"Toby just struggled with everything finally catching up with him. He was basically in bed in Morocco for a week and he got home and had to get straight into it. I could clearly see how much had drained out of him, I think an average person would have withdrawn or pulled out early, but he soldiered on and got a third in E3 and fourth outright, so full credit to him.
"For Tye, it was his first A4DE, and he came away with second in the class -we just basically stuck him on the little 250 EXC-F and he had some really good tests, like top-four outright, but he was just lacking a little bit of experience in some of the different terrain and he had a few get offs that held him back from being higher up. It's a very pretty place, Tasmania, I'd never been down here before. I think it was a bit faster and less technical than what we were expecting down here, but it was definitely a good four-day."
2015 Yamaha A4DE outright top 10:
1. Daniel Milner 3:07:30.489
2. Matt Phillips 3:08:57.680
3. Daniel Sanders 3:10:27.687
4. Toby Price 3:12:15.821
5. Josh Green 3:12:37.981
6. Chris Hollis 3:13:16.828
7. Lachlan Stanford 3:14:26.158
8. Tye Simmonds 3:14:32.649
9. Glenn Kearney 3:15:02.924
10. Peter Boyle 3:17:57.128
Enduro 1:
1 Josh Green 3:12:37.981
2 Tye Simmonds 3:14:32.649
3 Wil Ruprecht 3:19:28.184
Enduro 2:
1 Daniel Milner 3:07:30.489
2 Chris Hollis 3:13:16.828
3 Lachlan Stanford 3:14:26.158
Enduro 3:
1 Matt Phillips 3:08:57.680
2 Daniel Sanders 3:10:27.687
3 Toby Price 3:12:15.821