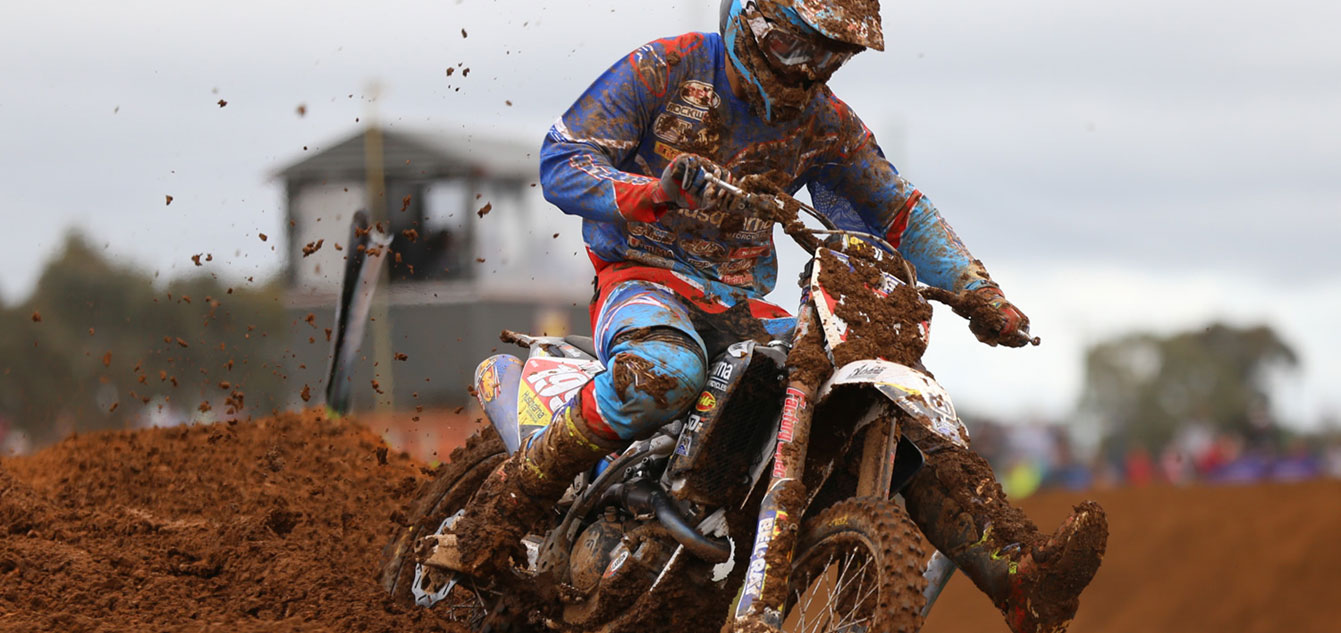 Husqvarna's young Factory Support racers were forced to cop some bitter racing luck on the chin as this year's MX Nationals passed through Shepparton in Victoria for its eighth round.
Press Release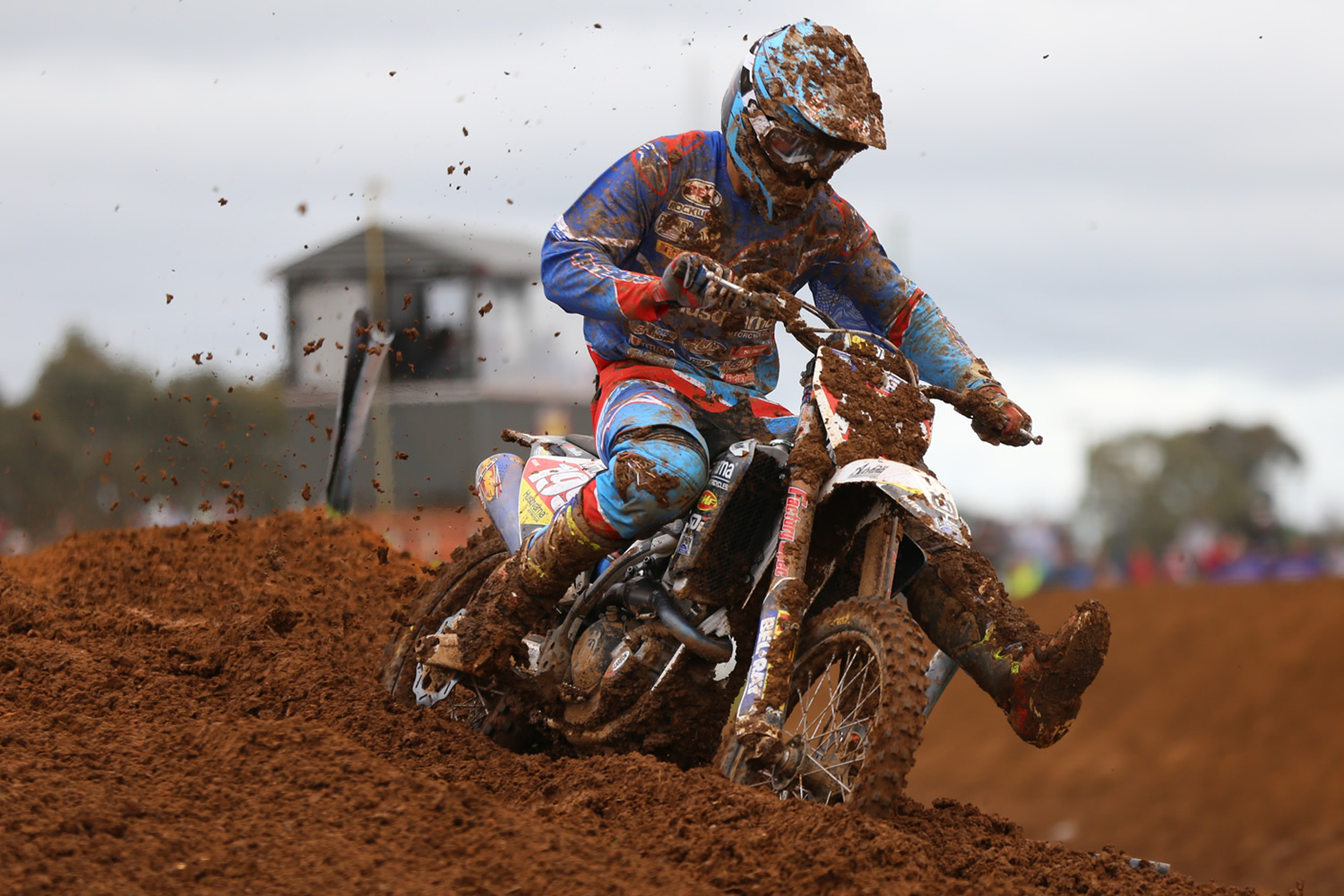 Husqvarna Factory Support racer Nathan Crawford's lead in the MX2 championship became a shared one when he rode his Husqvarna FC250 to 3, 3 finishes for third overall behind Jed Beaton and Caleb Ward.
Beaton closed the gap in the championship chase, and the stage is now set for a straight-up fight for the win across the two remaining rounds in Toowoomba and Coolum, with the series third major contender, Caleb Ward just 15 points behind.
"The day was looking really good, but a few little things went wrong," Crawford said. "I could've won the first Moto but I got a 15-second penalty, then in the last moto I was right there with the top boys and had a crash. So, 3-3's not terrible, but it's not great either.
"Obviously I'm still on the podium, and I'd rather be sharing the lead than 20 points down. I lost the red plate but we've got two Queensland rounds to go, so I'll be there firing, for sure. The track was a challenge, but it was the same for everyone. I'm not real happy with the end result but I've got three weeks to work on improving myself on the bike and hopefully these two Queensland rounds work in my favour."
In the MXD category, a heavy crash in the opening moto caused Husqvarna Support racer Connor Tierney to relinquish his lead in the Under 19s. Battered and bruised he returned for the second, only to be felled a second time, this time by a fallen rider.
To his credit Tierney remounted, gritted his teeth and pushed back through to second place, limiting the damage to a three point deficit entering the final two rounds of the championship.
"In the first Moto I lead for a lap and then made a small mistake and Mitch got around me" Tierney recalled. "I started chasing him but got a little bit frustrated and tucked the front and went down hard. It was one of those hits where you can't get an ounce of breath in your lungs and you think you are going to die. I ended up getting going. Everything was pretty twisted up and I ended up getting back to ninth, but I was hurting pretty bad after that.
"I went out for the second one, and was fifth when Cooper crashed in front of me. I went to wheelie over his bike and crashed on him, so we both went down together. I went down to 20th but came back to second so I was pretty happy with that moto. This is the first time I haven't had the red plate all year, so now I can start chasing it and instead of trying to protect it. Hopefully I can get it back; we'll see how we go."
Fellow FC250-mounted Husqvarna Factory Support racer Zak Small capitalised on his race one third place and was on track to record his very first national podium – while stuck in third gear – after having snapped off his gear shifter during first lap push and shove.
However fate intervened a second time when his clutch lever – apparently fractured during the morning's practice crash – let go and fell off, dropping Small out of the race a lap later when he stalled with a little over a lap to run…
"I got a pretty average start in the first moto but I made quick work of a lot of riders," Small said. "I got to second and stayed there until the second last lap when Wade got me. I'd actually had a pretty big crash in practice and qualifying, so to get that first moto out the way was awesome.
"In the second I got the holeshot and just sat in second for 15 minutes, despite having no gearshift because I snapped it off on the first lap. The bike was stuck in third so that was okay. However, it seems I fractured my clutch lever during the practice crash and didn't realise it, because it suddenly broke and fell away on the second last lap. I stalled just two corners short of the last lap board and couldn't restart the bike because I couldn't pull the clutch in or change gears. I was so close to getting a podium and it was pretty devastating."

SD3 Husqvarna team rider Kaleb Barham climbed one place to fifth in the championship after posting 7, 5 results for fifth overall in Shepparton.
The Toowoomba racer is now eagerly looking forward to the next round of the championship at his home track of Echo Valley in three weeks time.
"It was an interesting track that's for sure, but very technical. I did pretty well in the first one considering the concrete start doesn't really suit me," Barham commented. "Being light on the bike has its advantages on the dirt, but it's a disadvantage on wet concrete. So I came from the last out of the first corner in both motos. I came through to seventh in the first one – didn't do anything overly spectacular.
"Then in the second I think I was fourth by the end of the first lap, but then I had a big crash coming down the straight, but I pulled myself up, regrouped and got back to fifth. Without that I'm pretty confident that I would have gotten through to the top three.  I'm looking forward to Toowoomba, everyone knows I'm quick around my home track, I hope to make it a fun weekend."