STORY AND PHOTOGRAPHY DAMIEN ASHENHURST
Dean Ferris has seen all sides of the sport of motocross. He's struggled and had to put everything on the line. He's taken chances and made mistakes. He's also evolved and proven himself and pulled it all together when it counted. Come the 2017 motocross season, it took an uncharacteristic mistake to rob him of the only moto he didn't win all year. He lost one moto all year. Just let that sink in. Every sport needs a champion to inspire the next generation, and for Australian motocross that champion is Dean Ferris. He is a complete package without pretence and he's come at the right time. Aspire to be like Dean and even if you make it half way there you'll be a hell of a racer and maybe more importantly, a good human being. We gave Dean a call as he was driving to the airport, a trip he's no doubt done more times than he could keep count. He was heading to Victoria to ride and escape the rains in NSW. We recently spent a day shooting him for a FOX campaign, then watched him race SX at Bacchus Marsh and started by asking:
Do you ever have a week were you don't do much at all?
Nup.
Would you want to?
No. If I sit around for a day that's it; I'm over it and I gotta get moving. I like to relax after I've trained but a whole day of doing nothing is shit.
How did your approach to defending a title differ from getting the first one?
I kinda picked up where I left off. It felt like in the second half of 2016 I'd become a new man and I wanted to make sure I kept it like that. You seemed calmer and less impulsive. More patient. Was that something you worked on or somethings that's come from the confidence of the previous year's title?  It's a bit of both. I got rid of the jitters because I won that title and then I just felt like I knew exactly what to do. And calm is probably the best word to sum it up. I felt that I nailed my program and the bike.
We hear riders use the word program a lot but maybe some readers wouldn't be clear on what that is. Can you explain what you mean by program and how hard is it to find the perfect balance?
A program means everything from my riding, my training and my life. Everything needs to be balanced. It takes years and years of experience I believe. When you're young you learn the hard way and might do too much and burn-out or you don't do enough. It's a really hard balance which I believe you only learn through years of experience.
You were dominant through the Motocross Nationals series with a record number of round wins. Did it surprise you to do something nobody has ever done?
It's not something I had on my mind to break records. But I felt that if I could keep the ball rolling then I did feel I would have the year that I did.
A few riders have said before that they've felt sitting on the start gate that they would win that day. Do you get that feeling?
I get that feeling sometimes but I make sure that doesn't control me because you don't want to ride off emotion or think you've got it because this is motocross. You need to make sure you're aware of what's going on. So yeah I did get that feeling but I made sure I had my head in the game and not in the clouds.
How much of your do you work on the mental side of racing?
Just as much as any other aspect of racing; whether that's the bike or the training. It's not something you sit down and do but it's being conscious of the decisions you make and making sure you're on your toes.
How much of an important part of the full seasons puzzle is being on a team like CDR Yamaha?
It's the best situation I've been in ever. They still surprise me with how organized and professional they are. There are times when I'll be at home for weeks on my own training away and I'll call Brad (McAlpine – mechanical guru), and say I need something and they're already one step ahead of me always. They're back at the workshop thinking about how they can make things better and more efficient and get the results as well.
Two titles in a row is something pretty special. Do you ever think of your place in the sport and how it's changed since say 2010? You've become not only a champ twice but a GP winner and represented the country in the MXoN. Is there a weight that comes with that?
I don't feel weight on me at all. I feel like I'm ten times lighter just from winning that first title and maybe that second title was the result of feeling a bit more free. I feel more proud that I've come to the top of Australian motocross. I often reflect on when I was 10 year old Dean and how much I looked up to guys that I was reading about in the magazines and doing my club days and hoping one day I could be a pro or a really good rider. It was just a dream to be where I am now.
I first met you in 2010 and you seemed to be a pretty intense guy then. But the Dean of 2017 couldn't be a nicer and more relaxed bloke. In a world where everyone is quick to judge on social media, how do you handle criticism?
I feel the older I get the less the shit bothers me. For sure when you met me in 2010 I was intense and what people said did bother me. But I feel like I'm being the best person I can be and the best rider and athlete I can be and people's opinions don't really matter. I feel like I'm not a bad guy and all I can hope for is that the fans and the kids – like the young Dean I was once – look up to me and I can be a cool guy for them and keep my feet on the ground and be level headed.
 What are you like after a bad result? Are you a grumpy guy or can you let it go?
I'm pretty hard on myself (laughs). That hasn't happened too much this year, but for instance at Shepparton I lost the first moto (the only moto Dean didn't win all year), and I knew it was my fault. I let my guard down for a second and I crashed and I knew I wouldn't get the overall. I came back to the truck and the team had to make sure I had my head in the game for moto two. Last year I struggled to lose and I didn't handle it that well. I'm a pretty bad loser is the answer to the question (laughs).
How much of a rider's life is taking care of the business side of things as opposed to training and on the bike time? Going back to 2010 when I was a privateer it took up a lot of my day. I was organizing the logistics for everything that year; you know flights and hotels, what time the van needs to leave, loading it, working on my practice bike and my race bike. It took up a lot of my time then and really wore me out. But now I've got a really capable girlfriend that I can lean on and she helps me with that and also my team helps me a lot with that as well. So I've kind of cut it down to a minimum just so I can focus more on my training and my riding. It's really not that much now – just a couple of interviews a week and that's all I really have to do. Silly Season is always a bit crazy with phone calls but other than that I've got it down to a minimum.
I spoke to Brad McAlpine about testing at CDR and he said you're quite particular about what you want with your bike set-up but once you get it you don't mess with around at all through the year.
Yep. For instance we used the same forks two years in a row and I didn't touch the clickers once. I am really particular but we go through the motions at the start of the year and once I've made up my mind that's it. This year I changed two clicks on the shock and I bounced between a scoop tyre and another type (CDR uses Dunlop) and they are the only changes I made.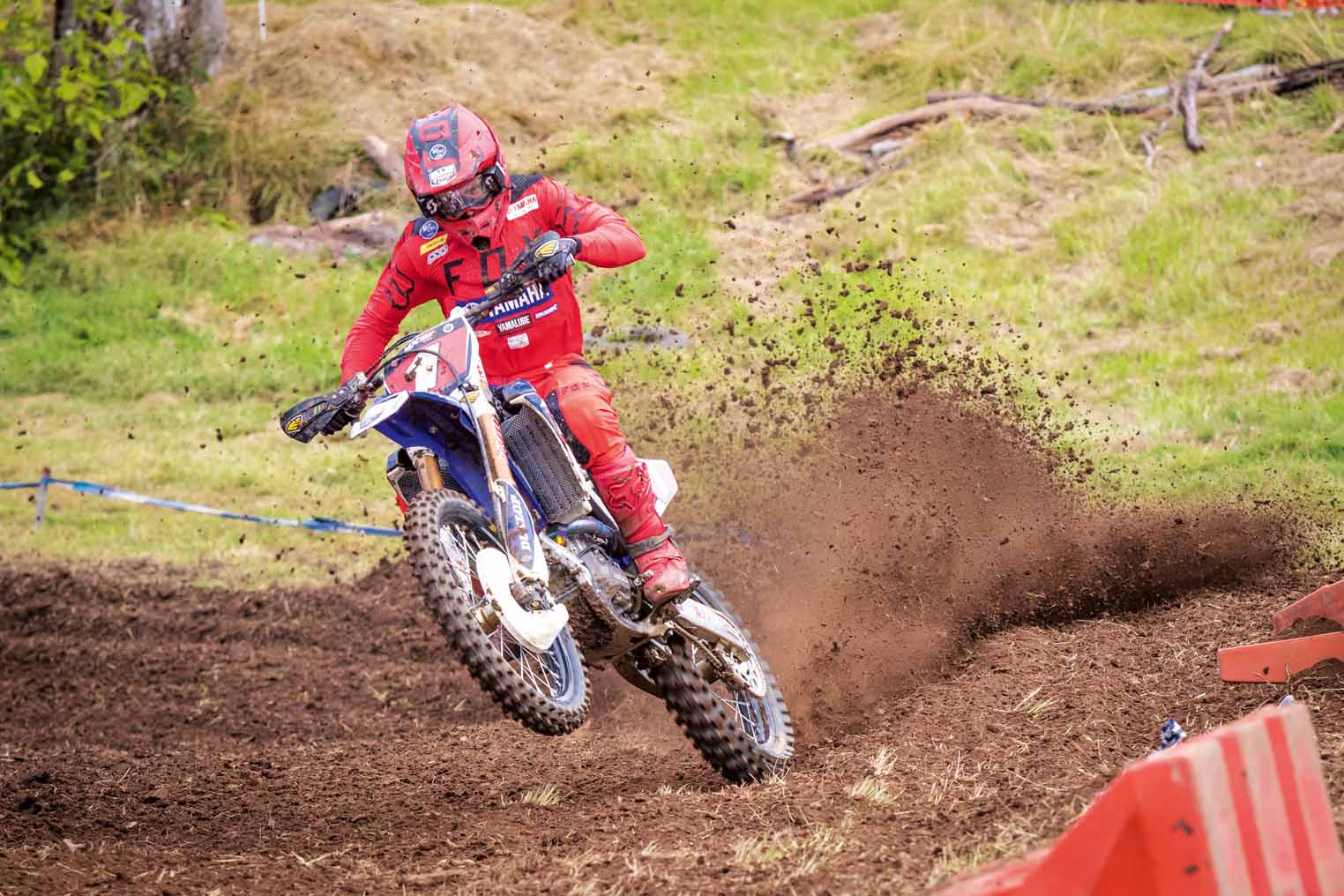 We've seen a lot of high profile riders, particularly in the States, publically criticize their bike. I think that leaves the average fan a bit confused especially when these guys are on big budget Factory teams. At the highest level shouldn't a rider be getting exactly what they want?
A lot of riders have a choice and they know what they're getting into. There are so many parts to choose from that just about everything is fixable. I actually signed with CDR without riding the bike, but I had a lot of confidence in it and knowing CDR can fix any bike if there was a problem. When I got to the team they had it pretty much dialled and we didn't change too much. We filtered through parts really fast and within a day we had a base setting and by day two it was refined and then we did one final test before the motocross in '16 and that was the set-up I ran all year. And I'm still adamant that the bike's awesome and the results show that.
Ideally, where do you see yourself in five years?
(laughs) Apart from residing in Kyogle and having a little family and sending them off to school, I think I'll still be doing some races but I might be done with motocross by then, we'll see how it goes and maybe I'll ride more offroad.
Dean Ferris Finke winner? (laughs) Yeah maybe but I'll start with Hattah. I have an interest in the big beach races in Europe. The races where its really physical and the body has just as much to do with it as the bike and your ability.