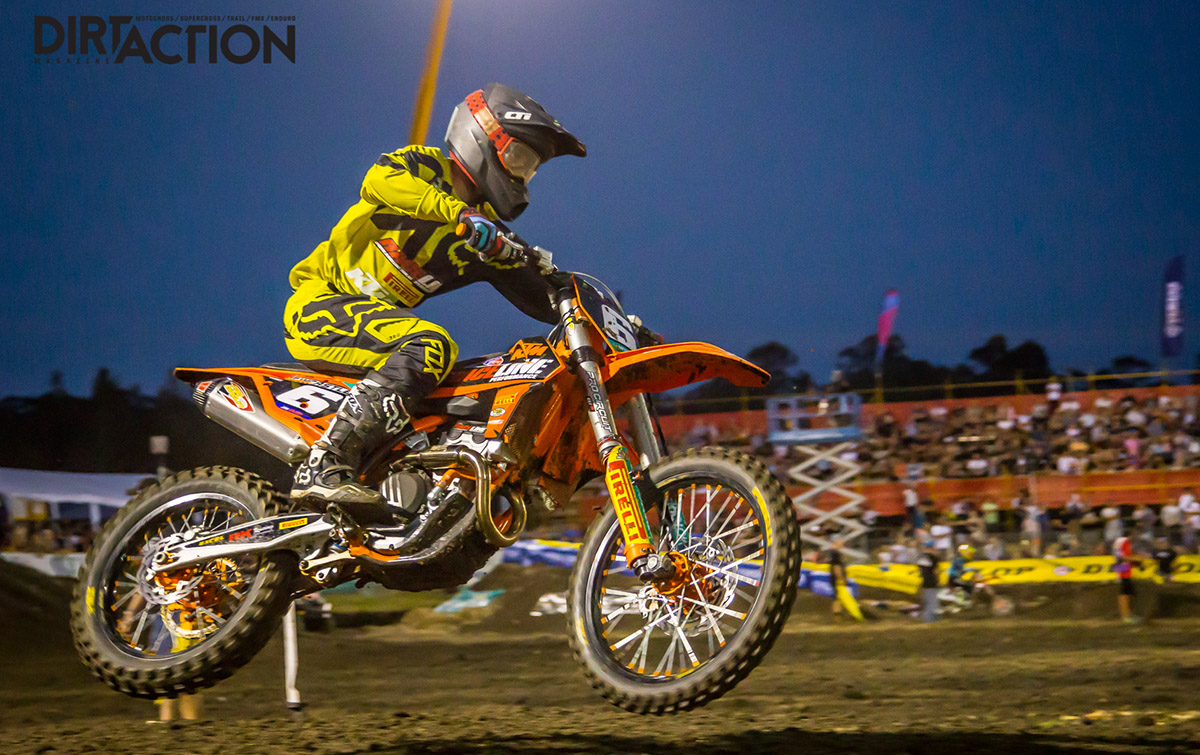 Wilson, who brought home a solid points haul was not the team's only success at Jimboomba – despite having a somewhat difficult main event finishing in 20th, Jayden Rykers also showed impressive form in his first heat race early yesterday evening.
Wilson finished second in his heat, before charging back from a mid-pack start to fourth in the main event, and shared that he's content with last night's performance – also mentioning that he believes finishing every race consistently will be the key to success in the 2017 season.
"I'm really happy with how the first round went. Finishing one position shy of the SX2 podium is a solid way to start the season, and means that we have good points going in to Melbourne," Wilson said
"I had a good lead up to the weekend, and it was sort of nice having everyone except those in my corner count me out – it meant I could just focus on doing my job without any added pressure and it paid off.
"I got second in my heat race, and fourth in the main which is nice and consistent and exactly what we wanted to achieve. Obviously a podium would have been the perfect scenario but you need to be smart in Supercross, particularly at the first round.
"The KTM 250 SX-F was flawless last night. We made a couple of small changes throughout the day, and by the time we got to the main we had one of the strongest bikes out there. I'm excited to see where we can go from here."
Rykers who is competing in his first full season of Supercross in 2017, also showed some impressive from at Jimboomba. After qualifying in first position in the un-seeded group of SX2 riders which provided him with 13th gate pick, Rykers raced to fourth in heat two, while in the main event a crash proved costly handing the team with 20th at the night's conclusion.
"The whole day started off relatively good, especially when you could say in some sense that this is my first Supercross," Rykers shared.
"We found a good base with the team – then I qualified fastest in my group in the afternoon which put me in 13th, and then my heat race went well. I got up the inside and worked my way in to fourth which I was happy with.
"I was really happy up until the main event. I didn't get a good start and I lost traction on one of the doubles about seven laps in and I had a bit of a crash – I found it hard to get the bike going after that and I dropped back.
"All in all, the day was good up until the main event but I'm happy to walk out of here healthy. We have a good break now to work on our weaknesses so we'll keep building."
The second round of the 2017 Australian Supercross Championship will take place at Bacchus Marsh in Victoria on Saturday October 14.
To follow Raceline Pirelli KTM's progress this year, like 'Raceline' on Facebook or follow @raceline_motosport on Instagram.