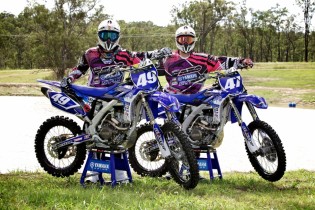 GYTR Yamaha Primed for 2012
For Immediate Release: Sunday, March 25, 2012.
A new name, a new rider and fresh looking bikes has the factory supported GYTR Yamaha Under 19 motocross team excited about the 2012 MX Nationals starting in less than a weeks' time at Conondale on the Sunshine Coast.
Victorian hard charger, Sam Martin joins Shaun Redhead for 2012 and both riders are primed and ready for a huge season. Martin and Redhead have both been products of the Yamaha Junior Racing program and look to take the next step in their careers with a successful 2012 campaign in the ultra popular MX National Under 19 division.
Shaun Redhead comes off a solid 2011 season where he placed third in the MX Nationals. He unfortunately had to skip the SuperX series late last year due to injury but is back and firing on all cylinders and ready to make his mark in his final year in Under 19 competition.
"I missed a bit of racing last year but as soon as I was able to ride again, I got stuck into my preparations for this year," Redhead states. "Testing and training have been going well and the team has again presented some great bikes."
"I'm also excited by the tracks we will race on this year. There is a good range of tracks from hard pack to sand and the return of the longer races is cool. It's going to be a great season," he signs off.
Sam Martin joins the team for 2012 after showing impressive speed during 2011. Martin proved to have plenty of go last year but will now become a genuine contender in 2012 under the guidance of a factory team and with another year of experience gained on the pro tour.
"I am really looking forward to this season. I now know how everything works, I have a great team behind me and our race bikes are awesome. I stepped up my training program and feel fitter than I ever been so everything points to a good year," Martin explains.
Jake Emanuelli was enlisted to the team for 2012 but a serious accident in late 2011 has left the likeable Victorian sidelined for the majority of the season while he recovers from his injuries. Yamaha will still assist Jake as he regains his fitness and he eyes a return to serious competition in 2013.
The Yamaha Under 19 race team has proven to be the perfect launch pad for aspiring professional riders and fits nicely between the Yamaha Junior Racing program and the professional race teams of CDR and Serco Yamaha. The team offers a great environment with highly qualified personnel.
"The GYTR Yamaha team has been tremendously successful over the past five years and we at Yamaha are very proud of the pathway this team forges for riders," states Yamaha Motorsport Manager, Ray Howard.  "With both Shaun and Sam we have riders who have come through YJR and if they continue to work hard, they will climb the professional ladder quickly. I look forward to following them closely this season."
The opening round of the Monster Energy MX Nationals fires into life this Sunday at Conondale's Green Park in Queensland.