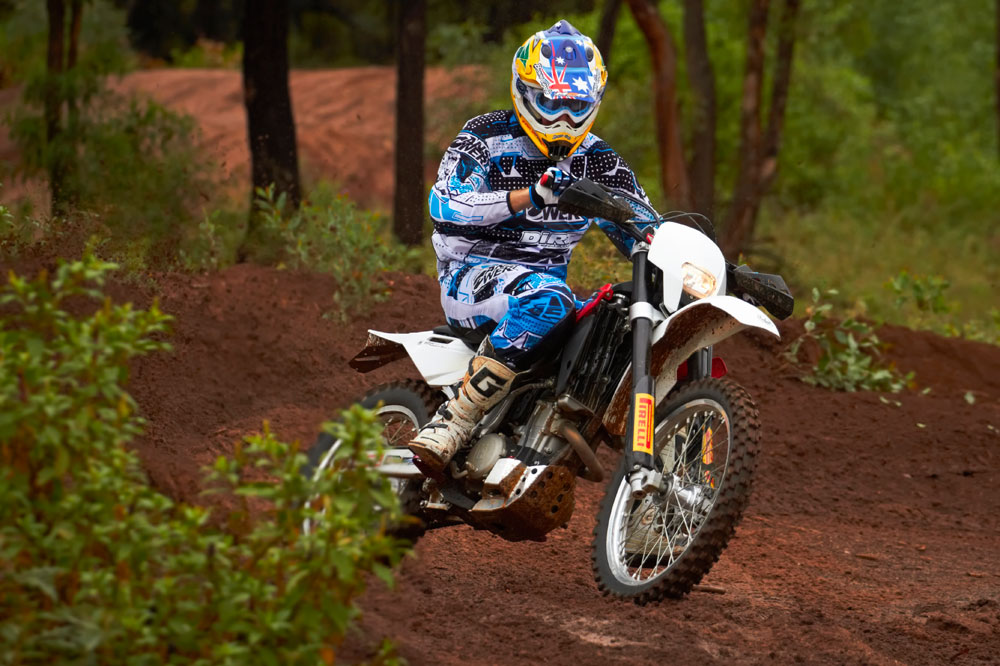 Part 1: The Italian Mongrel – When you take a closer look at the new 2012 TE310 you start to understand why the results on the world stage have been coming their way.
Story Greg 'Hop' Masters | Photography Hop & Matt Bernard

The Frenchman Antoine Méo wrapped up the E2 class of the 2012 World Enduro Championship this year on board a Husqvarna TE310, bringing Husqvarna's total to 79 world championships.
The Swedish-born, Italian-run, German-owned motorcycle company dominated the E1 class in 2010 and now both the E1 and E2 class in 2012. The E1 class was won by Juha Salminen onboard the TE310's little bro, the TE250. That makes the TE250 back to back world champion in its class. Wow!
Locally, the TE310s of Glenn Kearney, Damien Smith and talented import Bartosz Oblucki have been causing a stir here as well and have all been regularly seen in the winner's circle of this year's AORC series.
I know I'm beating around the bush here a bit on the subject of my new project bike, the 2012 TE310. However, I did want to bring you guys up to speed as to where Husqvarna is currently sitting in the Euro and local off-road pecking orders. Now, it could be just a coincidence but it seems to me that since BMW acquired Husqvarna a few years back the results on the track have been getting better and better.
When you take a closer look at the new 2012 TE310 you start to understand why the results on the world stage have been coming their way. Antoine Méo won this year's WEC E2 on a TE310 against a lot of good riders on 350s and 450s. Méo won the 2010 E1 or 250 classes last year on a TE250, then came out this year and won the E2 class on pretty much the same bike with 60 more cc's. That's pretty impressive if you ask me and goes to show what strong bikes the 250 and 310 are within the TE range.
I've only just picked up the 2012 TE310 DA project bike from Rock motorcycles, my local Husky dealer. I'm pleased to say what I'm looking at is pretty impressive. Straight away I noticed the large and polished hubs which obviously have some technical reason for being there, but they do look trick! The next thing I noticed — and I'm pretty stoked about — is that the 310 has got Brembos front and back as well as a Brembo hydraulic clutch. Woo-hoo — top-shelf stuff!
Things only get better because this year the TE310 is running a 48mm Kayaba fork as well as a Kayaba shock which replaces the Sachs shock used on last year's model. It's pretty cool that a European-born and -bred bike is running Japanese suspension. It seems Husky/BMW are not afraid to throw the cat among the pigeons and outsource parts when it comes to giving us the customers the best bike they can.
Normally I would receive a project bike in its full ADR-compliant form, which is cool but leaves you to start stripping off the items that don't really have any benefits in the bush or on the track. Usually, at the end you'd have a large box of stuff. The TE, like some other European brands, apart from mirrors and blinkers, comes ready to rock which is pretty obvious when you look at the scales. The TE310, according to the Husky spec sheet, comes in at a lean 108kg. In a coming issue I will put the specs sheet to the test and weigh the TE myself minus mirrors blinkers etc and see what my scales say.
Over the next six months this poor 2012 TE310 is going to be punished on grass tracks, bush loops and MX tracks, so we'll see how the bike performs given that I'm on the heavier side for a bike of this capacity at a beer-drinking 95kg. Anyway, I'm off to cuts some laps at a local grass track and see how this Italian stallion performs.
Giddy up!
Part 2: First Dates
Having a DA project bike is at times how I imagine an arranged marriage would be. As I'm 95kg with what I'd call a low-energy style — nothing like a Chris Hollis low-energy style but nevertheless a low-energy style — I have a tendency to like 450s.
Now, the thought of riding a lighter, nimbler bike from the 250 class has always appealed to me. The truth of the matter is, being a lazy rider, the thought of spanking the monkey out of a 250F makes me sweat and feel a little oxygen deprived. So, where does the TE310 fit in? This might come as a shock but I reckon it's somewhere in between.
In the bush, the TE310 is great. The brakes pull you up on a dime and have great feel, which is standard for Brembos, I suppose. The motor delivers quite a bit more torque than a 250F and that's valuable in the bush, for sure.
Now, not to get too carried away, the TE310 doesn't have the overall grunt of a 450, obviously, so out on the single trails I have to be more aware of what's around the corner and be ready for anything to pop up — like logs or some snotty rocky inclines etc — which means keeping the motor in the sweet spot on the more challenging sections. The 310 is light and nimble, which leaves plenty of energy to cover this new requirement. I've ridden some 450s in the bush and at first you feel like you're going pretty fast but after 20 to 30 minutes the power and weight of the bike start to physically take their toll. This isn't the case with the TE310; I'm like the Energizer bunny — I can just go all day.
Since I picked up the Husky TE310 it's cut a bazillion laps around the local grass track, which has been in prime condition for the last few months thanks to all the lovely rain we've been getting here on the mid-north coast. So far I've noticed I can brake way later, change lines mid-corner if need be and get on the gas earlier when exiting the corners. Now, as a lower-energy-style rider I usually come into the corner a bit hot, totally botch the rut or line then blast the throttle on the exit to make up for the time I lost in the corner. The TE has opened my eyes up to new lines on the grass track, that's for sure.
At 95kg on a 310cc I do get hosed on some of the straightaways against 450's, but a smaller pilot would be able to run with them for sure. So far at the grass track I'm doing the same lap times I was doing on my previous DA project bike, which was a 450 — pretty good considering I have 150 fewer cc's at my disposal and the KYB suspension is stock as a rock and a little soft for my weight.
All I've done to the bike as far as setup goes has been turn the bar mounts around to give me a bit more room in the (LOL) cockpit, played with the clickers on the suspension and set the sag. The guys from PFG sent me a step seat also which keeps me in the right part of town as far as position goes on the bike. Also, I've changed the standard pegs to a nice set of red anodised La Corsas which are larger than stock.
So far the TE has done around 17 hours while in my care. The Motul 7100 synthetic oil has been changed as well as the Husky oil filter. I'm onto my second set of Pirelli Scorpion MX Extra Xs, the Hi-Flow air filters have been changed when looking a little dirty and the Italian stallion is running, should I say, like a stallion.
Yee hah! Giddy up!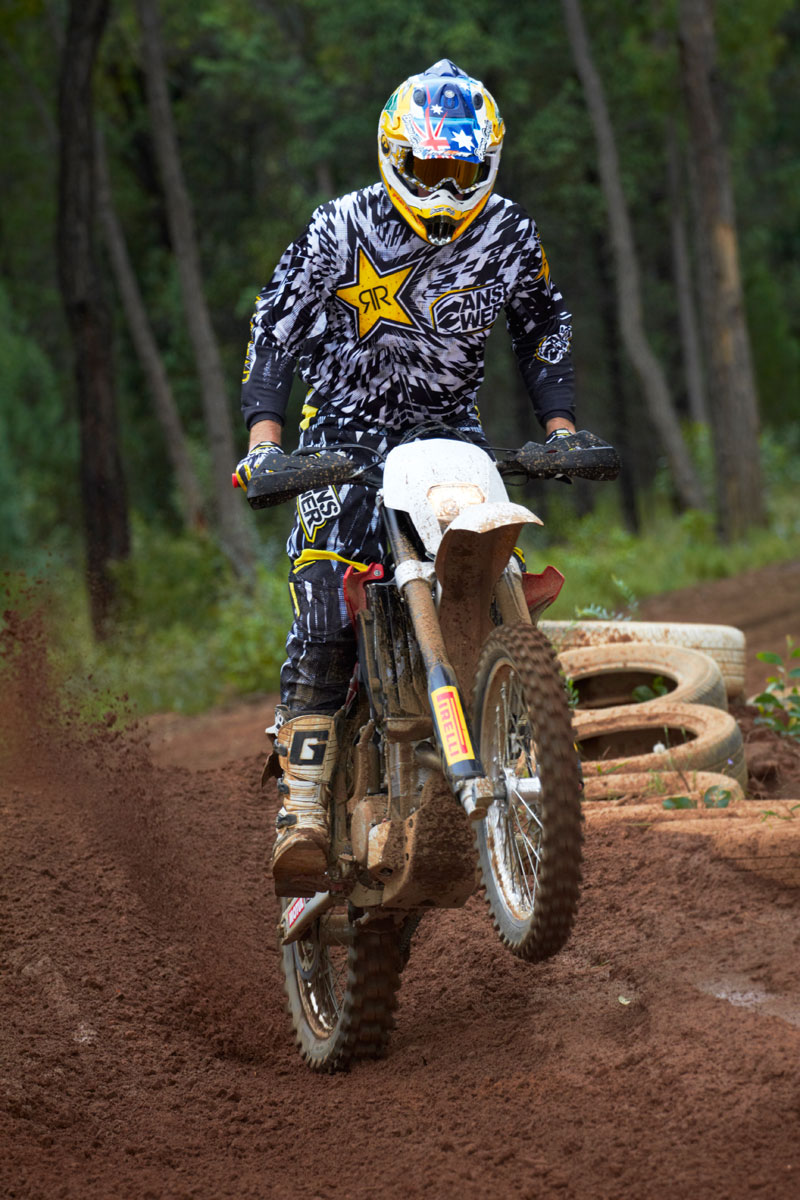 Part 3: Face Off
Project Husqvarna TE310 ticks a trip to Coonabarabran off its bucket list while Hop gets a spin on a factory Husky
The Husky TE 310 has clocked up another 10 hours since we last spoke. This brings the time we've spent together on the trails and grass track to 27 hours. So far the only maintenance needed has been air and oil filters and an oil change and grease on the axles and linkages. The linkages part could have been left for a bit longer but it's been that damn wet of late it's something I don't need haunting me down the track.
When I first got the bike, one of the things on my TE 310 bucket list was to do a comparison between Factory Husqvarna Australia's Glenn Kearney's TE 310 and my stock project bike. Well, blow me down, it happened; and, of all places, at Goanna MX facility, which has a great variety of well-thought-out enduro loops as well as a national MX track — not to mention a sand track which had the crap ridden out of it while we were there.
In my opinion, Goanna is the Disneyland of moto. It took me at least one and a half days to experience 90 per cent of what the place had to offer. The other 10 per cent was the Extreme enduro track which, for me, was best left alone. Glenn on the other hand attacked it like a man possessed in preparation for the extreme Enduro X event in Melbourne.
Anyways, it was the perfect Mario scenario. Coonabarabran got some rain before we arrived so the tracks and trails were all primed and ready for a pounding. After Glenn had ridden off his six-hour drive, we swapped bikes. The first thing I noticed was how trick his bike was. Anything not needed had been taken off and replaced with carbon or Ti or not replaced at all.
Before I took off, Glenn came clean and informed me that his 310 was actually a 340. Huh? It had a factory 340 kit fitted and it was what he was going to be contesting the 2012 AORC series with. Well, that's even better, I thought; now I get to compare a factory engine against my stock project bike engine.
30 More CC's
My first impression when I jumped on was that it didn't feel as roomy as my 310, but that's understandable as GK is only two thirds my size. The bars were rolled back and felt like they'd been in for a trim as well.
Only a couple of turns into the first trail and you could feel the difference in the motor and suspension. The most noticeable part of the motor was the torque. This thing just tractored up the snottiest of rocky inclines and pulled hard out of the sandy trail berms. At one point I do recall it tiring me out compared to my project TE 310, which is by no means as demanding as GK's race bike.
For a smaller rider, GK has his suspension set firm but plush; at 20kg heavier, I never bottomed the forks once. In some sections of the trail the lightness of GKs bike was handy. Ti and carbon obviously help in this department but the smaller lithium battery that Glenn runs is a big help, too. All in all, though, there were obviously some differences, the 30cc extra being the biggest one for sure. But apart from that it wasn't night and day.
Thanks to the Goanna MX facility for the experience and thanks to Glenn for letting me make a clothes line in our motel room. Those socks were pretty pouchy but he toughed it out like a true champ and didn't say a word.
Next month I'm heading to Ian Wightmans Pro Moto suspension to have some work done and look forward to filling you in on the results.
Bbbrraarrpp!
Part 4: Fat Boy Is Happy
The Husky gets sprung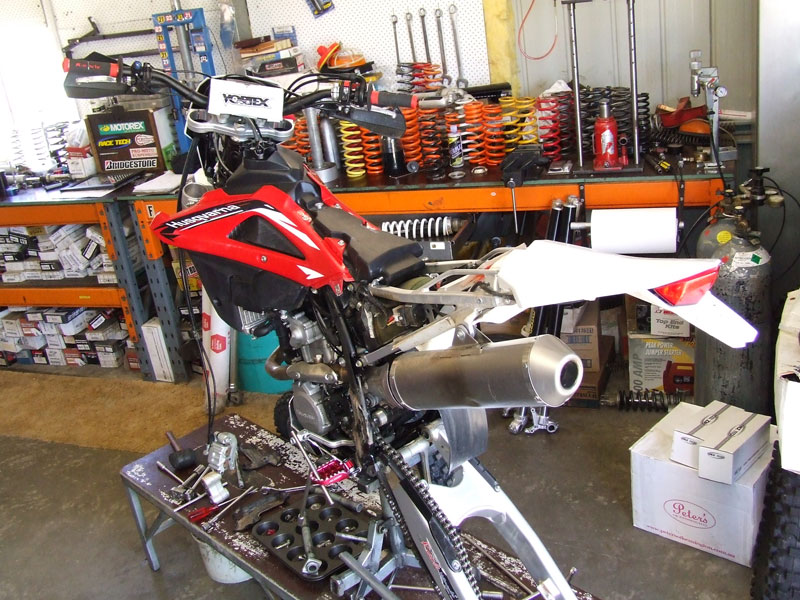 Since receiving this mid-size capacity mauler, I've done most disciplines of riding the bike is designed for. But now it's time for my favourite part of having a project bike: customising the suspension setup for my size and ability. I'm 10 to 15kg too heavy in general as well as being too heavy for the Husky TE310 stock suspension setup. This wasn't too bad at first for some of the riding I like to do. Up until now, though, the bike has been fun to ride, there's no doubt about that. Although, after having a few of these project bikes I've been spoilt. I now know it makes a massive difference to the way the bike performs as well as my riding enjoyment. Good bike setup makes a rider even happier.
Ian Wightman, founder of Pro-Moto suspension and father to young hotshot Yamaha Junior Development rider Joel Wightman, was keen to help me out in my quest for a better and improved suspension setting. I have never had any work done by Ian before, but heaps of crew have. Ian has a great following around where I live in the Port Macquarie area, such as A-grade/pro-level riders Aiden and Dusty Brown, Shaun Borham and the illustrious AORC champ Christopher Hollis who used and promoted Ian's suspension on his way to the top of the podium in 2011. The Pro Moto Suspension workshop is west of Newcastle. As most of you would know, this area has quite a depth of riding talent and Ian has been setting up suspension in the area for more than 15 years. He has also been known to twist a throttle pretty hard himself as a racer once upon another time.
Once I located the property, I drove around to the workshop where Ian was waiting for me with a coffee in hand. I wheeled the TE310 Husky into his workshop and he was straight into it. Ian checked my weight and we had a short chat about what I wanted from my new suspension setup. Once the suspension was removed from the Husky, he checked what spring rates were being used in the forks and on the shock. After a quick test it was determined they were not to be used in my new setup. Springs that would handle my girth had to be used.
Having a KYB fork and shock this year on the 2012 model is a big improvement and made the setup that little bit easier as well, as Ian had a few settings already up his sleeve or in his files. The front end was completely cleaned, sprung, re-shimmed and oiled up. The rear was much the same story with the inclusion of a heavier rate shock spring, which I was pretty pumped about. During a conversation, Ian suggested that if I was serious about my riding, the shock should really be having its next service in around 15 to 20 hours. Joel, Ian's son, can tell when his shock goes off and it's at around 15hrs. How long since you've had your trail python serviced? Haha.
Next was the test-ride around one of Joel's many tracks. You probably want to know how that felt. It felt a shitload different with the bike now standing much taller with me sitting on it. It was like starting over again and everything felt much roomier. Because I have long legs, I sub-consciously found myself sitting a long way back on the bike, but I was now able to comfortably sit at the front of the bike — this made the bike feel and perform heaps better. After going off the first ski jump without bottoming and into the first bumpy turn without sketching out, I was stoked!
I pulled up and Ian played with the bike's clickers a little to show me the differences that going harder a click here and softer a click there would make. After a couple of laps, we returned all the clickers back to the middle as I was suffering an experience overload. One thing was for sure: one or two turns on compression and rebound now made a more noticeable difference. It felt great and I would be playing around with the settings once I had ridden it more at home.
Ian said he would call me in a week to see how it was all going. True to his word he did, and we chatted about the terrain I had been riding and how the new set was going. The only news I had for him at that point with a few rides under my belt was all good.
Part 5: Time to Reflect
With 32 hours on the clock, Hop takes some time to reflect on the Project TE310 so far
The Project Husqvarna TE310 now has 32 hours on the clock, making five hours since I last did an update. I've had more going on than Paddy's Markets on a Saturday morning lately and haven't been able to get out for a ride on the Husky all that often. The weather has been great and conditions have been fantastic but time just hasn't been on my side.
I went out for a ride with my seven-year-old son Jett on the weekend at one of our local grassy haunts. Once I got him going, I was able to cut some grass-track laps of my own. As I was batting around the grass track and on the verge of cracking a sweat, something came to mind. Apart from "stop, have a drink and a rest before you turn into a human lawn dart" kind of thought, I realised that since receiving the Husky, I have been pretty much focused on customising the bike. I now have it at a point where I can jump on and be comfortable a riding a grass track or tackling a snotty single trail in the bush with my mates. And, thinking about it, there wasn't much work in getting to that point either — higher Vortex Bars, turning the bar clamps around to give me more room (I'm 95–100kg and six foot two) and re-valving the suspension to suit my weight was about it. If I was factory-spec' size not much would have been necessary at all. The larger than standard La Corsa footpegs have also been a great addition, and have helped me to move around on the bike more freely.
Basically, I'm comfortable and feeling at home on the TE. So now I'm thinking it's time to see what else I can do to enhance the TE's performance without messing with the reliability.
For starters a trip to MX1Australia.com.au could be on the cards for a Funky Acerbis Headlight and some red and white hand guards (go the Dragons!) and some bar ends. While on the bling side of things, I would say it's time for a sticker kit, which will be a nice change from the all that white plastic. Also, Husky Australia is offering an upgraded racing ECU and 12-hole injector kit with all new 2012 TE250s and TE310s. This is an upgrade from the current four-hole injection unit and compliments the standard 2012 Leo Vince exhaust system. The ECU has new fuel mapping as well as a new ignition profiles. This will improve throttle response and maximise performance. I am pretty happy with the current set up so I'll be looking forward to feeling the difference. Now, if you have a 2011 TE310, don't worry; the upgrade will also work on your model for $499 plus fitting. Anyway, I look forward to seeing what I can get organised for our DA project TE310 and what improvements they will make.
Stay tuned,
Hop
Part 6: Italian Beauty
After his AORC debut, Hop came home to his waiting Husqvarna TE310 and gave her some love
With my first AORC race in the bag, I headed back home motivated to throw a leg over the Project Husqvarna TE310 — not only to see how it compared to my factory ride under the MX1 Australia tent, but also to work on the momentum I'd built with my riding while at Coonabarabran.
After fitting the $499 12-hole ECU, I headed to a local grass track and held it on. The Husky is in no way shape or form an RMX450Z, which I had ridden at Coonabarabran, so of course it felt a little under-powered. However, the ECU gives the Husky TE310 more over-rev and, once I'd switched my brain back into 310cc mode, I enjoyed every minute of being back on the Husky.
After our grass track reunion, the Husqvarna was given some love. I fitted up some extremely trick Husqvarna carbon-fibre bits and pieces to revive the TE310, which has seen more than 35 hours. First, I fitted a carbon front sprocket cover followed by a carbon chain guide. You can't get many materials that look tricker than carbon fibre, so it certainly dressed her up. With the carbon bits and pieces gleaming on the bike, I applied some Husqvarna rim-tap and fitted a Husqvarna anodised hot-start lever and a Husqvarna bar pad.
Facelift
Some custom Über-Moto graphics are currently on the way to my home, ready to give the Husqvarna a complete transformation. I've got some fresh white genuine Husqvarna plastics all set for the graphics I'm counting down the days until they go on. They'll give this bike a whole new lease on life.
Jad and the guys at Über-Moto have done a cracking job on the design. Not only do they stand out but they represent all the companies that have got on board with the project Husqvarna TE310.
As the hours tick over on the TE310, I'm constantly reminded of how good the Pro-Moto Suspension is; it has transformed my confidence on the bike and I'm more than happy with my comfort level on the bike on grass track, trail or even motocross. If you need some work done on your Husky — or any bike, for that matter — give Ian at Pro Moto a call.
Next month, I'll check in with a whole new-looking Husqvarna TE310, thanks to Über-Moto, and the DAguys will be getting the bike into their studio for some photos to show you how good it looks now.
Part 7: The Italian Stallion Goes Home
The Dirt Action project Husqvarna TE 310 has been in my care for almost 12 months and I certainly think there is a place in my dirtbike dream-quiver for such a machine.
Being a lazy 450 rider it wasn't until I had ridden the 310 a few times that I realised where such a bike would fit in. Although the bike is down 140CCs in comparison to what I would normally ride it was also 10 to 20kgs down in weight. The nimbleness was one of the first things I noticed when I first rode the TE. Secondly, was the feel and the stopping power of the Brembo, Braking disc combination which took a little getting used to at first. Every bike should come with this combination, it works so good!
After a trip to Pro Moto suspension the KYB shock and fork (2012 upgrade) combo was dialled in and this is when I could experience all that this midsized mauler had to offer. If I was around 80kgs the stock suspension set up would have been fine.
Once the suspension was set up I attacked the local motocross track. I did find out that being a bigger guy on the 310, meant the 450s would have their way with me on the straights. In saying that though, when the gate dropped I managed to always be there challenging for the hole shot. I put that down to the ability to get power to the ground. This was also a plus on wet and muddy grass tracks where the lightness and tractability allowed me to run happily with 450s.
I noticed during my time with the TE there's a bit of a stigma attached to the brand. With people bringing up issues that happened to them or their mates bike a long time ago. With any bike you will find certain brands and models that have had dramas in their past. From what I remember the same stigma hung over KTM. However over time they have sorted certain issues and are now market leaders in off road bikes worldwide. Once Ryan Dungey wraps up the AMA outdoor title they will be turning the MX market on its head too. Husky is no different to KTM and with BMW now owning the brand big improvements have already happened and can be seen rolling out in the bikes today. I can only vouch for the TE 310 that I've had at my disposal that after several months and clocking up 43 hrs of ride time that reliability has not been an issue and the quality of components have stood up to everything I've thrown at them. People that have bagged the bike and brand out to me always finish up by telling me about one of their mates who loves his TE 310, wouldn't have any other bike and is up to his second or third one.
I personally think the bike really came into its own out on the trails in the bush. The lightness and the torque were outstanding. There was ample power and torque to take me through the deepest of snot, up and over logs as well as conquering most hill climbs. The only thing holding me back on the hill climbs I didn't conquer was plain old skill! Best of all was when I got tired I didn't have to treat the throttle like a temperamental brown snake!
I've seen first-hand AORC over 35s rider Damien Smith school 450 riders in that series riding his TE310 , Glen Kearney has been at the pointy end of the 450 class all year as well on his TE 340. WEC rider Antoine Meo was outright winner in 2010 and 2011! When looking for credibility, reliability and bang for your buck the Husqvarna TE 310 is hard to go past. To top it off the first moto movie I ever saw, "On Any Sunday", had the moto hired gun Malcom Smith and the king of cool Steve McQueen riding, racing and winning on the brand long before I was born!
I've said a lot of nice things about this bike over the last several months, that's for sure! But all 450 bush and trail riders should empty there tea cup a little, open their minds and head down to a Husqvarna dealer today and see why Damien, Glenn, Antoine, Malcolm and Steve choose and chose to ride this legendary brand.
Thanks to-
Husqvarna
Pirelli Tyres
Motul Oils
Vortex handlebars
Polisport plastics
Ariete grips
La Corsa foot pegs
Pro Moto suspension
Uber graphics
Acerbis plastics