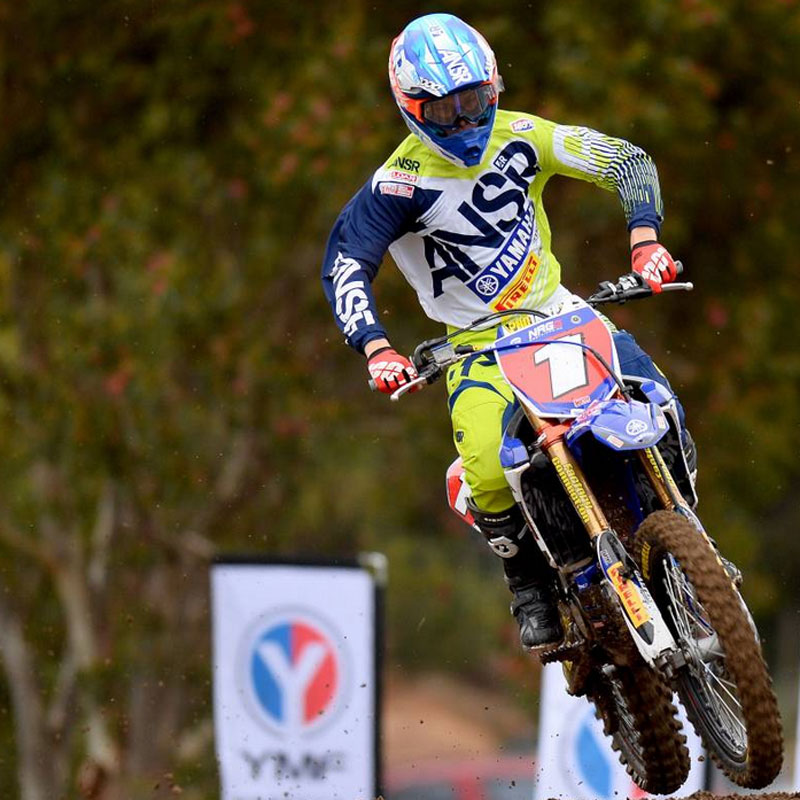 Two from two for Clout at round three
FOR IMMEDIATE RELEASE
26 April 2015: Broadford, Victoria
Serco Yamaha's Luke Clout has taken two wins from two motos and defended his MX2 red plate, in an action packed round three of the MX Nationals at Broadford today.
On a circuit prepared well enough to rival the 2000 MX GP, Clout dominated the Motul MX2 class, claiming his first clean sweep for 2015.
After qualifying in number one position Clout kicked off his round three campaign in spectacular fashion, taking the first moto win for the day ahead of JCR Yamaha's Jay Wilson in second, and fellow Serco pilot Jed Beaton who took third.
In race two the Clout show continued.
Despite the holeshot being claimed by Penrite Honda Wilson MX athlete Geran Stapleton, Clout once again took a commanding race lead to finish in number one position, followed by teammate Beaton and Kawasaki mounted Takeshi Katsuya who crossed the line in second and third respectively.
With Clout claiming both race wins, the thrills and spills came from the action happening behind him. Jay Wilson copping two in race penalties which saw him relegated to 15th in moto two, while Luke Arbon (SD3 Husqvarna) and Wade Hunter were also victims of penalties in race two, which saw their overall results take hits today. 
At the conclusion of the round however, it was once again Serco Yamaha's Clout on the top step, sharing the podium with teammate Jed Beaton who claimed second overall, followed by Takeshi Katsuya (Kawasaki) who claimed third for the round.
Motul MX2 round three overall winner – Luke Clout– Serco Yamaha (1st, 1st – 70 Points)
"Broadford was prepared very well today, and that's the reason why we saw such good racing," he said.
"Today was definitely a good day for me taking two wins. It's the first ever double race win for me so I'm stoked.
"We have worked on my starts and it's showing. Two top five starts and into the lead in the first few laps is what I need to be doing.
"I have a 20 point lead in the championship now so I'm just going to take this three week break to work hard and come out swinging at Murray Bridge."
To check out how the rest of the Motul MX2 class went today, and to re-watch all of the action from every race at Broadford, tune in on Wednesday night via www.nrgtv.com.au for all of the racing on demand!
Motul MX2 round three overall results:
1) Luke Clout 70
2) Jed Beaton 62
3) Takeshi Katsuya 58
4) Geran Stapleton 53
5) Wade Hunter 50
6) Jay Wilson 48
7) Dylan Leary 44
8) Riley Graham 44
9) Hamish Harwood 44
10) Joel Wightman 42
Motul MX2 championship points
1) Luke Clout 200
2) Jed Beaton 180
3) Jay Wilson 175
4) Takeshi Katsuya 171
5) Wade Hunter 145
6) Dylan Wills 129
7) Hamish Harwood 126
8) Dylan Leary 119
9) Luke Arbon 115
10) Riley Graham 113
Image – Jeff Crow / Explorer Media 
– ends –
Media Enquiries:


Misty Walton: 0448 725 229


misty@eskimomediagroup.com.au


www.eskimomediagroup.com.au