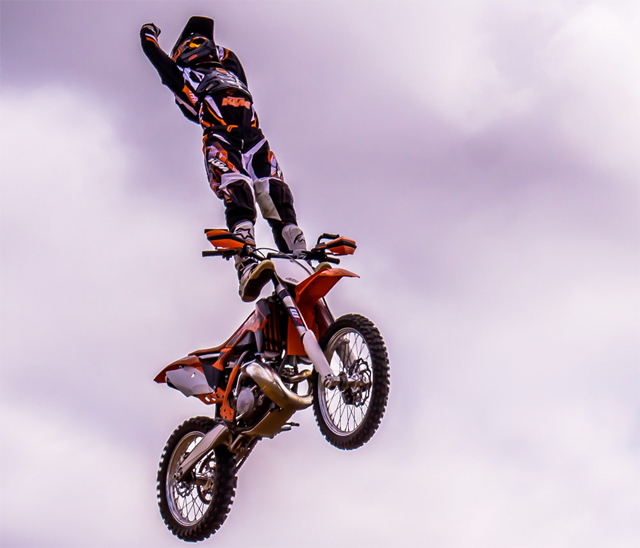 KTM's FMX legend Matt Schubring is certain to be one of the most memorable attractions when he visits the famous KTM Tumbulgum Natural Terrain Motocross event near Byford south of Perth this weekend.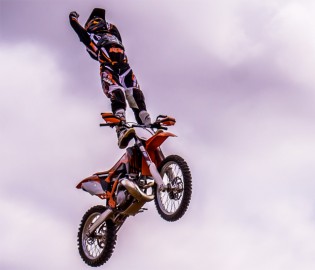 Off just a 200-metre run-up, the longest serving Crusty Demon in history will jump 250 feet on his KTM 250SX while several thousand fans look on, as part of a massive weekend of attractions at Tumbulgum.
"I love being in Perth" says Schuie, "and it's always good to catch up with the KTM boys. Plus I get to go down to Esperance afterwards and play in the sand dunes again, which is something I do every chance I get.
"The WA fans love their motorsport over here, especially the dirt bikes. They're not as flooded with events so they really appreciated it."
KTM Australia has backed Tumbulgum since the very first event ten years ago, and continues to support the carnival-style event.
"KTM got behind us at the start and saw the potential for the event," said Promoter Willy Thompson, "and it's come a long way since then.
"This year we'll have about 500 riders, a pit bike track, FMX, freestyle BMX, helicopter rides, a big VIP area, the Dreamfit Foundation's 8 wheel buggies and hovercraft for disabled people and even a sideshow alley.
"The fans love Schuie and with all the interest in his big jump it's the most hype we've had in years.
"It's like a motocross carnival here with a friendly atmosphere, great camping and the attractions are sensational!"
Another high-profile KTM rider at the event will be Dakar racer Matt Fish – "Steve from Pit and Portal helped me out while I was competing in the Gascoyne Dash and he convinced me then that Tumbulgum should be on everybody's must-do list. So here I am.
"It's not your typical motocross event; natural terrain without the big jumps -which sounds very much like me-, and very well run as well. I can't wait."
Tumbulgum Natural Terrain Motocross takes place this Saturday and Sunday just 6km south of Byford, on the South West Highway with general Admission available at the gate.
For more information on KTM motorcycles or Tumbulgum Natural Terrain Motocross visitwww.ktm.com.au ,  www.facebook.com.KTMAustralia or http://www.williethomson.com/tumbulgum/