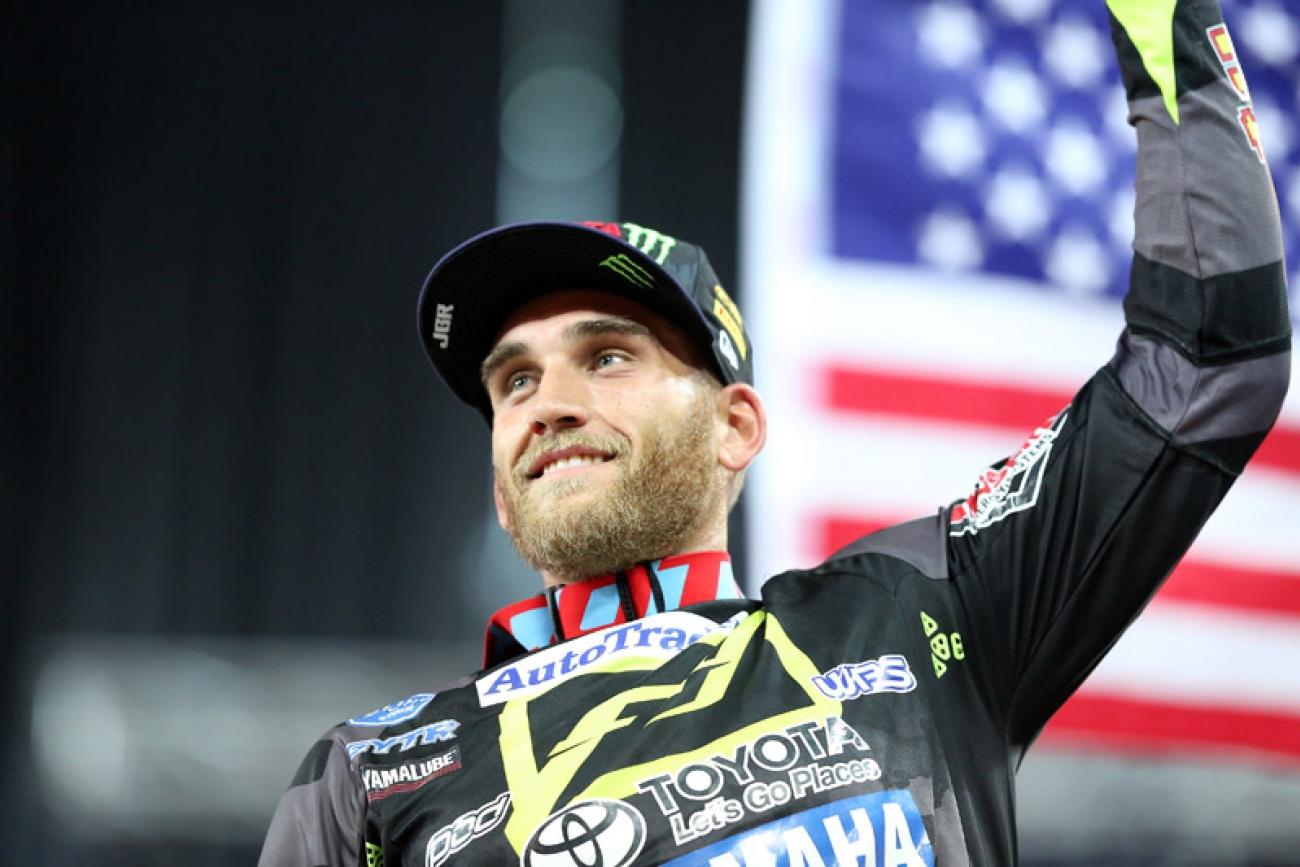 American rider Weston Peick has taken out the 2015 Bercy-Lille Supercross with a 1-2 result from the weekend.
By Hayden Gregory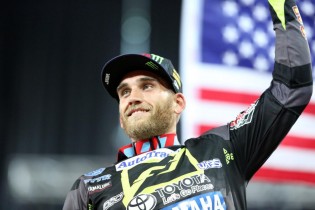 Following the horrific scenes of Terror we have seen hit Paris over the weekend; we would have forgiven the Bercy-Lille supercross organisers for calling off the event which was held just 90 minutes out of the French capital. In a showing of defiance the promoters alongside the French authorities decided to let the program continue as planned.
More than 21,000 Parisians turned up to Pierre Mauroy Stadium for the first night of action which saw Weston Peick win the battle ahead of Cooper Webb and Christophe Pourcel.   A surprising podium absentee was that of James Stewart who succumbed from the race with an ankle injury after a lap one crash with brother Malcolm.
The crash left the crowd disappointed they wouldn't get to see the champion race after easily posting the fastest times in the event's Superpole and practice session. The crash also left Malcolm with a DNF after his bike was declared too damaged to continue.
With the Stewart brothers absent the field was left open with Peick and Webb showing great rivalry to finish first and second.
Day two didn't start as smoothly for Peick after a crash in the heats meant he had to qualify for the main through the last chance race. Qualifying left him with a bad gate pick however he showed similar form to day one, racing through the field to finish in second place. American rider Christophe Pourcel led the entire main on day two to achieve second overall with a 3-1 finish.
Cooper Webb climbed back to fifth in the second main event after a crash with Malcolm Stewart left him fighting back in the field. The American's 2-5 result landed him in third place overall.
In the SX2 class Maxime Desprey achieved his second straight 'Prince of Lille' title. The rider won a race each night on his way to the title with second place going to Florent Richier. Honda's Thomas Do rounded out the SX2 overall podium.
Prince of Lille
Maxime Desprey | Kaw | FRA
Floretn Richier | Yam | FRA
Thomas Do | Hon | FRA
Yannis Irsuti | Yam | FRA
Josse Sallefranque | Hon | FRA
Brian Hsu | Suz | GER
Darian Sanayei | Kaw | USA
Thibault Laurent | Hona | FRA
Gaetan Le Hir | Hon | FRA
Francesco Muratro | Suz | ITA
King of Lille
Weston Peick | 1-2 | Yam | USA
Christophe Pourcel 3-1 | Hus | FRA
Cooper Webb | 2-5 | Yam | USA
Valentin Guillod | 4-4 | Yam | SUI
Fabien Izoird | 7-3 | Hon | FRA
Cedric Soubeyras | 5-6 | Yam | FRA
Romain Febvre | 6-7 | Yam | FRA
Loic Rombaut | 10-8 | KTM | FRA
Dylan Ferrandis | 13-10 | Kaw | FRA
Malcolm Stewart | 12-11 | Hon | USA
Shaun Simpson | 9-14 | KTM | GBR
Valentin Teillet | 11-13 | Hon | FRA
Christophe Martin | 8-16 | Kaw | FRA
Thomas Ramette | 16-9 | KTM | FRA
Cyrille Coulon | 15-12 | Kaw | FRA
James Stewart | 14-15 | Suz | USA