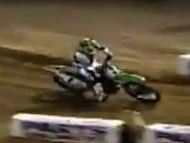 Ryan Villopoto Races to Third Monster Energy Supercross Victory of the Season Inside Cowboys Stadium, Dean Wilson Dominates Opening Eastern Regional 250SX Class Championship Race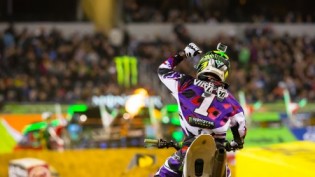 ARLINGTON, Texas(February 16, 2013) – The seventh race of Monster Energy AMA Supercross, an FIM World Championship, signified the 2013 season's move east with 54,036 fans in attendance inside Cowboys Stadium. For the third time this season, reigning back-to-back champion Ryan Villopoto posted a dominant effort en route to victory aboard his Monster Energy Kawasaki, leading every lap of the Main Event. Monster Energy/Pro Circuit/Kawasaki's Dean Wilson won the opening race of the Eastern Regional 250SX Class Championship, which will be in action for the next eight stops.
Championship leader Davi Millsaps edged out Villopoto to claim the Nuclear Cowboyz® Holeshot Award at the start of the 450SX Class Main Event, but a little more momentum helped Villopoto slip past his Rockstar Energy Racing-mounted rival just a few feet later. Not long after, TwoTwo Motorsports Honda's Chad Reed made an aggressive move to steal second from Millsaps, which allowed Villopoto to open an early gap.
While Villopoto continued to pull away, the battle for the podium intensified. Millsaps reclaimed second place on Lap 3 and settled into the position. Reed appeared to have a secure hold on third, but Red Bull KTM's Ryan Dungey began to apply pressure, ultimately making slight contact with Reed after an aggressive pass for the position on Lap 14. Dungey pushed hard in the closing laps to have a chance at stealing second from Millsaps, but couldn't get alongside his championship rival in the end.
Villopoto moved into sole possession of third in the championship point standings with his 27th career 450SX Class victory.
"Starts are definitely important," said Villopoto, who now has the most wins in the championship. "I've had a target on my back this year, everyone knows that, and it's stressful. I'm just trying to have fun with riding again. If we get third, it's on the podium, and if it's second, that's good too. Davi has been riding really good this year, so we have to just chip away at it. It's going to take a while."
Millsaps' runner-up finish was his sixth podium in seven races this season, while Dungey extended his podium streak to four with his third-place result.
"It was definitely a good 20 laps," said Millsaps, who extended his points lead. "I haven't ridden all week because I've been sick, so it's good to come away with a strong finish. Ryan (Villopoto) rode really well, so you have to give it to him."
Millsaps moved to 21 points ahead of Dungey in the standings, with Villopoto now sitting 24 points behind in third. After winning his Heat Race earlier in the evening, Team Yoshimura Suzuki's James Stewart was unable to start the Main Event, citing a broken clutch. He dropped to ninth in the championship.
A lot of excitement surrounded the first Eastern Regional 250SX Class Main Event of the season and out of the gate it was AG Motorsports Honda's Kyle Peters who grabbed the Nuclear Cowboyz Holeshot Award. Behind him, Wilson and Rockstar Energy Racing's Blake Wharton assumed second and third place.
Wilson worked his way past Peters prior to the conclusion of the opening lap and then pulled away from the field to lead all 15 laps of the Main Event and claim his sixth career 250SX Class victory.
"This feels so good," exclaimed Wilson. "It's been 10 months waiting for that. I knew I needed to get the start, so I fought for it and it went well. I saw the leader and I knew I was good in the whoops, so I just went on the outside around him. He raced clean and I respect that. From there I just rode my own race."
Wharton made a pass on Peters shortly after Wilson took over the lead and secured the runner-up position throughout the remainder of the Main Event. Earlier in the evening, Wharton needed a win in the LCQ in order to secure his spot in the Main Event. Peters battled to hold on to third place, but was passed by Honda rider Cole Thompson on Lap 6. After Thompson crashed out of the race, Peters reclaimed the spot, but succumbed to the pressure from GEICO Honda's Wil Hahn on Lap 10. Hahn maintained the position to round out the podium.
Wilson will carry a three-point lead into the second race of the championship next weekend.
Matt LeBlanc took the win in tonight's KTM Junior Supercross Challenge, which was in action for the second time this season with 15 riders from around the region invited to compete.
450SX Class Results: Arlington
Ryan Villopoto, Poulsbo, Wash., Kawasaki
Davi Millsaps, Murrieta, Calif., Suzuki
Ryan Dungey, Belle Plaine, Minn., KTM
Chad Reed, Australia, Honda
Justin Brayton, Fort Dodge, Iowa, Yamaha
Justin Barcia, Ochlocknee, Ga., Honda
Trey Canard, Shawnee, Okla., Honda
Matt Goerke, Lake Helen, Fla., KTM
Andrew Short, Smithville, Texas, Honda
Broc Tickle, Holly, Mich., Suzuki
450SX Class Points
Davi Millsaps, Murrieta, Calif., Suzuki, 154
Ryan Dungey, Belle Plaine, Minn., KTM, 133
Ryan Villopoto, Poulsbo, Wash., Kawasaki, 130
Trey Canard, Shawnee, Okla., Honda, 119
Chad Reed, Australia, Honda, 115
Justin Barcia, Ochlocknee, Ga., Honda, 98
Andrew Short, Smithville, Texas, Honda, 95
Justin Brayton, Fort Dodge, Iowa, Yamaha, 83
James Stewart, Haines City, Fla., Suzuki, 75
Matt Goerke, Lake Helen, Fla., KTM, 69
Eastern Regional 250SX Class Results: Arlington
Dean Wilson, Scotland, Kawasaki
Blake Wharton, Pilot Point, Texas, Suzuki
Wil Hahn, Decatur, Texas, Honda
Kyle Peters, Greensboro, N.C., Honda
Justin Hill, Yoncalla, Ore., Kawasaki
Marvin Musquin, France, KTM
Gavin Faith, Fort Dodge, Iowa, Honda
Jimmy Decotis, Peabody, Mass., Honda
Vince Friese, Cape Girardeau, Mo., Honda
Lance Vincent, Youngsville, La., KTM
Eastern Regional 250SX Class Points
Dean Wilson, Scotland, Kawasaki, 25
Blake Wharton, Pilot Point, Texas, Suzuki, 22
Wil Hahn, Decatur, Texas, Honda, 20
Kyle Peters, Greensboro, N.C., Honda, 18
Justin Hill, Yoncalla, Ore., Kawasaki, 16
Marvin Musquin, France, KTM, 15
Gavin Faith, Fort Dodge, Iowa, Honda, 14
Jimmy Decotis, Peabody, Mass., Honda, 13
Vince Friese, Cape Girardeau, Mo., Honda, 12
Lance Vincent, Youngsville, La., KTM, 11