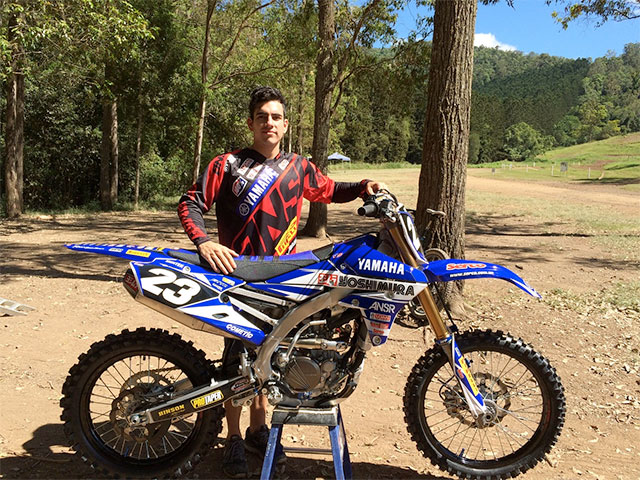 After a hive of late season activity, Serco Yamaha nailed down Queenslander Wade Hunter to fill the seat vacated by 2014 MX2 champ, Luke Clout, after his sudden departure to the US.
MX Nationals Press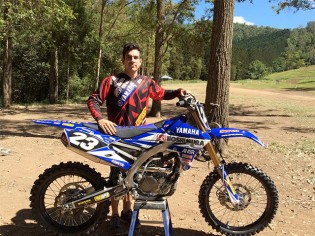 Hunter, now based in Brisbane, has been a long time privateer on the national circuit, knocking on the door of factory rides for some time but it wasn't until this year he was able to secure a position on a major MX2 team and give himself every opportunity to succeed in the ultra- competitive MX2 class.
With Hunter joining 2015 MXD champ, Wilson Todd, on the Serco Yamaha team for 2016 we thought it was time to get to know a little more about the laid back Queenslander and his goals for the 2016 season.
Q: You finally have been able to secure a factory ride in the MX2 class, how's your first impressions of working with the Serco Yamaha team?
Wade: So far, so good. I live only just around the corner from the race shop and from the head mechanic Ben, so from that point of view, life is much easier to work on bikes or do any testing. We have also done some testing and things are coming along well. The bike is good and we are working hard to ensure we get the season off on a positive note at Horsham.
Q: You have had support from the industry in the past but what are the biggest differences you experience when being part of Serco Yamaha? 
Wade: I'm sure every rider in this situation will tell you the financial pressure you are under as a privateer. Last year I was trying to work to earn money, trying to work on my own bikes, get my way to the races and have my Dad on the spanners for me each round and he was flying from Cairns, so it was tough. But now, there is someone to take care of a lot of those things and my priority now is just making sure I'm fit, prepared and my bike is what I need to win races so the support from Serco Yamaha is awesome. It also came at just the right time because I had been battling away for a few years and if I wasn't able to secure a good deal in 2016, I was looking at stepping back from racing and getting a real job.
Q: You moved down from Cairns to Brisbane several years ago, was that for your racing?
Wade: Yeap, for a small population, the North Queensland scene is pretty good and even now there is a bunch of really good riders that either live or come from there. Todd Waters, Caleb Ward, Wilson Todd, Mitch Evans, Jackson Richardson and a few more are all fast guys but the issue is just how far away it is from the centre of racing and the costs to do it. By car, Cairns is 40 hours to Melbourne, 30 to Sydney and 20 to Brisbane, so the cost to do a championship from there is huge. I moved to Brisbane at the end of 2011 and enjoy it here and have a good group of riders and friends. I try to get home at the end of the every season as Cairns is where I grew up and my family are there.
Q: What is it about NQ that has seen the area produce such a talent crop of riders?
Wade: It's a bit tougher now, but when I was a kid there were always plenty of places to ride as everyone has land or a farm or just space in general. Just for that reason alone, there are a lot of riders in NQ because there is somewhere to ride. Plus, while it's hot, there is always rain around so the tracks are always moist. If you notice, the boys from up north always do pretty well on the loamy tracks because that's what we have up that way. The high rainfall means there is always moisture and the tracks get a bit softer than they do down here.
Q:What rounds are you looking for to the most in the MX Nationals?
Wade: The three Queensland rounds are always good with big crowds and on good tracks. But going back to Perth this year will be good and racing in the sand over there. It's a great atmosphere racing there and because we don't always race over there, the change is good.
Q: So, what's the plan for 2016?
Wade: The plan is to win the MX Nationals and the Australian Supercross Championship. I'm sure there are about 10 riders with the same plan and that's what will make this years' racing so good. I have worked pretty hard on my technique for motocross over the off season, trying to clean up a few areas and have upped my training so hopefully that will show in the results and I can get both championships for Serco.