How to give yourself the best chance of making it through a ride-stopping section of trail
STORY SHANE BOOTH | PHOTOGRAPHY DAMIEN ASHENHURST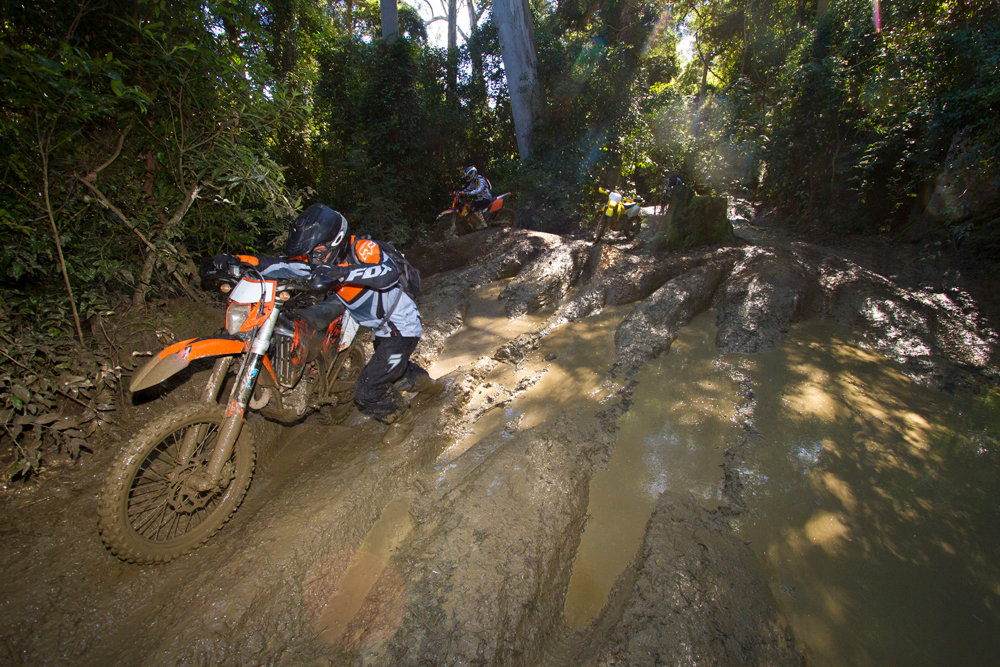 What you see here is the kind of section that plenty of riders would consider a worst-nightmare scenario: deep, water-filled ruts, wet clay that offers about zero traction, blokes pushing their bikes, blokes heading bush and even an abandoned bike. Here are my five steps to surviving a section like this.
1. STOP AND ASSESS
Engage some common sense at this point and look for the line that has the least amount of water in it — that's a good place to start. A line that has a single rut that runs right through the section will also help; avoid heading into ruts that splinter off into three or four separate ones halfway through the mud. Always check there isn't a sneaky line around the edges of this type of section, too.
2. WATCH AND LEARN
Don't be scared to sit there for a minute or two and watch some other punters have a crack at it. You can learn a lot this way without even getting your boots dirty. There is a catch to this, though. Some riders will make it look much harder than it really is, which in turn can shatter your confidence before your attempt. So watch to learn more about the depth of the ruts and water than how to do it technically.
3. COMMIT TO IT
Once you've done enough research and selected your line, don't sit and think about it too much. Get on your bike, line yourself up and get after it. Stay standing as long as possible, grip the bike with your legs, look ahead and drive the bike through with smooth throttle. Try not to get too excited on the throttle, if you break into wheelspin on the slick clay you will come to a halt very quickly.
4. HELP YOUR MATES
This one is probably optional. If you have nailed it by selecting the perfect line, then you can stop on the other side and guide people into the best option. It could make their day much easier. You can also just stop on the other side and watch the carnage before you get back on and continue with your ride. Up to you.
5. FORGET ALL OF THE ABOVE AND JUST HIT IT
This is also an option and, to be honest with you, it's probably the most commonly used technique out there. There are positives to it: you don't have time to think of the negatives and if you are a lucky person you'll fall into the shallowest rut and breeze through. The downside, though, is that it probably won't happen like that. You'll more than likely end up in the deepest rut in the centre of the bog hole and get stuck. But feel free to take the gamble.