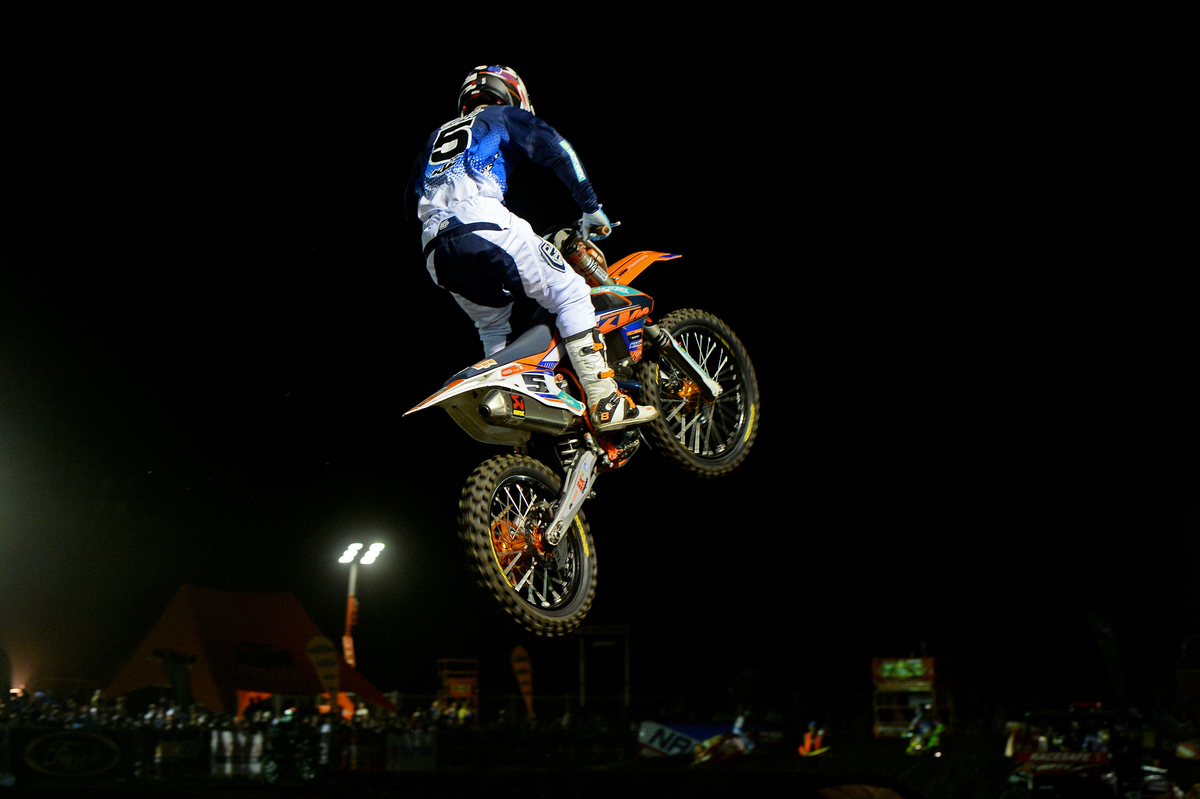 Press – 18/10/2015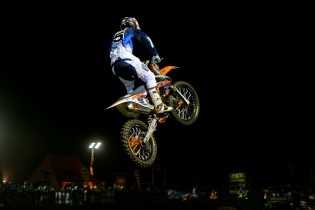 KTM Motocross Racing Team riders Kirk Gibbs and Luke Styke had their solid progress in the night time game masked by misfortune in the night's final, as the Australian Supercross Championships continued at Jimboomba, south of Brisbane.
In only his second season of Supercross racing, newly crowned Australian motocross champion Kirk Gibbs fired his powerful KTM 450 SX-F into the lead of the main event, and after relinquishing two spots early on, looked set for his first podium finish of the championship.
However the KTM man was involved in a racing incident with Matt Moss, who seemingly overcooked a corner entry and took both riders over the berm. Bitterly disappointed, Gibbs was able to restart his motorcycle and salvaged fifth place for the evening, to be one of three riders sharing third-place points in the championship.
On the team's second KTM 450 SX-F, premier-class Supercross rookie Luke Styke saw his strong early progress run aground as arm pump came into play on the challenging circuit. Styke, who finished fourth overall on his debut run in the premier class of history and motocross Championships, could do no better than 10th at Jimboomba.
The Jervis Bay ace left the event crestfallen but more determined than ever to find the way forward.
Kyle Blunden, KTM Motocross Racing Team Technician – "The event here was such a great spectacle, I don't remember the last time we had this many people come through the pits, the boys signed autographs for at least 40 minutes during the break.
"Both the boys progressed very nicely throughout the day and our recent testing has definitely paid off, but unfortunately the results don't show it with Kirk fifth and Luke tenth.
"Kirk got caught up in a mishap with Matt in the middle of the main event and both boys went over the berm. Matt was very apologetic but it was disappointing for us after all the hard work we put in.
Luke was making huge progress through every single session, but the whoops started to really cause him to tighten up and he struggled with arm pump for the rest of the night. The whoops were quite choppy and technical towards the end, and if you weren't confident going in they could hurt you."
Kirk Gibbs – "It's a little bit disappointing but there are a lot of positives to take away from this round compared to last weekend.  Our work on the bike showed in my confidence and my starts were perfect all day. I holeshot the final and I was sitting in second for a while but made a couple of tiny mistakes and Adam got by me, then after the altercation with Matt on lap 11, I had to regroup from there. Unfortunately I left myself wide open in that corner – Matt was a little further behind coming in, but he came in a little bit hot. We both went over the berm and I had to pick the bike up and restart it to continue. I think it was a bit of a stupid move, but that's racing, we'll take it on the chin and move on to next round."
Luke Styke – "Tonight sucked for me. I haven't had a race that bad in my life really. I just wasn't comfortable. I got a pretty mediocre start and just battled with my arms all night and couldn't hang on to the bike. I need to sit down and have a think about this and dust myself off and get back into it. I missed Supercross last year and it's my first series on the 450, so I know I've got some obstacles, but I'm not where I need to be to ride the bike as good as I want to. I've got to get some quality riding in the next two weeks and just got to keep ticking the boxes. We'll get there."
In SX2 Racing: KTM Factory Support rider Caleb Ward knocked himself out in the night's SX2 final, when he fell victim to the tricky whoops section while charging back through the pack after he was shuffled wide of the first turn. Dylan Wills (Newcastle KTM) and Lewis Woods (Davey Motorsports) were the top KTM men on the night in eighth and ninth respectively. Woods and wheels are now seventh and eighth respectively in the overall SX2 standings.
Caleb Ward– "I wasn't going too bad, I got a really good start, but I got pushed off the track in the first corner and then I worked my way back up to ninth. Dylan Wills was in front of me and I was catching him a bit so I was pushing a bit harder. I came through the whoops and I changed my line a little bit and just messed up at the end, swapped out and actually didn't hit the ground until after the last whoop, but I sort of slapped down on my head and my shoulder and knocked myself out a little bit.  I was lying there thinking I should get off the track but I just couldn't get my eyes to open. I got up a bit wobbly so I went over to RaceSafe and they checked me out and stuff. It was a bit unfortunate but it happens. I was a little bit tired today because I woke up this morning with the 'flu, so I was feeling it by the end and was just getting a little bit more loose through the whoops every lap as they chopped out, and finally they bit me."
For more information on KTM Motorcycles, visit www.ktm.com.au or www.facebook.com/KTMAustralia
2015 Australian Supercross Championship standings after round two:
SX1:
Daniel Reardon 67,
Matt Moss 65,
Kade Mosig 54,
Kirk Gibbs 54,
Gavin Faith 54,
Adam Monea 53,
Lawson Bopping 48,
Luke Styke 45,
Danny Ham 35,
Sam Martin 25.

SX2:

 Jimmy Decots 70,
Jackson Richardson 60,
Luke Clout 60,
Luke Arbon 55,
Wade Hunter 54,
Geran Stapleton 26,
Lewis Woods 47,
Dylan Wills 44,
Taylor Potter 42,
Jessie Madden 40.